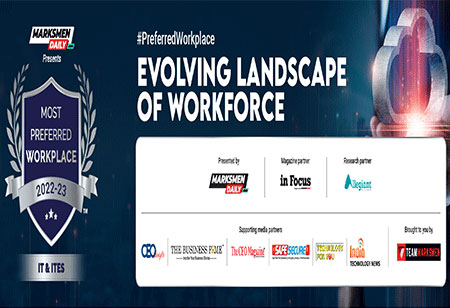 CEOInsights Team, 0
With the world of work evolving, a clutch of IT & ITES organisations are at the vanguard of a new wave of workplace excellence. Wherever you look, from Mumbai to Manchester and New Delhi to New York, the world of work is in a state of flux like never before. Numerous trends are emanating that are reshaping workplace dynamics, such as disparities between high and low skill jobs, income inequalities, a desire for greater purpose and work life balance, and much more.
Navigating a changing World Order
The advent of newer technologies, use of automation-enabled tech(such as robotics and Artificial Intelligence) and accelerated digital transformation has brought with it the promise of higher productivity, improved efficiencies, and greater convenience. But it leaves in its wake greater questions as well, for policymakers, business leaders, and workers themselves; what impact will this have on the skills needed tomorrow? How will this influence talent retention and attrition, with concerns raised over moonlighting? And perhaps most importantly, what will the future of work look like?
Even as the technology sector faces a huge dearth of talent as the demand and supply gap continues to widen (as per a NASSCOM report, the tech talent gap stands at 21.1 percent as a percentage of supply), a few leading organisations have picked up the gauntlet and reshaped their way of working to create a better landscape for all. These shifts hold the potential to reshape industry and society for the better, and provide protection against the headwinds buffeting the world of work. These break through IT & ITES brands have cemented their place as flag bearers of a new model of excellence, and have in doing so been earned their place in the pantheon of Most Preferred Workplaces 2022-23.
Organisations Epitomising Excellence
While the changes wrought by circumstances created a great deal of uncertainty among businesses and leaders, there were silver linings to these grey clouds too. Given a gilt edged opportunity to consciously evolve and elevate the very nature of work, these organisations have carved a niche for themselves. Their success models will be analysed at close quarters by motley industry leaders at a gala onground event to be held on 15th December in Mumbai, where they will be recognised for their myriad accomplishments.
These Breakthrough It & Ites Brands Have Cemented Their Place As Flag Bearers Of A New Model Of Excellence, And Have In Doing So Been Earned Their Place In The Pantheon Of Most Preferred Workplaces 2022-23
The event will be graced by a diverse speaker lineup, including Aarti Srivastava, CHRO, Capgemini Bhasker Bhandary, Senior Director HR, Acer Dr. Deepak Deshpande, Senior Director HR, NTT Lynette D'Silva, Head Regional HR ­ India and APAC, Amdocs, and many more. This one-of-a-kind platform, organised by Team Marksmen, shines a spotlight on what sets these brands apart, we can begin to best understand how others can emulate their practices and mindsets.
This research driven initiative has seen leaders appraised on the following parameters:
•Employee Engagement
•Leadership
•Diversity, Equity, & Inclusion
•Workplace Flexibility
•Organisational Policies
Organisations must understand that with the shifting sands of time, they too must adapt to these changes. The IT & ITES brands among the ranks of the Most Preferred Workplace are at the forefront of this wave of change, and are blazing a trail for others to follow.