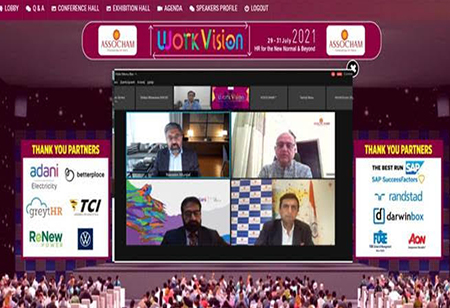 COVID19 disruptions have provided businesses with an opportunity to rethink their HR strategies. With an aim to initiate conversation on key matters of HR operations across the globe, ASSOCHAM kick started a 3 day Global Virtual Conference - 'WorkVision2021: HR for New Normal & Beyond', in partnership with AON India from Thursday.
The event was started with the welcome address of ASSOCHAM Secretary General, Mr. Deepak Sood wherein he said businesses has gone under a massive transformation, each normal for each sector is different.
Radical shift across all sector has led to revamp in the leadership skills, he added.
Speaking at the event Mr Vineet Agarwal President, ASSOCHAM & Managing Director Transport Corporation of India Ltd emphasized in his address on what shouldn't be changed in the organizations in pandemic situation i.e., Value systems, culture & ethics of organizations, empathy of dealing and leadership development.
Mr Nitin Sethi, CEO – India & South Asia Human Capital Solutions, Aon mentioned "According to him, It's not a new normal there are many lessons & learning's, hopefully we are getting to be at a place which is a better normal.
Things will keep on changing & evolving, he added.
Mr Naveen Munjal, Managing Director, Hero Electric Vehicles Pvt Ltd shared some of their practices as a company in these testing times- Flexible work from home, Empathy & care for employees along with families, Production in command, Upscaling of workforce in terms of new skill set.
Mr Manoj K Sharma Chair, WorkVision 2021, Co-Chair, ASSOCHAM National Council on IR, Policies, Reforms & Senior Vice President & Head HR, Adani Electricity Mumbai Ltd during his closing address mentioned that experiencing the pandemic over the last several months has taught organizations all over the world that continuous development is critical at a time of rapid technological change.