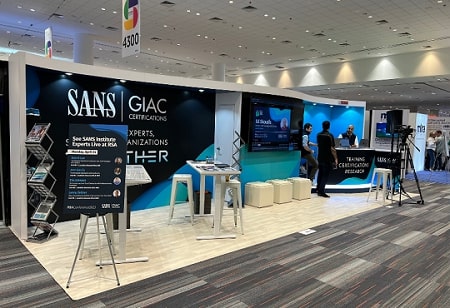 SANS Institute, the global leader in cybersecurity training, is thrilled to announce the well-deserved promotion of Anurag Khanna to the esteemed position of SANS Certified Instructor. Anurag, a highly-regarded cybersecurity expert with strong ties to India, boasts an impressive 15-year cybersecurity career, including roles at industry giants such as Google, Symantec, Mandiant, and his current position as Manager of Incident Response and Consulting Services at CrowdStrike. Throughout his career, Anurag has consistently demonstrated an unwavering dedication to the cybersecurity community and has shared his expertise by providing thought leadership at numerous public events across the Asia Pacific region.
Suresh Mustapha, SANS Institute's Managing Director for Asia-Pacific, shared his thoughts on Anurag's promotion: "Anurag truly exemplifies what it means to be a SANS Instructor – we met him more than a decade ago as a student in Bangalore where he went out of his way as a volunteer to help us launch our India operations there far before we had a team on the ground."
Anurag, on his promotion, expressed his excitement and gratitude: "I am honored and humbled to be promoted to SANS Certified Instructor. SANS has always been a significant part of my professional journey, and I look forward to contributing even more to the cybersecurity community in India and around the world."
Anurag embarked on his educational journey in India, obtaining a degree in Information Technology from Punjab Technical University and an MBA from the esteemed Symbiosis International University. He played a pivotal role in helping SANS establish its presence in India over a decade ago, all while generously volunteering and fostering the growth of the cybersecurity community within the country.
Throughout his career, Anurag has tackled high-profile cases involving espionage, financial crime, and ransomware, confronting threat actors like FIN10, FIN11, APT41, Ryuk, and UNC2452. He has led numerous breach investigations and incident response engagements, assisting organizations in India and globally in building cyber defense capabilities. Additionally, Anurag has collaborated with international teams, including those in India, to devise cloud security and incident remediation strategies.
In his new position, Anurag will continue to support the growth of the cybersecurity community in India and around the world by teaching SANS courses, sharing his wealth of knowledge and expertise, and helping to shape the future of cybersecurity education. His dedication and commitment to excellence will undoubtedly serve as an inspiration to students and fellow instructors alike.
"As a brand ambassador for SANS in our region, Anurag's outstanding contributions to building a strong community of cybersecurity professionals in India are truly impressive, "said Arindam Roy, SANS Country Director for India and South Asia. "We wish him continued success in his future endeavors as a SANS instructor."