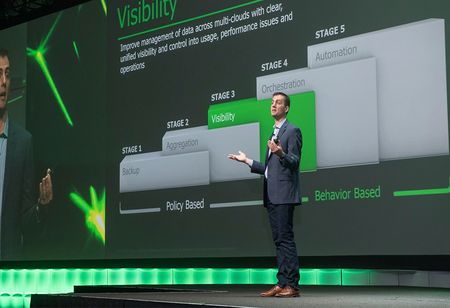 CEO Insights team, Press Release
Veeam Software, a leader in Backup solutions that deliver Cloud Data Management, announces the appointment of Danny Allan as the Chief Technology Officer and Senior Vice President of Product Strategy. Allan, promoted from his previous role as Vice President of Product Strategy, will lead Veeam's global product strategy group and initiatives, and spearhead the company's technology vision as the number-one provider of Backup solutions that deliver Cloud Data Management.
With more than 20 years of technology experience, Allan is passionate about solving customer problems and software innovation. In his previous role as VP of Product Strategy, Allan was responsible for envisioning and communicating Veeam's vision for Cloud Data Management, collaborating with enterprise customers and large service providers to assess and ensure long-term industry success. Prior to this, he was CTO of Desktone, a software platform for service providers offering hosted desktops, which was acquired by VMware. Earlier in his career, Allan was the Director of Security Research at IBM and a member of the Security
For the last decade, Veeam has dominated the market by delivering solutions that meet customer demands
Architecture Board, where he co-authored the IBM Secure Engineering Framework. He also holds multiple software patents in the cloud and security field. Boasting about Danny's work, Ratmir Timashev, Co-Founder & Executive Vice President of Sales & Marketing, Veeam says, "Danny has a significant impact on Veeam's vision and strategic direction since joining the company in early 2017, and has been instrumental in cementing our market leadership." "As customers look to drive business agility and leverage the power of their data, Veeam must continue to innovate under Danny's leadership, which will accelerate our organizational growth as we move into Act II," he adds.
"For the last decade, Veeam has dominated the market by delivering solutions that meet customer demands," comments Danny. Further adding to it he says, "Simplicity, flexibility and reliability are key to organizations across the globe, and Veeam's leadership position in this area is clear. Our portfolio allows customers to protect and manage their data no matter where it resides, whether in virtual, physical or cloud environments. But I am excited at what's yet to come, and I know that 2020 will bring a vast array of new innovations that ensure Veeam continues to cement its market dominance."
Source : Press Release