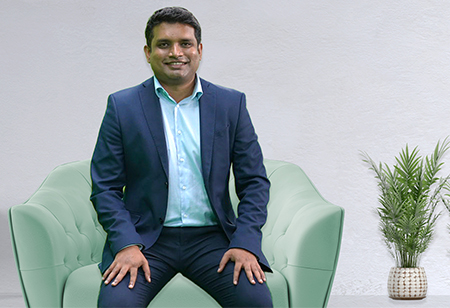 Dhirendra Mahyavanshi, Co-Founder & CEO, Turtlemint, 0
Dhirendra has over 16 years of experience in the insurance, e-commerce and fintech sector. Mahyavanshi is an alumnus of IIM- Calcutta and has a bachelor's degree in engineering from DJ Sanghvi College of Engineering. He was previously associated as the Head of Sales with Quikr, Vice President with ICICI Lombard, and Apollo Tyres Ltd.

In an interaction with CEOInsights India magazine, Dhirendra shares currents trends, challenges and opportunities for insurance industry. He also tech-driven solutions to simplify ease of insurance enrollment and potential changes in customer preferences.
What are your thoughts on the current trends and developments in the insurance industry? How do you perceive the evolving customer expectations shaping the landscape of diverse insurance products?
The insurance industry in India has witnessed significant growth and is projected to become the sixth largest market by 2032, according to Swiss Re. The emergence of technology-driven platforms has made insurance products more convenient and affordable for consumers, further fueling the sector's growth. IRDAI is also working on three-pronged approach - availability, accessibility, and affordability - to ensure 'Insurance for All by 2047'.
In-arguably, India has made great strides in improving insurance penetration from 2.71 percent of the Gross Domestic Product (GDP) in 2001 to approximately 4.2 percent of GDP today. However, there is a large scope as we try to achieve the global average of eight percent. Clearly, the opportunity to improve insurance penetration in India is both significant, as well as, essential. To effectively cater to the diverse needs of both new-age customers and those in the rural regions, embracing innovative models like embedded and sachet insurance can provide tailored and accessible coverage, ensuring inclusivity and relevance in today's evolving market landscape.
The current protection gap is a major challenge that needs to be addressed by everyone in the insurance ecosystem to ensure that individuals have adequate financial protection over unexpected events. Since inception, we have focused on pioneering the PoSP landscape in the country and have elevated the entire insurance ecosystem by empowering the most essential player, i.e., the insurance advisor. In India, 90 percent of the products are sold by advisors. Hence, to improve penetration levels in the country it is imperative to build a robust ecosystem for the advisors.
What are the challenges and opportunities presented by regulations in each of these insurance sectors?
The IRDAI is undertaking several reforms with the aim of building availability, accessibility, and affordability of insurance products for citizens. The government sees digitization as the future of the insurance industry and works to find a balance between orderly sector development, policyholder interests' protection, and innovation facilitation.
Traditionally, insurance sales have not been a popular career choice among youngsters due to a lack of awareness, income uncertainty, and perceived low social status. We believe that our real challenge lied in making insurance a lucrative and attractive business opportunity for the next generation. In fact, this goal is aligned with our mission of creating one million financial advisors and empowering individuals to take charge of their financial futures. Through our innovative app, mentorship programs, digital lead generation tools and other initiatives, we are working to change the perception of
insurance as a traditional industry and show young people that there is great potential for success and impact in this field.
In a rapidly changing insurance landscape, how do you foster innovation to cater to the unique needs of customers seeking various insurance products?
India's insurance sector is witnessing an impressive growth trajectory, positioning itself to secure the rank of the sixth-largest global insurance market in the coming decade. Nevertheless, it is imperative to recognize that substantial efforts lie ahead. Presently, insurance penetration in India hovers at approximately 4.2 percent, signifying the substantial untapped market potential that holds promising opportunities.
The insurance industry needs to embrace emerging technologies that aims to boost efficiency and enhance the insurance purchasing and sales process.
To cater to savvy customers, the industry offers a range of services. By understanding consumer profiles through simple queries, the industry suggests suitable policies using a recommender tool. Additional features include sorting products by premiums, adding extras, and accessing networks of hospitals for cashless health insurance.
By understanding consumer profiles through simple queries, the industry suggests suitable policies using a recommender tool.
How has digital transformation influenced insurance for cars, bikes, health, and term life? What tech-driven solutions can be implemented to simplify ease of insurance enrollment and claims processing?
The insurance industry is undergoing a digital transformation, where technology is empowering insurance advisors to bring transparency and trust to customers. Leveraging technology, a claimant can provide instant notification of loss and verifiable proof of technology also enables early detection of frauds by validating customer information, vehicle details or health records to improve insurer loss ratios. Claimants can now get real-time notification of the status of the claim by pulling the status from the insurance claims management system, easing concerns around the progress of the claims approval. With the availability of all information related to the claim in a digitized and machine-readable form, an insurer is able to provide near-instant adjudication of a claim and facilitate a payout directly to the claimant's bank account.
How do you anticipate the evolution of various insurance plans/products in the upcoming years, and what steps should companies stay equipped for potential changes in customer preferences and industry trends?
Insurtechs are currently orchestrating great change in the insurance ecosystem and have become almost integral to the growth of the insurance sector. The embedded insurance industry is expected to grow over 30 percent annually as per the Q1 report of the Global Embedded Insurance Business and Investment Opportunity report in 2022. And India is still at an early stage of this journey, where the protection gap is high, and the penetration of insurance in India is still at 4.2 percent, which is way lesser than the global average.
Globally, the insurance industry is adopting cutting-edge technology like telematics for automobile insurance, personalized insurance pricing using the Internet of Things, and machine learning for claim management automation. Insurance companies are utilizing AI and ML to streamline their underwriting and claims procedures, as well as, create new products that are more suited to the demands of their customers. Additionally, risk assessment, fraud detection, and consumer engagement are being enhanced by AI and ML. These technologies enable insurers to process massive amounts of data swiftly and accurately, which improves decision-making and the client experience.