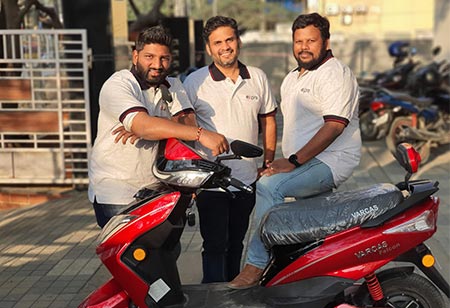 Press Release, 0
Exprs, a Hyderabad-based startup focused on building technology-driven, nano distribution centres, has raised seed funding to the tune of Rs. 4.5 crores by Lets Venture, Angel List, & DCF Advisory. The investment is led by angel investors Sweta Rau and Sandeep Kapoor. Exprs has earlier raised Rs. 2.2 Crore in the pre-seed round.
Exprs is a game-changer in the last mile segment. The company solves the last mile inefficiencies by establishing nano distribution centres across high demand clusters such as gated communities, tech parks, universities & commute points.
Exprs has seen impressive traction since inception. The company has fulfilled more than a million deliveries in the first year of operations with operations in 4 cities, Hyderabad, Bangalore, Mumbai & Chennai.
Top eCommerce companies, D2C brands, MSMEs & Homepreneurs have partnered with Exprs to be in the proximity of the consumers for the seamless delivery experience. Currently, Exprs has more than 2 million consumers within 500 meters of its nano distribution centres called Exprs Points.
During the Pandemic, Gated communities across Hyderabad & Bangalore, have partnered with Exprs to launch 'Real Contactless Deliveries' where a set of pre-screened, dedicated, on-campus delivery executives helped to restrict the entry of large pool of delivery
executives. The network also helped 100s of Covid 19 positive patients to pick up the health monitoring kits without getting in direct contact.

'When we started building the network of nano distribution centres, there was no such network anywhere earlier. Investor's faith in the model will fuel to build network at scale and make urban fulfilment seamless' said Srinivas Madhavam, Founder and CEO at Exprs.

Srinivas Madhavam, earlier, has started India's first Intra City, on-demand logistics company called VDeliver in 2011. Since, then, the founding team has delivered more than 2 million intra-city orders. The inefficiencies in the entire intra-city & last-mile supply chain have given birth to Exprs. Co-Founders, Srikanth Rajashekhar & Rahul Mehta, come from varied backgrounds. The founding team compliments the skills of each other, making a sought & rare combination of Sales, Operation & Technology.

'The most complex part of delivery logistics is usually the last mile delivery. It's great to see that Exprs is seeking to solve this problem with an innovative approach, using the right smart technologies and driving process improvement strategy. Also, the core-team at Exprs is phenomenal, and it's great to see them so committed to their vision 'said Sandeep Kapoor. Mr. Kapoor is also on the Board of the company and was the Ex-Director Legal at Sequoia.

Sweta Rau, an active angle investor who has previously invested in KhataBook, OpenBank, Leap Club, Dunzo had to say 'With Ecommerce rising, Indian consumers have started to take security and privacy very seriously; Exprs solves for this by consolidating deliveries across E-tailers and gives end consumer power to schedule the delivery at their convenience. Exprs has taken inclusive approach by hiring women as end delivery personnel.'

In the next one year, Exprs aims to get deeper in the existing cities and launch the network in other top Indian cities and serve 100+ D2C & eCommerce brands.