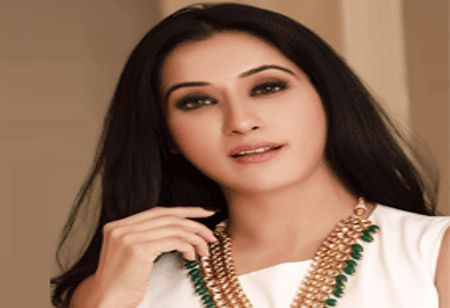 Chinu Kala, Director, 0
'Every great dream begins with a dreamer', and in today's story, the dreamer is Chinu Kala (Director, Rubans Accessories). Intelligent, eloquent, graceful and immaculately dressed, Chinu is a true fashionista in every sense of the word. A creative entrepreneur and a former Mrs. India participant, she has put together her Fashion Jewellery brand Rubans Accessories with flair and style. Not only her collections are fascinating, but so is the story that narrates the journey of this first generation entrepreneur, who has managed to build an empire from scratch.
At the tender age of 15, Chinu walked out of her home with a pair of slippers, two salwar suits and Rs.300 in her pocket due to some family differences. She had no clue of what was in store for her ahead. She kick-started her career as a door-to-door salesgirl selling coasters & knives, since this was the only job she could get at that age and time. This job proved to be a real life saver, as the company used to pay the daily sales commission by end of each day, which came-in handy for her to take care of her basic needs. Chinu Says "This small but significantly important amount helped me get my daily meal and sustain myself, as when I came out of my house, I did not have money to even buy a meal. Life has been my teacher, and all that I have learned is through the hardships that I have faced at a very early stage of my life. I have learnt that running a business is no rocket science; it's a simple way of meeting consumer demands with products & services that best matched their needs. I could not study entrepreneurship so I decided to jump into it," she reminisces.
Chinu got married in 2004 and participated in Gladrags Mrs. India in 2006, where she was amongst the finalists. This event taught her the importance of jewellery in the fashion industry and how a good piece of jewellery could enhance the whole look of a person. Thus, Chinu combined her flair for business along with her love for fashion and curated her own fashion jewellery brand Rubans Accessories. "Like any other business story, Rubans was just a thought that I had been nurturing for years in my head. Finally, in 2014, I took the plunge to start my fashion jewellery business," adds Chinu.
However, entrepreneurship threw a major hurdle in her path! Back then, retail business was happening majorly through high streets and malls. The waiting period was up to three years to get a good location in a mall and over & above the cost of making a store coupled with huge deposit turned-out to be a big financial hurdle. Chinu had stocks in hand, but did not have monies to pay the deposit to the mall. But vanquishing the impossible has what defined Chinu's journey so far.
As she was confident that the customers would fall in love with her novel designs, she convinced the mall management to give her one month time post opening of her store for furnishing the deposit monies. The day her store was operational, Rubans Accessories did record sales. In the very next month, the sales was enough to pay the malls deposit monies. Today, fast forward a few years, Rubans is getting the same love from its customers that it got on the day that Chinu launched her first store.
These are dynamic times; earlier, what used to take five years to change today changes in six months. Thus, entrepreneurs need to develop the capabilities of forecasting the next big wave and be prepared to embrace change. Vesting keen emphasis on keeping pace with changing consumer behaviour & buying habits has enabled Rubans, which started as an offline brand selling through stores, to metamorphose into majorly an online brand. The company currently retails through its store in Lulu Mall, Kochi as well as online portals such as Myntra & Flipkart. The brand also sells through its own website, thereby catering to the growing demands in fashion accessories market across Tier-II & III geographies in the country. Recognized as the category leader in branded fashion jewellery & accessories segment, Rubans Accessories is also a part of Myntra's Brand Accelerator program.
Bringing Global Fashion within India's Reach
With increase in disposable incomes and exposure to international fashion trends, the market for branded fashion jewellery has blossomed in India. Reaffirming this, many studies predict that the branded jewellery segment would experience an astounding growth rate of 40 percent in near future vis-à-vis 12 percent growth rate of non-branded jewellery products. Not so long ago, Fashion Jewellery was ruled by the unorganised segment, which even now has a share of 92 percent. Most of the women earlier had to buy jewellery from abroad when they travelled or if any of their friends were visiting India, since high-end fashion was out of reach for a common consumer!
Rubans has designed and curated the Luxury collection that brings back the forgotten traditional and vintage designs that are apt for Indian weddings and special occasions
A Fashion Jewellery Brand, Rubans understood the opportunity and was swift in bridging this gap, successfully translating the challenge into a blessing. The brand, over a period of five years, has emerged as a frontrunner in the branded Fashion Jewellery & Accessories segment. Deeply inspired by the Sanskrit thought Vasudhaiva Kutumbakam(The World is One Family), the company has incorporated the free flow of thoughts & designs from all over the world in its collections. In fact, Rubans Accessories is one of the only brands in the country to offer a wide range of products in both western as well as ethnic categories, catering to styles, trends and seasonal demands of the consumer.
Best Product at Affordable Price
"Rubans believes in providing stylish and statement pieces that are affordable but true to its promise of quality and glamour. We promise the idea of Novelty and Royalty," asserts Chinu. The curiosity factor being a major differentiator for her brand, Chinu and her team constantly strive hard to keep it alive by ensuring that each time an old customer browses through their catalogue, he/she should definitely get surprised by the freshness in designs and collections.
Managed by a young & effervescent team, the brand also has an inhouse creative team that puts together unique designs and brings-out limited edition collections twice every year. Some of the signature collections of the brand imbibe traditional jewellery art forms such as kundan, polki work, coin and temple jewellery.
Towards a Brighter Future
Fashion is a field where what is relevant today will become obsolete in few months down the line. Hence, Rubans Accessories has built a habit to innovate every day. After winning the hearts of its customers in the fashion jewellery segment, Rubans Fashion Accessories is now foraying into the Luxury segment with Rubans' Luxury. The brand has curated the luxury collection keeping customer at its core. The luxury collection is elegant and exquisite, where every piece of jewellery is handcrafted with intricate designs that are inspired by the Indian heritage. Chinu says, "Marriage and Jewellery are synonymous in India. The traditional jewellery of India is what makes the Indian wedding so rich and unique".
Keeping this in mind, Rubans has designed and curated the Luxury collection that brings back the forgotten traditional and vintage designs that are apt for Indian weddings and special occasions. "These are regal and statement pieces, rich in tradition, and promise to bring a smile on every customers face,"she adds. Tremendous credit to such innovative spirit and keen eye on customer satisfaction, the company that started with annual sales of Rs.12 lakh in 2014 has sold goods worth Rs.7.01 crore in 2018-19. Targeting to penetrate PAN India markets by 2021, Rubans Accessories is marching towards an ambitious goal of achieving revenues of Rs.100 crore by 2024. The company is poised to grow exponentially and awaiting to earn a firm spot in the hearts of all the fashion loving women in the country.
Key Management:
Chinu Kala, Director
Chinu's mantra of success Always have a bigger canvas to play, customize, bring-in the unique quotient, and optimize to make it affordable. These are the major factors that have facilitated her to build a fashion empire from scratch
Offerings:
Kundan Jewellery, Polki, Handcrafted Heritage Jewellery, Hand Painted Jewellery, Necklaces, Ear rings, Bangles & so on.
Location:
Bangalore (Headquarter) and Kochi(Store in Lulu Mall)
Awards:
•Best Jewellery Brand – Awarded by Myntra
•Debutant Retailer Award by Franchise India
Rubans Accessories in Spotlight
•One of the only brands in the country to offer a wide range of products in both western as well as ethnic category, catering to styles, trends and seasonal demands of the consumer.
•The styles are statement pieces that are affordable but true to their promise of quality and glamour.
•The day its 1st store was operational, Rubans Accessories did record sale, and in the very next month, the sales was enough to pay deposit to the mall.
•Evolving apace with changing consumer behaviour and buying habits, today, the company retails through its store as well as online.