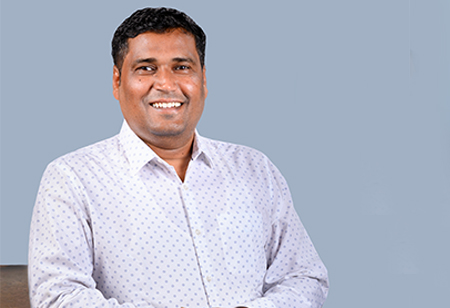 Amit D Mishra, Founder & CEO, iMocha, 0
Amit, a skilled entrepreneur with over two decades of experience, founded iMocha, a skills intelligence platform for hiring and managing talent. Committed to a skills-first approach, he's shaping a world of job-fit talent. He's an alumnus of Amravati University. In an interaction with Bimlesh Prasad, correspondent at CEOInsights, Amit discussed evolving upskilling models, industry-specific skills taxonomies, and granular skills data capture. He emphasized the importance of HR in adapting to the changing skill landscape and shared strategies for talent management and retention. Below are the key extracts from the exclusive interview:
What are some unique business models for upskilling, and how can certain approaches set them apart from others in the industry?
Upskilling models are evolving to suit different industries and organizational sizes. Experiential learning, focusing on hands-on projects, internships, and real-time tasks, is becoming more effective. Bite-size learning, utilizing technological advancements, allows
employees
to access short videos and articles without committing to full courses.
Democratized learning
, focusing on employee comfort, is also gaining popularity. Personalized learning paths are crafted based on job roles, and peer-to-peer learning and mentorship programs are implemented. AI integration is also gaining popularity, enhancing the learning experience for employees. Companies are also embracing certifications and credentials from third-party sources to validate skills and knowledge. A combination of these models is proving successful, adapting to different organizations' sizes, stages, and diversity.
What is the significance of modern HR and talent management in your company and strategy?
The rapidly evolving skill landscape necessitates the adaptation of HR managers to stay
competitive and relevant
. To achieve this, organizations must invest in ongoing skill development on current abilities and future needs.
HR managers
align the workforce with the company's strategic goals and vision, excel in hiring and onboarding, and focus on upskilling, reskilling, and talent development to build a workforce equipped for the present and future. Diversity, equity, and inclusion (DEI) are also prioritized, providing a competitive edge and informed strategic decisions. HR teams use gamification and technology to engage employees in these processes. Modern HR and talent management teams use technology and feedback mechanisms to provide constructive input, ensuring employee engagement, succession planning, and personal development, ultimately contributing to the company's employer brand.
How should companies deploy industry-specific skills taxonomies and ontologies to refine job
roles and employee profiles?
The rapid evolution of skills necessitates a dynamic approach to skill taxonomies and ontologies. Companies are utilizing SI and consulting firms, and AI-driven solutions to keep their skill frameworks current. This approach forms the basis of '
talent intelligence
', which encompasses various HR functions like recruiting, onboarding, internal mobility, and HR management systems. The shift towards a skills-first approach is evident in job descriptions, which now include primary and secondary skills, behavioral skills, AI skills, and proficiency requirements. This enables companies to maintain an updated skill inventory and quickly identify skill gaps for both current and future roles. Tailored training programs are created for employees, acknowledging everyone's unique career path. This approach also influences recruitment, assessing candidates based on their skill fit for the organization. The business outcomes include improved skill-role alignment, skill gap identification, personalized training,
and more effective recruitment processes, reducing attrition rates.
What are the advantages of capturing granular skills data through the latest technology, and
How do these benefits impact your business?
The primary benefit of capturing detailed skills
data
is its precision. Precise talent deployment within an organization, whether through acquisition or development, is becoming increasingly efficient. This means reduced onboarding time for projects, increased employee satisfaction, and a reduction in potential human biases. Ultimately, it leads to a more diversified and inclusive workforce. The second advantage lies in the ability to customize learning programs based on granular skill data. Instead of requiring employees to go through entire courses, quick bite-sized learning modules can be tailored to their specific needs. This facilitates quicker readiness for new roles, even though the time to deploy them may increase. Additionally, granular skill data aids workforce teams and CHROs in strategic workforce planning. Employees are selected based on specific skills rather than just their degrees and general experience. This approach helps companies save costs and optimizes resource allocation, enabling them to achieve more with fewer resources while ensuring precision in deployment. Moreover, it provides a competitive advantage by allowing companies to respond rapidly to changing business situations. It minimizes skill gaps and fosters a continuous learning culture within the organization, which is highly valued by modern CEOs. This culture shift is essential as employees must adapt and learn continuously in today's dynamic business landscape.
Companies are utilizing SI and consulting firms, and AI-driven solutions to keep their skill frameworks current.
What strategies do the company employ for talent management and retention, and how do
do they contribute to its success?
Talent management and retention are crucial for a company's success. A structured onboarding and orientation program are essential to align new hires with the company's culture and values, making them feel welcome and connected. A clear career development path is a powerful tool for retention, as employees feel their growth is nurtured. Recognition programs and mentorship programs further support this strategy. Subject matter experts within the company can provide valuable guidance and knowledge sharing to junior and mid-level employees, fostering a strong connection and long-term commitment. Flexible work environments are essential for remote work, allowing employees to work in the office, on-site with clients, or from home. Communication tools like Microsoft Teams and Slack enable constant feedback and open channels for growth, eliminating the need for quarterly performance reviews. In summary, effective talent management and retention involve a blend of structured onboarding, clear career paths, recognition, mentorship, flexible work environments, and continuous, real-time feedback through modern communication channels, contributing to a more connected and committed workforce.
Conclusion
Organizations worldwide are adopting a skill-first approach to talent deployment, redeployment, and management. This involves creating an updated skill inventory, which includes skills taxonomy and a well-defined ontology against job descriptions. Regular updates are necessary to stay on top and avoid delays. This can be achieved through multi-channel skills validation, feedback mechanisms, and AI inferences. The skills intelligence generated from this inventory can be used for better sourcing and recruitment, allowing for faster matchmaking within the organization and refinement of recruitment processes. Skills intelligence can also be applied in onboarding and orientation processes, skills gap analysis, and workforce deployment. This approach allows for talent deployment at scale internally, through upskilling, reskilling, development, or hiring from the market.