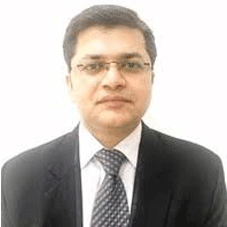 A captain can help the ship sail through rough waters, so can a competent leader who understands the business and the market very well. There are numerous traits of a successful leader scribed on the pages of books and websites. Traits like open-minded learning, strong communication skills, building relationships, realistic optimism, thinking out-of-the-box, fast decision making, leading by example, and more. But in today's world, a successful modern-day leader needs to go be-yond the convictions and showcase mastery in various aspects of the business while being empathetic. At the end of the day, the quintessence of business operations lies in People, Products, and Profits. Such a maven who can spin the hospitals in the right trajectory and truly represents shining set attributes as most impartial 'constructive' critic is Dr. Anuj Tiwari – the awardee of 100 Most Impactful Healthcare Leadership Awards by World HRD Congress.
With 20 plus years of practice, Dr.Anuj Tiwari forms the most accurate picture of a great medical profession-al. He is almost a superhuman in his ability to design effective operational strategies for hospitals and consistently ensure better performance and growth. Carrying the experience of working in executive leadership roles with giants like AMRI Hospitals, Apollo Hospitals, Shal-by Hospitals, Wockhardt Hospitals Group, Lifecare Hospital & Research Centre, and Escorts Arneja Hospital, he is making Prince Aly Khan Hospital exceptional in integrity, intellect, drive and, culture.
A visionary in its true sense, Anuj is leveraging all his remarkable expertise in various verticals such as P&L Management, Strategies,
Operations, Business Development, Sales, Marketing, HR, Microeconomics, Hospital Administration, Management, and more to propel business growth. Particularly amidst the pandemic difficulties, he is paving the road to progress by keeping up with all the changes.
The following excerpt is an exclusive conversation between Anuj and CEO Insights that briefs his journey, leadership role, and his strategies that drive the business.
Highlight the professional memories that bestow you with utmost satisfaction.
Throughout my career, I have been playing leadership roles in executive roles such as VP and Unit Head. I come with experience of working with several renowned global hospitals.
With my expertise in handling P&L, Hospital Ad-ministration, and more, I could achieve 100 percent sales growth in most of the hospitals.
While analyzing various business aspects, I maintain harmony, balance and ensure reduction in losses - both in terms of humans and finance
While too many companies are operating in different ways of functioning, the focus might be either on COVID care or Non-COVID care. But it really needs strategic methodologies to take care of both the segments and offer effective services for the patients. The market experience coupled with my resilient leadership style is giving me an edge to tackle such a situation.
What responsibilities have you been undertaking to set comprehensive goals for performance and establish policies that promote the hospitals' culture and vision?
As a Head or VP, I am responsible for the end-to-end operations of a Hospital's Unit. My focus lies in formulating strategies and guiding the team towards growth, success, and profits.
In short, business development, increasing top-line sales, reducing bottom-line targets, and quality enhancement are my forte.

As a person with a high degree of technical skill in the medical field and proficient managerial capabilities, I always focus on motivating the team as they are the asset for our growth. We provide open opportunities for our employees to rise and shine. The significant Y-O-Y growth in sales and profit il-lustrates our ability.

Share some of the challenges you encountered in your professional journey
The pandemic has created havoc in the medical industry and we are on the toes for efficient patient and (COVID & Non-COVID) hospital management. I recall the situation of dealing with the Swine flu and H1N1 in the country. In my 20 years of experience, I have observed drastic shifts in the field and battles against deadly diseases.

From this, it is quite conclusive that there is a steady need for proper support to the frontline workers amidst the global crisis, and one factor which is eliminating the odds out from healthcare centers is digitalization, analysis, and forecasting. It is a challenge to adapt to digitization and manage the operations amidst the pandemic.

How do you manage to strike the perfect balance between your work and life? Give a quick note on your personal front.
For any medical professional, the biggest challenge is balancing personal and professional life. Especially during the pandemic, we can hardly be with our families and spend time. Speaking about my personal front, I love playing chess and reading books. The Monk Who Sold His Ferrari by Robin Sharma is one of my favorite books.

Dr. Anuj Tiwari, Founder, Prince Aly Khan Hospital
With exemplary professional experience and impeccable academic excellence, Anuj is transcending the ordinaries of hospital operations. To ensure smooth functionality, he is channelizing the core strength of formulating sound strategies to make patients feel carefree, employees feel empowered, and the Board Members feel satisfied.