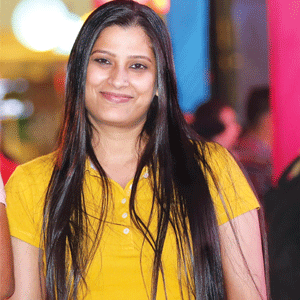 While artisans received royal & aristocratic patronage during the pre-Independence epoch, they have slowly lost relevance with the advent of industrialization. Today, the sector carries the stigma of inferiority & backwardness, and is shadowed by the 'middlemen' who connect them to the unorganized retailers. With the complexity of the value chain and several rounds of commissions, the artisans often struggle to make their living out of it, while they deserve much more than that. A go-getter who pursued her MBA & marketing career (through a media house in Bhopal) from a humble farming background, Monika Singh (Co-Founder & MD, X5 Retail (India) Pvt. Ltd.) always had the zeal to do something by herself. And the idea of providing craftsmen & entrepreneurs with a lucrative modern retail environment perfectly aligned with her aspirations.
In 2013, when Monika joined hands with Pradeep Singh Shekhawat (Founder & CEO) – serial entrepreneur – X5 Retail (India) Pvt. Ltd. came into existence, as a highly-modernized offline Marketplace for Art & Craft. It provides craftsmen & entrepreneurs across different states with a low-risk opportunity to manifest their artifacts in many of the leading malls & city shopping centers under the roof of X5 Retail, which immediately adds brand value tothe products as well as giving customers a sense of quality & authenticity – and that worked perfectly well.
Organizing a highly unorganized industry has however taken great efforts, innovations and experience of the duo. Today, the global handicrafts market has well passed $526.5 billion. En route to the future, the market value is projected to reach approximately $984.8 billion by 2023, expanding at a CAGR of more than 11 percent during 2018-2023. Thanks to the union government's keen interest in thriving the sector forward, India is getting ready to play a bigger role in this market. In the process, X5 Retail is expected to play a much bigger role by expanding itself to more geography. CEO Insights indulges in a conversation with Monika to comprehend more about the exciting epoch ahead for X5 Retail.
Simultaneously dealing with two sides of a coin must have been a herculean task. How did you manage to convince both malls and craftsmen?Also, what's your growth strategy?
We had a well devised approach, which made the task much easier. The malls were happy to offer crafts, which are usually not available in malls, as an offering to its customers who have different tastes and purchase aspirations. While on the flip side, Craftsmen/Entrepreneurs were seemingly excited to find a good platform to showcase and sell their merchandise. We created the perfect bridge.

"X5 Retail, today, is an emerging star with capital efficiency and a profitable business"

By the year 2016-17, we had created such offline market places in various malls and multiple cities. As the stage was well set with ideal coordination with malls and craftsmen, we started working on conducting different themed-events using the same platforms/mall spaces, along side plugging into areas that were previously not available in malls, but people often liked and wanted.

What kind of events and programs are we talking about? Could you give us a few examples?
There are quite a few. For instance, the event Flea–Fly–Flu is our very own Retro Carnival in its Modern Avatar that revolves around the crafts from all parts of the country, while another event, FitStop, is designed around healthy eating habits, organic food, wellness clinics, makeovers, and much more. We also have the T3 (Travel Tourism Therapy), which, as the name suggests, is a Travel & Tourism exhibition. One of our latest programs include Wedding Secrets, which constitutes a one-stop-shop for all the wedding needs, starting right from Bridal & Groom Dresses, Jewelry, & Wedding Planning to Holiday Planning, and much more. Besides these, we also have a weekend program called Crafts of India Festival, wherein crafts from different parts of the country are manifested.

By the year 2016-17, we had created such offline market places in various malls and multiple cities. As the stage was well set with ideal coordination with malls and craftsmen,we started working on conducting different themed-events using the same platforms/mall spaces, alongside plugging into areas that were previously not available in malls, but people often liked and wanted.

What kind of events and programs are we talking about? Could you give us a few examples?
There are quite a few. For instance, the event Flea–Fly–Flu is our very own Retro Carnival in its Modern Avatar that revolves around the crafts from all parts of the country, while another event, FitStop, is designed around healthy eating habits, organic food, wellness clinics, makeovers, and much more. We also have the T3 (Travel Tourism Therapy), which, as the name suggests, is a Travel & Tourism exhibition. One of our latest programs include Wedding Secrets, which constitutes a one-stop-shop for all the wedding needs, starting
starting right from Bridal& Groom Dresses, Jewelry, & Wedding Planning to Holiday Planning, and much more. Besides these, we also have a weekend program called Crafts of India Festival, wherein crafts from different parts of the country are manifested.

How did malls react to your idea of conducting such programs and what were the factors that made these events successful, apart from the support of malls and craftsmen?
All these concepts in truth are the market needs, but have never been an acquaintance to the modern retail. Malls find these concepts as good connectors to engage its customers in the shop-floors, while we have been working to get several hundreds of entrepreneurs on board.

The Social Media, of late, has been very instrumental in developing the Business (Vendor Development). In addition, the team that the company groomed, trained, & thrived over the years has been impeccable with its talent. The members are constantly trained with emphasis on effective communication skills (both oral & written). Even when we are hiring & selecting teams, that's the most important criteria.

How has been the overall growth so far and what are your plans to take it forward from here?
X5 Retail, today, is an emerging star with capital efficiency and a profitable business. We take pride in announcing that it is probably the only enterprise in the country that can do weekend popup markets continuously every week of the year, given that the product mix vary from season to season and festivities to festivities. The activities have expanded to almost every major city as well as tier-1 and tier-2 cities of the country with many more in the pipeline. We have no reason to restrict our growth numbers. We are planning to expand to more cities in the coming years.

Key Management:
Monika Singh, Co-Founder & MD
From a humble farming background and having done her schooling at Prayagraaj's Saint Mary's Convent, Monika went on to achieve her MBA from the Bhopal University. Previously worked for a Hindi publication house, she has been renowned for her dynamic approach towards all aspects of the business.

Office:
Mumbai

Offering:
A highly-modernized offline Marketplace for Art & Craft