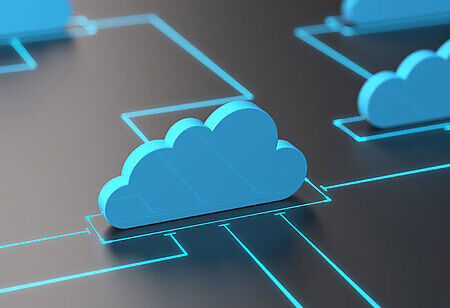 The global economy has not been doing well in recent years. The COVID-19 pandemic hit the world economies in the third decade of the twenty-first century. While the countries were still dealing with the economic consequences of the pandemic, the Russian-Ukraine conflict added to their woes. Despite the global economic downturn, India appears to be carving its own path of growth and innovation.
The IT-BPM sector (Information Technology and Business Process Management) has been a major engine of India's economic growth. Cloud computing and artificial intelligence (AI) have played key roles in molding India's economy and presenting it as a global tech hub. According to IDC, the Indian public cloud services market is estimated to reach $13.0 billion by 2026, progressing at a CAGR of 23.1 percent.
Google to Build More Infrastructure
Google has announced a major expansion of its cloud services in India, as well as a new endeavor to construct more infrastructure in the nation.Google plans to invest extensively in data centers and other infrastructure in India to accommodate the growing demand for cloud services from businesses and organizations in the nation.
The expansion will entail the establishment of new data centers in Mumbai and Delhi, which will increase capacity for Google's cloud services, such as its popular G Suite productivity tools, Google Cloud Platform, and Google Cloud Storage. The company also intends to grow its local sales and support staff to assist consumers in fully utilizing the new infrastructure.
Google's expansion into India comes as the country's economy expands and businesses increasingly seek the scalability and flexibility of cloud services. The move is also part of Google's aim to extend its cloud services in Asia, which is one of the fastest-growing cloud adoption regions
Google's development in India is also projected to benefit Indian businesses by giving them access to cutting-edge technology and services, allowing them to compete more effectively in the global market. In addition, the company is investing in training and education initiatives to assist Indian developers, engineers, and enterprises in acquiring the skills required to operate with its cloud services.
The move would help to bridge the digital gap in India by giving more people access to the internet and the benefits of technology, which will foster digital inclusion and economic progress.The Indian government welcomes this announcement since the country is working to foster a digital economy, and Google's decision to invest in the country would boost the government's efforts to drive digital transformation and create jobs.
Amazon Invest $ 12.7 Billion in its Cloud Business
Amazon aims to invest $12.7 billion in its cloud business in India by 2030, as the e-commerce giant presses ahead with scaling up AWS infrastructure in the important overseas market while cutting back on various other offerings in the region
The US behemoth, which previously spent $3.7 billion on AWS infrastructure in India and now operates two data center regions in the South Asian market, stated that its investments will support 131,700 full-time jobs in fields such as engineering, telecommunications, and construction.
The current announcement is an important step forward in AWS' approach. The cloud giant previously stated that it will invest $4.4 billion in the South Asian economy through AWS
Amazon's cloud business dominates the industry, with customers including the Indian Ministry of Electronics and Information Technology, Axis Bank, HDFC Life, BankBazaar, Niti Aayog, Physics Wallah, and Acko.
Amazon has invested over $6.5 billion in India's e-commerce over the last decade, making it an important overseas market for the company. The tripling of AWS investment significantly exceeds the company's spending and promises to its flagship e-commerce sector.The revelation also comes as Amazon closes multiple firms in India, prompting various analysts to wonder if the American behemoth was reducing its position in the nation. This year, Walmart, Amazon's worldwide rival, has also spent more than $2.5 billion in India.
Microsoft to Build its Largest Data Center
Microsoft plans to build its largest data center in India in Hyderabad, according to the US tech giant. The global software company has announced intentions to invest INR 15,392 crore (approx. $ 2 billion) in the region in collaboration with the government of Telangana, and it has also bought land across three sites - Kottur, Ellikatta, and Chandanvelly.
The Hyderabad data center region will be added to the existing ones in Chennai, Mumbai, and Pune. To assist developers, government organizations, universities, start-ups, and companies, the new data center will provide improved data protection, cloud solutions, customer relationship management (CRM), productivity tools, and Artificial Intelligence.
Microsoft's largest data center in Telangana will enable users to enjoy faster access to Microsoft cloud services, including Microsoft Azure, while also providing first-class data security, privacy, and sustainability, as well as the option to store data across the country. The US software behemoth has 14,000 partners and works with over 3,40,000 prominent Indian firms.
Telangana is one of the most important marketplaces for the Indian IT sector, accounting for the lion's share of the country's revenue. It forecasts a seven percent increase in revenue for the Indian IT sector in 2021, reaching USD 67.4 billion (INR 5 trillion).
Emerging technologies such as blockchain, 5G, and the Internet of Things (IoT) are also projected to boost future technological growth in India. The government's emphasis on creating a favorable regulatory environment for emerging technologies is likely to open up new avenues for innovation and growth.
India has emerged as a prominent player in the field of information technology during the last few decades. The pandemic-induced move to digital transformation also had a significant impact on the Indian IT sector. During nationwide lockdowns, Indian businesses were fast to adopt the remote working trend. Because of their reliance on and rapid acceptance of digital technology such as cloud computing, it is safe to claim that the IT sector experienced the least resistance to adopting work from home practices.