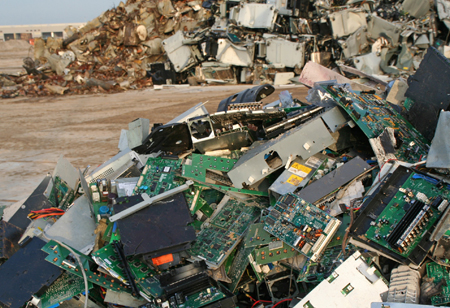 According to the Central Pollution Control Board reports India produced 1.71 million metric tons of e-waste in 2022, compared to 59.40 million metric tons produced globally. The fact that the informal sector handles more than 95 percent of this waste simply makes matters worse. The use of electronic equipment has increased dramatically as a result of expansion in the IT and communication sectors. E-waste infiltrates the solid waste stream as a result of consumers being forced to discard outdated electronics more quickly due to faster technological advancements. The expanding e-waste problem necessitates a greater focus on recycling and improved e-waste management.
After the US and China, India is already the third-largest producer of e-waste globally, and the rate of volume increase is steadily increasing. Computer equipment makes up more than 70 percent of India's e-waste, followed by telecom/phones at 12 percent, electrical equipment at eight percent, and medical equipment at seven percent, according to a report by KPMG and ASSOCHAM.
Pollution Caused By E-Waste
Many ecosystems in underdeveloped countries have been impacted by the dumping of electronic waste. The body, groundwater, air, soil, marine and terrestrial creatures, both wild and domestic, as well as the food and drinking water consumed by people and animals, are all depleted of atmospheric and liquid water. India is among the worst five nations and ranks 177 out of 180 on the 2018 Environmental Performance Index. This was connected to subpar performance in the areas of environmental health policy and air pollution-related mortality.
Latest Techniques Adopted for Waste Management
The sales of these electronics are gradually rising due to rising disposable income and purchasing power. Additionally, the release of new products with enhanced features and added services motivates customers to switch from older models to more recent ones. Additionally, there is a greater demand for metal-based electronics to be recycled, repaired, and reused. Because of these issues, manufacturers of electronic goods will surely go to recover e-waste for raw materials. Despite these benefits, the Indian e-waste business confronts several significant obstacles, including a lack of awareness, safety worries, and high recycling prices. The majority of customers are poorly informed about the dangers associated with toxic e-waste components or the effects of improper disposal.
Landfilling
This is the most common method of electronic waste disposal. The landfilling process includes the following steps
Excavation of Trenches
Burying e-waste in pits
Covering such pits with layers of earth
Incineration
a controlled combustion process in which e-waste is burned at temperatures ranging from 900 to 10,000 degrees Celsius in an incinerator unit. Hazardous chemicals can be changed into less dangerous compounds or substances through incineration.
Recycling
Recycling involves disassembling electronic trash, which may include disposing of many hazardous components like printed circuit boards, plastics, CRTs, non-ferrous metal separation, mobile phones, hard drives, fax machines, wires, and memory chips. Smaller concentrations of heavy metals and dangerous compounds, including lead, cadmium, mercury, and beryllium, pose a serious risk to human and animal life.
The Infamous Case of E-waste in India
According to the ASSOCHAM report, only computer equipment makes up almost 70 percent of all e-waste produced, with the remainder coming from households. Telecommunication products make up only 12 percent, electrical items eight percent, and medical items seven percent. Contrary to waste management standards and initiatives in Europe and Japan that try to change end-user behavior, there needs to be more regulatory enforcement, more public awareness, and insufficient occupational safety measures for those participating in such recycling activities.
Therefore, developing decisive methods to practice refurbishing/recycling used e-waste in specialized facilities while focusing on environmental contamination and health risks is essential for our country.
Opportunities for E-Waste Management in India
The E-Waste (Management) Rules were developed and published by the MoEFCC in an effort to reduce production and increase recycling. In order to give producers the responsibility to collect between 30 and 70 percent of the electronic trash they make within seven years, the GOI shall issue EPR with nationwide applicability. Following such legislation, efforts have been made to harmonize the current unorganized/informal sector.
Role of Governments, City Administration, and Citizens in E-Waste Mitigation
The GOI must work with the sector to establish certain standard operating procedures and a planned phased strategy, focusing on reducing e-waste to the absolute minimum. In addition, the GOI should encourage concepts developed nations use to implement an efficient system of accumulation and recycling.
The GOI must provide financial assistance, tax exemptions, and technical mentoring to enterprises to encourage the establishment of waste recycling and disposal facilities. The GOI should take the initiative to act as a mentor and collaborator to render and calibrate the cooperation between the chaotic, disorganized recycling sector.
Because of its earlier demonstrated popularity and effectiveness in Western countries, the concept of EPR (Extended Producer Responsibility) has been utilized for managing e-waste globally. Here, manufacturers and producers are accountable for the handling of e-waste. To successfully manage e-waste, various stakeholders—including state governments, end users, local organizations, retailers, NGOs, and local collection agencies—must work together to gather resources, build infrastructure, and run awareness campaigns.