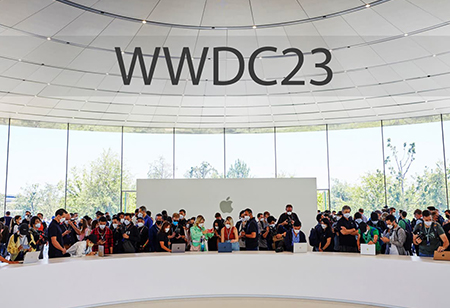 The Worldwide Developers Conference (WWDC), which Apple is organizing from June 5 to June 9, 2023, will be the largest one in recent memory. After all, Cupertino will introduce Reality Pro, a mixed-reality headgear that has been in development for at least seven years, during this year's developer conference. Apple may also present a brand-new 15-inch MacBook Air in addition to software upgrades for the iPhone, iPad, Apple Watch, and Mac, so it won't just be the headgear. There will also undoubtedly be a lot more: operating system updates, new features and apps, and perhaps even new hardware.
How to Watch Apple's WWDC 2023?
In order to be broadcast live on Apple's website, YouTube, Twitter, and other social media channels, the 2023 WWDC will feature a physical conference. At the Steve Jobs Theatre in Apple Park, California, the event will take place on June 5. Tim Cook, Apple's CEO, will most likely headline the keynote, which will start at 10:30 PM IST.
iPhone, Mac to Get Updated Software
Apple will present the newest software at its annual developers' conference, as is customary for the WWDC. This time, iOS 17, the upcoming version of the iPhone operating system, is likely to include several desirable changes, such as support for independent app stores, a revamped control panel, enhanced multi-tasking, and more. Similar to this, Apple is likely to launch a number of productivity-focused features and services in iPadOS 17. It is also expected that watchOS 10 will receive a much-needed update, including a user interface based on widgets. At WWDC 2023, Apple will also present tvOS 17 and the newest version of macOS.
Focus on the Reality Pro Headset
Regarding hardware, Apple will probably debut Reality Pro, an xrOS-powered mixed-reality headset that has been highly awaited. This headset is rumored to provide both virtual and augmented reality experiences, and it is anticipated that, like most of its products, it will be powered by special Apple silicon. The headset is said to be powered by an external battery pack, similar to the MagSafe battery pack, according to the most recent claims by Mark Gurman. In order to provide an immersive experience, it is also rumored to have two high-resolution (perhaps 4K) OLED screens. According to reports, the headset will allow iPad apps and presumably include a new user interface designed just for the virtual reality experience. The estimated price of Apple's first mixed reality headgear is $3000, or Rs. 2,40,000.
15-inch MacBook Air?
The firm has announced a 15-inch MacBook Air powered by an Apple M2 CPU. The MacBook Air family of notebooks is known for being thin and light, and the company is reported to be bringing the same to a somewhat larger form factor. This 15-inch Apple notebook might be among the lightest ones. The bigger MacBook Air is anticipated to look similar to the 13-inch MacBook Air in terms of design and to include a high-resolution display, although with a 60Hz refresh rate.
At WWDC 2023, the firm is also planning to unveil the next-generation iMac, which is anticipated to look identical to the present lineup but include improved specifications. It is also said to be the first machine to use third-gen M3 Apple Silicon manufactured using TSMC's 3nm process. Finally, to complete the switch from Intel to Apple Silicon-based Macs, the business is anticipated to unveil the Mac Pro, the most potent Apple Silicon-powered product.
Apple September event: iPhone 15
The iPhone is the main attraction at Apple's September event. Fans eagerly await the introduction of the iPhone 15 and iPhone 15 Pro this year. According to recent announcements by the company, the iPhone 15 will incorporate several features from the iPhone 14 Pro, like Dynamic Island and a 48MP camera. The iPhone 15 Pro is anticipated to receive the A17 chip upgrade, which will, unfortunately, increase the cost of the device. The iPhone 15 Ultra could include a titanium design and an Action Button, but it's more likely that Apple will simply release an improved version of the iPhone 15 Pro Max and hold off on the Ultra variant until 2024.
According to reports, all iPhone 15 models will transition to USB-C and do away with the venerable lightning port. Additionally, each smartphone will come pre-installed with iOS 17, which is expected to include new features and app redesigns. At WWDC, we'll learn more.
Apple September event: Apple Watch Series 9
The Apple Watch Series 9 is the other item we're reasonably certain we'll see during the Apple event in September. We don't yet know what advancements the next Apple Watch will make over the Series 8 model.
Since an Apple Watch Ultra 2 doesn't appear to be in the works for this year, it's feasible that the Apple Watch 9 will inherit some functionality from the Apple Watch Ultra. There's also word that Apple is developing blood pressure and blood sugar sensors for the Apple Watch, but there's no word on when these capabilities will be available to users. According to reports, watchOS 10 will provide a new navigation experience to the Apple Watch, making it the biggest upgrade of all time. We'll probably discover more at WWDC, similar to iOS 17.
What else will be announced at the Apple September event?
At the next Apple September event, it's likely that further new items will be unveiled in addition to the iPhone 15 and Apple Watch Series 9. There are other product categories that may be argued to be in need of an update. Apple normally doesn't release new Macs at the same time as the iPhone, but speculation has intensified about the MacBook Pro 14-inch and 16-inch models of 2023 as well as a 15-inch MacBook Air with the M2 processor. We might see these gadgets in September if they aren't introduced at WWDC or released throughout the summer.
There are reportedly plans for new iPads as well. Given that the iPad mini 6 was unveiled alongside the iPhone 13 two years ago, the iPad mini 7 looks like a good bet for September. Apple has staged separate iPad launch events in the past during the autumn. There have been reports about an AirPods Max 2 and a HomePod with a display. After all, one new AirPod device is typically released each year. Finally, if the Apple VR/VR headset's WWDC 2023 appearance is really a preview of the device, we might learn more about the headset's introduction in September.