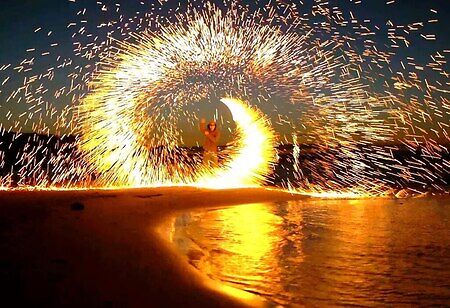 Starting a business or praying for its propensity is sure to go lit during Deepawali, with the blessings of the wealth goddess Lakshmi, the treasurer of wealth, Lord Kuber and the god of wisdom, Lord Ganesha. Almost each process of Deepawali has its own selling point. From cleaning your house to find reusable items to making sweets out of existing healthy ingredients, with a creative mind and marketing capability, you can earn a modest profit if not a fortune during the festive occasion. Here are a few ideas to start this Deepawali and continue even after the festival.
Turn Trash to Treasure
While cleaning, people often find a lot of useless items. These items frequently contaminate the environment. Newspapers, used clothes, plastic objects, cartoons, drawings, and other items laying unused for ages. It's time to given them another chance at life by recycling the products, and allowing the environment to breathe a little. Also, every nook and cranny of the house gets a new lease of life. Apparently, you can turn them into things that can be used and sell them for a good sum. You can contact the businesses that assist in recycling products to accomplish this. You will need money for it, but you won't have to spend much. You can either gather those items for free or you must purchase them from every family. Better yet, you can do the recycling and the companies can do the selling or even both, until you have the stamina for it.
Summon the Culinary Chef in You
Almost every good occasion begins with the taste of sweets and Deepawali is one that is synonymous with festival sweets and savoury items. Today, not many engage in the making of sweets, instead indulge in its consumption due to their busy working schedules. There are endless sweet sellers, but not many promise health and hygiene. Therefore, you can make that promise by preparing sweets out of healthy ingredients such as sesame seeds, dry fruits, ghee, and even make them appealing by wrapping them in attractive gift boxes. Hence, summon the culinary spirit within you and start the preparation!
If you are a newbie, you don't need to worry about setting up a location or space, since you can do it from home. If baking doesn't work for you, you can start making cookies, laddoos, and barfis.How is it better than the ones sold in the market? They are free of dangerous ingredients or chemicals of course. The next step is starting marketing which eventually helps you become an independent person and gather more contacts for your sale.
Get Innovative on the Gifting Appeal
People strive to give dry fruits as gifts to their loved ones because they believe that they are healthy and a rich source of beneficial fats. Dry fruits are most probable to load up in your house if your parents or family members happen to work in banks, companies and other organizations. Compared to sweets, most offices tend to hand out a lot of dry fruits. It's up to you to either eat it or get creative to make some cash. Here, you don't have to use any culinary skills, rather you can get innovative by making attractive gifting boxes to present those dry fruits. Starting a business selling dry fruits is an option. A custom fruit package that includes both dry and sweet fruits can be created. If you are able to create personalized dry fruit boxes, you will be able to earn extra money around Deepawali and receive special orders. You can also turn reusable items into brand new eco-friendly attractive packing materials to wrap up the dry fruits.
Make Safe and Eco-friendly Firecrackers
It's time we stopped using firecrackers and started taking environmental concerns seriously. However, Deepawali celebrations wouldn't be complete without fireworks. Opening a green crackers shop can be the best Deepawali business idea since it maintains the ideal mix between celebration and sustainability. Green crackers are manufactured of fewer toxic basic materials and have a smaller shell than ordinary crackers. In comparison to typical firecrackers, green crackers are referred to as eco-friendly crackers as they are known to produce less noise and air pollution.
The National Environmental and Engineering Research Institute (NEERI), operating under the auspices of the Council for Scientific and Industrial Research (CSIR), first created these crackers in 2018.
For instance, barium salts, a crucial component in typical firecrackers that emit the green color when they explode, are not used in the production of green crackers. According to CSIR, substituting superior raw materials for barium nitrate in green crackers reduces emissions by 30–35 percent.They represent a distinctive commercial innovation that is currently uncommon. Using these environmentally friendly crackers for Deepawali can be a successful business strategy.
Get Clicking with Photography Skills
Everyone appreciates watching videos and pictures of their past experiences, and around Deepawali, customers can purchase photography or videography services to capture special family celebrations or memorable moments. This may be one of the original commercial ventures to launch around Deepawali. You can also start your own photography or videography business if you have a camera or just a smartphone with high camera quality will do. Besides, videography could fetch an even greater deal, provided you have the talent for editing. You can also make use of social media platforms such as Instagram, Facebook, Snapchat, YouTube and others to gain views for your website, channel or profile.
Rangoli and Mehendi
In India, women decorate their homes with rangoli. On certain occasions, people nowadays draw large Rangoli in front of their homes, flats including office spaces. People hire others to draw the Rangoli in front of their homes or apartments since drawing a decent rangoli is a skill that not everyone possesses. Thousands of rupees are often spent on it. Making Rangolis in people's courtyards during Deepawali is another way to make a lot of money. On the other hand, you can also do mehendi business which not only gathers a lot of customers, but also helps make a fortune.
Sell Decorations or Offer Decorative Service
People can be seen lighting clay lamps at festivals, but electronic lights are gaining more popularity due to the different colours, shapes and lighting technology they offer. The quality of the lamps is important, so if you can sell high-quality lamps during Deepawali, your sales could instantly increase and you could make more money. Nowadays, people hire professionals to decorate their homes since they lack the time to do it themselves. With a little capital and marketing, you can profit from the business. If you have experience organizing fun events, especially for festivals, Deepawali could be a terrific opportunity for you. Better yet, an all-inclusive festival package can take care of the cooking, decoration, and gifts for the visitors, freeing up the hosts to interact with them.