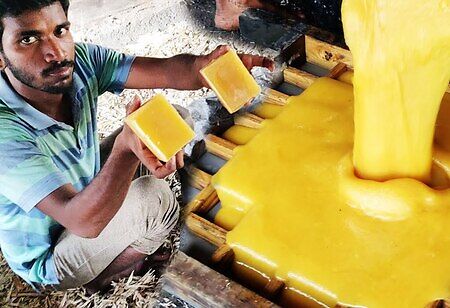 It's yet another festive season, and the streets are bustling with shops displaying decorations, flowers, fruits, vegetables, items for performing rituals, banana leaves, and whatnot. Then there's the aroma of sweet delicacies, alluring people into the streets and marking the beginning of a festive season. Traditionally, jaggery is used in the preparation of these sweet delicacies that adds to the texture, color, and of course, taste, unlike sugar.
Although there are a lot of similarities between the two, there are remarkable differences that often open debates about taste, texture, and health. Manufacturing sugar involves a vigorous process, which eventually loses its nutritional value. In contrast, jaggery retains all essential traces of iron, fiber, and various mineral salts. Besides that, jaggery has anti-allergic properties that help treat various breathing problems by detoxing and relaxing respiratory muscles. A few other health benefits include clearing toxins, improving digestion, boosting immunity, and curing constipation.
Jaggery Vs. Sugar
Jaggery is amorphous in nature, semi-solid, and softer than sugar. Sugar is hard, crystallized, and solid.
Since sugar goes through a rigorous industrial preparation process, all of its nutritional value is gone, and in the end, it is mostly just sucrose. However, jaggery still contains all necessary traces of iron, fiber, and other mineral salts.
Jaggery gets most of its iron from being processed in iron vessels, but sugarcane juice is where other minerals like calcium, potassium, magnesium, manganese, zinc, and selenium are found. Refined white sugar, on the other hand, goes through more processing steps, which depletes the cane juices of their vitamin and mineral content.
Let's look at the making of jaggery that sustains its nutritional value.
Not too Complex, Not too Easy
Since there are no complicated processes involved in the production of jaggery powder, beginning a business in this industry does not require any large machinery or equipment. Even the size of your company won't have an impact on the quantity of machinery and equipment you'll need. In terms of raw materials, processing jaggery powder simply requires sugarcane. All you need is a sugarcane crusher, three pans, a weighing scale, general kitchen tools, a measuring scale, a sieving machine, a packing machine, ancillary machines, miscellaneous equipment, and storage tanks.
Jaggery's production is not that hard; in fact, it is rather simple, as it allows you to easily employ inexperienced labor for your company. Purchasing the proper kind and quality of sugarcane for the production of jaggery powder is the first step. When you have sugarcane, you first crush it in a machine called a sugarcane crusher. This aids in preserving the sugarcane juice, which is the main component, and is kept in a container.
Next comes the extraction stage, which is done through boiling, cooling, and filtering. The heating process thickens the sugarcane juice, and you start to recognize its color and texture as the solid form of jaggery. During the boiling stage, chemical bleaching agents or even vegetables like okra are added to clean the juice. The unnecessary elements are extracted from the juice, which brings out the bright golden color.
After that comes the cooling process, when its thickened state allows you to mold it into desirable shapes as smaller granules are formed. It is important to pay attention here, as it is the process that determines the quality of jaggery.
Once that's done, the final step is the packaging. In India, open storage, Matka, gunny sacks, and other conventional techniques of storing jaggery are still used in both the western and eastern areas. These techniques don't work in Tarai districts since the climate there makes it difficult to preserve the quality of jaggery due to the high humidity levels. Due to the high humidity levels during the monsoon season, samples of jaggery deteriorate in quality as a result of microbial activity. But what is the market value of jaggery?
The Bittersweet Truth about the Market of Jaggery
Unlike sugar, the market of jaggery often tends to increase its value during the harvest season. Additionally, it has a low shelf life and can be stored for about six months. Conventionally, it is made in the rural parts of India and is mostly far from its cultivating unit, decreasing the conveyance.
In 2021, the packaged jaggery market in India was worth INR 48.7 billion. Looking ahead, IMARC Group anticipates the market to grow at a CAGR of 14.2 percent from 2022 to 2027, reaching INR 107.6 billion, according to IMARC.
The Food Safety and Standards Authority of India's (FSSAI) adoption of a number of strict regulations for food labeling and ensuring product safety during the processing and packaging of jaggery is having a positive impact on the local market. Additionally, the market for packaged jaggery in India is being driven by consumers' increased preference for clean-label and organic product varieties without additional colors, synthetic flavors, preservatives, etc.
In addition, the broad product availability on both traditional retail and online shopping platforms is encouraging the sale of packaged jaggery. In order to reduce the risk of infection during the COVID-19 pandemic, there has been a significant shift away from open and loose jaggery and toward packed varieties. This shift is expected to drive the Indian industry in the next few years.
Jaggery that has been packaged has a longer shelf life and is shielded against corrosive microbiological contamination, environmental factors, tampering, and loss or spillage. It has several health benefits, including preventing anemia, lowering rheumatic conditions, raising blood hemoglobin levels, reducing water retention, boosting immunity, etc. It is a rich source of magnesium, phosphorus, calcium, B-complex, iron, etc. As a result, people all over India consume a lot of bottled jaggery.
Being one of the oldest cottage industries, it is regrettable that jaggery is completely and utterly ignored by the government. Jaggery producers must pay a variety of taxes, including the Mandi Samiti Tax, the Sugar Cane Tax, excise duty, and others, all of which are constantly rising. It is astonishing to learn that khandsari sugar is exempt from excise duty despite the fact that jaggery, an intermediary product, is subject to excise charge.
The jaggery manufacturer already faces enough difficulties. Jaggery needs a cold chain for supply during the off-season because it is a seasonal commodity. However, cheap cold storage and a cold chain are completely absent from India. Although jaggery is only produced from November to March, people demand it all year round. Finally, the jaggery maker falls when the consumer contrasts the cost of hygienically processed and packaged jaggery with the loose, fly-tasted jaggery.
Bottom Line
The largest unorganized sector in India is the jaggery industry, one of the oldest and most significant rural cottage industries in the nation. The bulk of sugarcane farmers manufactures jaggery with low capital expenditure, giving unemployed rural residents work. Most of the small and marginal farmers who produce jaggery rely on its quick returns. Therefore, it is crucial to protect the sugarcane producers' ability to benefit more from their jaggery production facility by enhancing its qualities through value addition and packaging jaggery and products made with it using cutting-edge technologies.