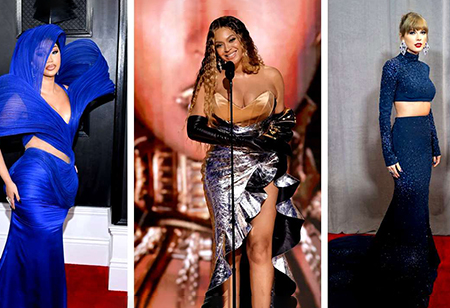 From Taylor Swift in a two-piece gown by Roberto Cavalli's Fausto Puglisi to Lizzo in custom Dolce & Gabbana with a stunning opera coat, fashion makes the Grammys a spectacle to watch. It wouldn't be the biggest night in music without a major fashion moment. On the Grammys 2023 red carpet this year, the industry's greatest stars certainly upped the ante, arriving at the Crypto.com Arena in Los Angeles sporting eye-catching outfits flooded with sequins, feathers, crystals, and chains.
Although Oscar night is known as the Super Bowl of fashion, the overall tone of the event is indisputably sophisticated and elegant. Viewers never know how far nominated musicians and guests will push the boundaries of crazy, high-wattage looks to generate wow moments at the Grammys.
Unlike most award shows, the Grammys have become an event where multiple changes by artists are now expected, as not only from the red carpet to the performance, but sometimes just because they can, similar to a bride who wears one gown for the ceremony, another for the reception, and yet another for the after party.
It's a genuine question whether fashion businesses are getting a good return on their investment when these many, pricey looks are available for free.
Who sparked a social media frenzy when they walked the 2023 Grammys red carpet on Sunday night? Here are the musicians and stars who nailed the look-at-me look at the 65th Annual Grammy Awards.
Beyoncé: Queen Bey Slayed Looks with Gucci and Balmain
Much was made of Beyoncé getting stuck in LA traffic on her way to Crypto.com Arena, and it not only prevented Queen Bey from picking up the trophies that have vaulted her to first place as the artist with the most Grammys in history. It also prevented fashion fans from getting a close-up look at her three outfit changes throughout the evening. Beyoncé was spotted in the audience wearing a Gucci gown with a silver metallic skirt, but at the end of the event, she changed into a black mirrored corset and velvet skirt custom-designed by Daniel Roseberry for Schiaparelli Haute Couture. Following the broadcast, she thanked her Bey Hive on Instagram, wearing a special Olivier Rousteing for Balmain outfit designed by Marni Senofonte.
Lizzo: Dazzled in Dolce & Gabbana
Lizzo, dazzled in a bright orange Dolce & Gabbana opera cloak covered with flowers and a large hood. Streetwear, T-shirts, and jeans were blended with blinged-out couture, wild patterns, and plenty of skin. Lizzo walked with care, balancing her heavy coat with a long train. After a while, she lowered the coat to her shoulders, revealing a sequin corset gown in a softer orange underneath. The coat was completely embroidered with handcrafted silk flowers, and the gown was silk with Swarovski crystal mesh embellishments. She wore crystal-encrusted heels and transparent fingerless gloves. Lizzo sported a second Dolce & Gabbana look for her performances of About Damn Time and Special, then changed into a third, a silver lamé ruched dress, after accepting her Grammy for record of the year.
Cardi B: Brought her Cosmic Character to Life in Gaurav Gupta
Many people of the South Asian community are familiar with the concept of couture. Excess is in our blood, from lavish wedding gowns to heavy costume jewelry, and it continues to pervade and inspire Western design. Gaurav Gupta, an Indian couture designer whose work was recently worn by Cardi B on the Grammy red carpet, is a pioneer in the couture movement. While the name may be unfamiliar to some of us, he's already a big deal. This isn't the first time Cardi B and Gaurav Gupta have worked together.
Cardi B symbolized the element of 'air' in the 'Gaurav Gupta Amorphous Shapeshifter Sculptural Outfit' on an unending field of poppy. The indigenous sculpting process of the brand evolved into infinite shapes, bringing her cosmic character to life in the film. Cardi B wore a silver metallic assemblage from Paco Rabanne's past to present the award for best rap album.
Adelle Shun in Red with Louis Vuitton
Adele added to her 15 Grammys by winning best pop solo performance for Easy on Me in a custom Louis Vuitton gown with luxurious silk matelassé ruffles and matching burgundy velvet shoes. Tiffany & Co. jewels, including Schlumberger diamond earrings set in platinum and 18-karat yellow gold, completed the appearance.
Jennifer Lopez Glittered in Gucci
Jennifer Lopez, one of the night's early presenters, donned a flowing translucent navy gown by Gucci with opulent ruffles, beaded sleeves, and seamed crystal details, combined with diamond and sapphire high jewelry by Bulgari, including two Serpenti necklaces totaling more than 150 carats of diamonds.
Taylor Swift Donned a Midnight Blue Gown in Roberto Cavalli
Roberto Cavalli design director Fausto Puglisi wore a midnight-blue two-piece silk gown adorned with micro-beads and Swarovski crystals in honor of Taylor Swift's latest album, Midnight. Swift accessorized the gown with almost $3 million in Lorraine Schwartz jewelry, including a pair of gigantic kite-shaped earrings made of more than 136 carats of natural purple sapphires, paraiba tourmalines, and diamonds, and completed the ensemble with Giuseppe Zanotti platform sandals.
Sam Smith Served a Theatrical Red Look in Valentino
With extravagant capes and coats among the night's major trends, Sam Smith chose opulence in a voluminous red silk coat, combined with a veil-accented top hat and gloves, a custom outfit by Pierpaolo Piccioli for Valentino. Piccioli also dressed the dancers who joined Petras and Smith on the red carpet.
Harry Styles Wore a Rainbow Jumpsuit in EgonLab
Harry Styles, the night's best pop vocal album winner for Harry's House, shunned his favored Gucci for the red carpet, instead opting for a handmade harlequin-patterned jumpsuit studded with more than 250,000 Swarovski crystals by Paris-based designer EgonLab. Styles changed into a Gucci suit just in time to accept his prize, which was one of the first given out on Sunday night, then wore a third look, a highly ornamented fringed, beaded jumpsuit, again by Gucci, for his performance.
Anitta Infused Drama in Vintage Versace
Her vintage Atelier Versace gown, a marvel of laser-cut leather and lace with a sweeping ruffled train, added a significant dose of drama to the Grammys carpet. Tiffany & Co. jewels complemented her ensemble without overpowering it, including a dazzling 12-carat kunzite pendant, a diamond tennis bracelet, and many brilliant rings.
Kacey Musgraves Dolled Up In Valentino
Kacey Musgraves, who was on hand to honor Loretta Lynn during Sunday night's In Memoriam segment, wore a trio of the night's trends earlier on the red carpet: a lush feather cape over a jumpsuit, in pink, all from Pierpaolo Piccioli's Pre-Fall 2023 Valentino collection. Nicole Rose Jewelry provided the diamond and morganite jewelry for Musgraves' outfit.