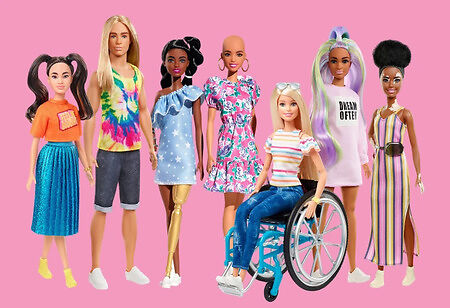 Growing up we have seen a Barbie doll or two in the shelves of the showcase or in our rooms or sibling's rooms. We have tried styling her hair which ended up looking like the opposite of what we imagined her to be. For some kids, Barbie wasn't all that relatable especially when your hair colour or texture didn't match the doll. However, most kids from different countries and ethnicities couldn't relate to the doll with her entire anatomy at all. After all, it is not surprising when adults mostly watch a movie or series for the character that's relatable to them. After much backlash on Barbie's typical appearance, the figurines began to change the way people perceived them by becoming a representative of them. Here's how Barbie went from tall, slim, blonde to a plethora of dolls embracing diversity.
Barbie's toy manufacturer, Mattel, has greatly expanded its Fashionistas collection to include dolls of various shapes, sizes, colors, and abilities to emphasize the value of diversity. Mattel has unveiled its first-ever doll with scoliosis in a notable step towards inclusivity. The 6-inch Chelsea doll comes with a detachable brace and has scoliosis, a spine curvature. The toy manufacturer hopes to normalize this equipment and inspire kids to celebrate inclusion with this tiny doll.
Barbie has worn a tremendous amount of symbolic weight on her diminutive shoulders for the 60 years since Ruth Handler first presented her to the world. She has received both praise and scorn. This was due to her philosophy of wanting the doll to be anything that a little girl wanted to be. However, the typical slim, tall and blonde Barbie wasn't able to support children of colour and different body types. That's why it was hard for children to follow when the dolls weren't representative of what they looked like.
Fortunately, progress made its way to the manufacturing unit and went on to create a whole new set of diverse Barbies.
Expanding into Colours and Sizes
It was in the 1980s that Mattel released its first 'Black Barbie' and 'Hispanic Barbie' after much push by the Civil Rights Movement and the Chicano Movement for Mexican American empowerment. Before that the dolls of color were only Barbie's friends.
Barbie's physical appearance saw the most significant change to date from 2010 onwards for a doll that had previously been white and skinny. It was when Mattel took inclusivity up a notch creating dolls with a wider range of body types, skin tones, hair textures, and ability status.
Even while other dolls in the collection belonged to nations like Italy and Scotland, the first apparent East Asian Barbie, launched in 1981 as part of the 'Dolls of the World series, wasn't given to a particular nation. Instead, she was referred to as 'Oriental Barbie' and given a derogatory moniker. This was more than ten years after a coordinated, pan-Asian movement began to call for the term's end from American usage due to its negative connotations.
Barbie's ethnic diversity gradually increased thanks to the 'Dolls of the World' line, which ended in 2014 and featured dolls from many different countries. These dolls were clad in national costumes in an effort to highlight cultural diversity and heritage. Despite the fact that some of the countries represented in the collection might have made it easier for more children to purchase a doll that resembled them and perhaps even dressed like them. The dolls' traditional garb still distinguished them from the rest of the collection and, consequently, the contemporary American Barbie.
Meaning, the dolls that wore outfits matching the traditional attire of various countries, sometimes fell into stereotypes. Not only that, the heat soon passed to Barbie's normalization of an impossible anatomy type of being lean, tall and with a small waist.
To counter that, Mattel directly gave Barbie a voice by launching 'Barbie Vlogger' in 2015 which encouraged discussions about mental health among others. It gradually began changing its usually perceived one-sided opinion to a potential role model of empowerment to children. This led to a flurry of change regarding Barbie's body and styling, by releasing curvy, petite and small figurines in 2016. In 2017, it release more diverse figurines with 11 skin tones, 28 hairstyles, and 7 body types. In 2019, Mattel went on to release wheelchair Barbie, as well as a prosthetic leg Barbie.
Today Mattel has yet again celebrated inclusivity by releasing a doll representing scoliosis.
Chelsea Doll Representating Scoliosis
This new doll of Chelsea, Barbie's younger sister, has long brown hair that has been styled in waves and is dressed in a detachable pink dress with a vibrant design and white shoes. The 6-inch Chelsea doll features a detachable brace and has scoliosis, a spine curvature. The toy manufacturer hopes to normalize the equipment and inspire kids to celebrate inclusion with this tiny doll. Throughout the creation of this special doll, Mattel worked closely with Dr. Luke Macyszyn, a board-certified neurosurgeon and expert in children's severe spinal problems. This new doll of Chelsea, Barbie's younger sister, has long brown hair that has been styled in waves and is dressed in a detachable pink dress with a vibrant design and white shoes.
Barbie Doll with No Hair and Vitiligo
The company created a doll that accurately depicts this illness, which results in loss of skin color in blotches, after consulting dermatologists. The company has produced a doll without hair to depict a larger range of medical issues. To its five-year-old Fashionistas line, Mattel has been introducing fresh, diverse dolls throughout time. There are currently 176 dolls in the range, offering a great variety. The hairless version was created to be 'reflective of trends seen from catwalk to the sidewalk', and a prototype of it earned the brand's most liked Instagram post ever last year.
Barbie with Hearing-Aids
Barbie's first behind-the-ear hearing aid doll was unveiled by EastEnders actress Rose Ayling-Ellis. The new Rose, Barbie and Friends campaign, which also features a number of different dolls representing various cultures, depicts the Strictly Come Dancing 2021 champion. She is pictured with a group of women who represent the most recent collection, including the first Ken doll to have vitiligo, one wearing a prosthetic limb, and one using a wheelchair. Ayling-Ellis, who has been deaf since birth, recalled how, as a young girl, she gave her Barbie dolls hearing aids to help them resemble her. Mattel sought advice from specialists on how to depict hearing aids appropriately before designing the toy.
Unity in Diversity
Barbies now sport 94 different hairstyles, including rainbow-colored hair, an afro, short hair, and many more because Mattel is aware of how significant Barbie's hair is.
Even Ken doll got a new outlook, Mattel debuted Ken with long hair for the first time ever.
Barbie dolls were all white for a very long time, but Mattel has now added 35 various skin tones to their doll line. There are also dolls in this range with varying abilities.
Some of the Barbies now have wheelchairs and prosthetic limbs.
More and more youngsters worldwide can see reflections of the real world in their toys as Mattel continues to diversify.