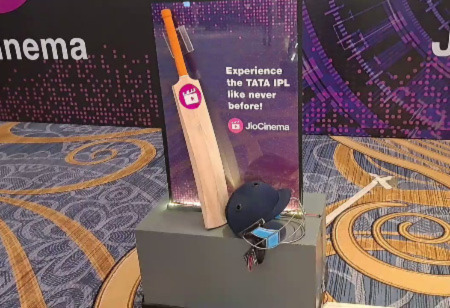 The upcoming 2023 season will continue the Indian Premier League's (IPL) tradition of having creative and intriguing advertising campaigns.
Several cricket fans throughout the nation have praised Jio Cinema's technique since the IPL advertisement first appeared online, while others went crazy after seeing MS Dhoni and Suryakumar Yadav in their hilarious avatars. This season, the match will flag off on March 31, with defending champions Gujarat Titans MS Dhoni-led Chennai Super Kings at the Narendra Modi Stadium in Ahmedabad.
Also, this year JioCinema has finally made camera angle changes possible. This can enhance the viewing experience and allow viewers to enjoy various camera viewpoints.
Sachin Tendulkar, legendary Indian cricket player who is now the brand ambassador of JioCinema, supported JioCinema's efforts to make watching IPL movies associated with digital.
What's more is that fans can now watch IPL 2023 for free after Viacom18 won the contract for the live streaming of the tournament for a staggering Rs. 23,757.7 crores over the course of five years.
4K Resolution
IPL matches will be streamed in 4K for the first time ever. Over the years, Hotstar has been streaming IPL in HD. The IPL 2023 matches will be streamed by Jio in 4K quality, which will offer a fair deal of clarity and details. Since nearly 90 percent of IPL matches are watched in 480p resolution, according to Jio, users will this time experience nearly ten times greater clarity.
Fans Can Switch Camera Angles During the Match
With the Focus Mode, viewers can focus on a certain player. You can now monitor each player individually as they compete in the IPL 2023.
The Multicam Mode enables spectators to see several items on a cricket field at once. Fans can experience features like an end-to-end tactical perspective and a 360-degree wire camera while watching the lucrative IPL 2023, which features their favorite players and teams.
Even Stream Up to 16-17 Languages
The IPL 2023 will have streaming in roughly 16–17 languages, including Bhojpuri, Bengali, Tamil, Telegu, and Odia, in addition to an improved user viewing experience. Customers can now watch the IPL in their preferred language.
The broadcasters and the live streaming provider want to improve their viewership and revenue, thus this is undoubtedly a game-changing move for the IPL. The JioCinema app will also offer free live streaming of the IPL 2023, which will significantly enhance viewership.
A lot of people who couldn't previously obtain a membership on the Disney+Hotstar program may now watch it for free on JioCinema and take in the most well-known cricket league in the world with their friends and family.
Hype Mode
In connection with the FIFA World Cup 2023, Jio Cinema debuted the Hype Mode. You can look up facts and figures about the two teams that are actively competing. Rewinding the game allows you to go in the past. IPL has also received confirmation of the function. Throughout the game, viewers will be able to view player statistics or any other match-related data.
Fan Feed
Fans of the IPL will have a special area where they can support their team, interact with other people, and form groups with other supporters of the same team. Also, there will be a quiz and reward session where fans will be asked some entertaining questions regarding the game, and if they correctly respond, they will win prizes.
Pre and Post Match Shows
For every IPL game, Jio Cinema will host unique pre- and post-match shows. This previously solely applied to TV viewers. Experts like AB De Viliers, Chris Gayle, Suresh Raina, Eoin Morgan, Robin Uthappa, etc. will be on the panel. Jio will also let spectators talk to the commentators throughout every game.
The most intriguing change in this IPL season is that, while earlier Star properties like Disney+ Hotstar and Star Sports were primarily responsible for pushing IPL fandom to new creative heights, JioCinema's acquisition of the digital media rights to showcase the TATA IPL 2023 has caused the IPL ad campaign game to step up to the point where it almost feels like there is an ad war brewing before the tournament starts.
In addition to providing a high-definition feed on 6-inch mobile devices, the application will provide users with a cutting-edge experience.
Appointment Viewing
We have all observed that when watching a cricket match on television or online, scorecards, statistics, graphics, wagon wheels, and records periodically display on the screen. These images provide information about the location of the game that is currently being played or about a specific participant. Yet, a viewer must wait to view those visuals as they are displayed on screens in accordance with the broadcaster's wishes. 'Appointment watching' enters the scene as a game-changer.
Instead of having to wait for the broadcaster to screen it, technology will allow Jio Cinema users to instantly verify all these components.
Virat Kohli, for instance, bats with a tailender to push the total above 200. A spectator wants to know what No. 3 and No. 10 batsman partnerships have occurred in the IPL, or how about this: someone is watching a chase and wants to know the strike rate of the team chasing in comparison to the team that batted first. Observing everything in real time.
In the past, a user had to subscribe to Hotstar in order to view the IPL live stream. But now that the IPL's digital broadcaster has switched, various media stories have stated that Jio Cinema will offer free live streaming of IPL matches.