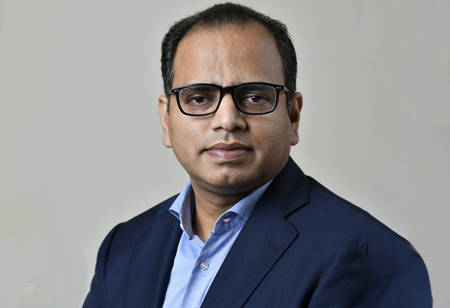 Rajdip Gupta, MD & Group CEO, Route Mobile Limited, 0
Among the world's young entrepreneurs, Route Mobile has grown to be one of the leading global Cloud Communications companies offering Communications Platform as a Service (CPaaS) under the leadership of Rajdip Gupta, MD & Group CEO. His vision has assured that the company provides solutions and services in messaging, voice, firewall, email, new age messaging services like RCS, WhatsApp, Viber, and IP messaging, among other areas, to enable end-to-end communications for businesses and brands. He has more than 20 years of experience creating and developing software. He graduated from Mumbai University with a bachelor's in science (physics) and holds a master's degree in software engineering from Aptech Computer Education. In an exclusive conversation with CEOInsights Magazine, Rajdip Gupta, MD & Group CEO of Route Mobile Limited., shared key insights about the ability of Cpaas to enhance the abilities of AI tools and how leaderships should leverage the opportunities that arise as outcomes thereafter.
Walk us through your professional journey, reminiscing the milestones you cherish so far.
Our journey started with a goal of solving
communication issues
. Today, we have become one of the largest global CPaaS players from Asia. By establishing a sturdy network on the operator's side of
connectivity
, we gained a loyal customer base in the last 19 years. As the CEO, it is crucial to believe in the vision and express it convincingly, while being mindful that credibility is what matters.
In 2020, Route Mobile was publicly listed with a Rs 600-crore IPO on the National Stock Exchange (NSE), which was oversubscribed 74 times. What's remarkable is that we never raised funds until the IPO. We took a well-planned and structured approach to achieve this significant milestone. I take pride in what we've built, and as my first start-up, we're always exploring ways to expand and grow.
As a publicly listed company that transitioned to IPO from Bootstrap, how has Route Mobile been pursuing its growth trajectory and delivering high-quality contract wins along the CPaaS value chain?
Since our
IPO
, we have seen incredible growth, expanding our reach across continents and establishing ourselves as a world-renowned leader in the cloud communication space. A large part of our success globally is attributable to the super network and direct connectivity with over 280+ network operators. We have assisted our clients in overcoming the most challenging digital transformation and technology modernization issues.
Communication channels have evolved to include enhanced business messaging apps, chatbots, and voice assistants, altering consumer habits and expectations toward brands. We keep pace with the changing communication behavior and offer a comprehensive range of CPaaS solutions. We have our dedicated R&D center in Bangalore and Mumbai for developing new-edge innovations related to AI/ML, Blockchain, Mobile Identity, and Customer Experience that create ways to meet these new demands. As a business, we have been successful in executing organic growth strategies along with value-added acquisitions. We've also been catering to marquee clients with customized CPaaS solutions, providing multiple levers to create sustainable growth momentum in the business.
Could you tell us about the areas the industry is going to focus on, with the cloud communication segment in particular?
In the future of cloud communications, customer engagement and digital identity will be key drivers for transformative growth. Meaning, businesses should support customers across various channels, especially new digital ones, while interacting with them based on their preferences. At the same time, businesses should have a comprehensive view of different touch points
across channels as part of the end-to-end customer journey.
Conversational AI
is also a remarkable addition to CPaaS platforms that can significantly enhance the capabilities of chatbots. AI-based chatbots can now analyze customer data with an extra layer of intelligence, paving the way for more personalized and accurate customer interactions. It automates tasks that gratify customers, ensuring they receive top-notch service.
Moreover, it is crucial to create a secure digital environment where individuals and businesses can engage in trustworthy transactions. Digital identity is an essential asset in our lives today, and enterprises must be prepared to prevent identity theft in real-time to avoid revenue loss.
Going forward, what will be the role played by Artificial Intelligence among other latest technologies, particularly in in-house improvements and customer experience? How does Route Mobile look at this opportunity?
AI-powered tools can analyze user behavior and preferences to tailor communication for personalized and efficient communication. For example, conversational AI-like chatbots can respond instantly to queries and
customer
service requests. Furthermore, self-service tools can be developed to release resources for more complex issues that require a personalized approach.
Be a customer and critique your product. If you think it is solving your problem, your product will work.
AI and blockchain technology can also play a crucial role in solving the issue of phishing attacks or SMS fraud. Our solution, Route Guard, is an example of innovative solution powered by AI, ML, and blockchain technology that offers advanced security features to prevent phishing and spam. It helps MNOs, enterprises, and telecom operators safeguard their customers from malicious messages. As part of our customer experience strategy, we work with our clients to deliver seamless customer experiences across the customer lifecycle with a digital identity and security suite to ensure digital transactions are secure through a reliable ecosystem, allowing businesses to authenticate end users without friction.
How has the role of modern-day leadership evolved in this sector? How should leaders develop working structures that attract and retain talent to score organizational and people goals?
In today's ever-changing business landscape, effective leadership requires adaptability and flexibility. A comprehensive employee retention program can help attract and keep key employees motivated and productive.
The telecom sector is especially dynamic due to regulatory changes and high consumer expectations, requiring employees to stay alert and adaptable. To thrive in this environment, companies must prioritize continuous learning and personalize learning experiences to meet individual needs. It's also essential to create an environment that encourages innovation and celebrates success, providing everyone with equal opportunities to excel without barriers.
What would be your advice to future leaders in this industry while hacking new opportunities?
Leaders should equip their teams with new tools and processes that enable them to create innovative products and services and generate fresh revenue streams. It's important to use actionable information available within the organization, combined with market insights, to work intelligently and reduce costs.
Be a customer and critique your product. If you think it is solving your problem, your product will work. If your product solves a problem, you will get customers!
Focusing on the customer experience is crucial as it provides detailed insights about customers from both network data and social media information. This helps establish customer-centric KPIs that enable understanding the user experience.