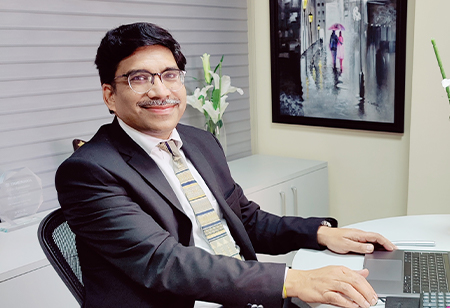 Manish Garg, CEO, Interarch Building Products, 0
Manish Garg, a Harvard graduate with a background in civil engineering, holds extensive expertise in the domain of PEB (Pre-Engineered Building) and steel construction solutions, as well as building materials. With a track record of 16 years in P&L (Profit and Loss) management, he boasts over three decades of experience, specializing in building products and systems. His leadership has propelled significant professional organizations to achieve remarkable success and growth within this industry.

In an interaction with Bimlesh Prasad, Correspondent at CEOInsights India, Manish shared his views on the significance of fostering a positive business culture, initiatives for the steel industry's growth, government support for infrastructure, challenges facing the industry, and guidance for leadership development.
How do you prioritize and divide your time as a CEO, and how does your capacity to make difficult choices under pressure affect the business' performance?
Recognizing the pivotal role of cash flow and efficient capital management, I begin my day with insights from our CFO, setting the tone for my tasks. I evenly split my focus between operational and strategic matters. Operational priorities are driven by the Key Daily Data (KDD) MIS, my daily starting point. This data guides my attention towards crucial areas such as production, collections, or order intake, shaping my daily operational agenda.
Strategic concerns revolve around market dynamics and team development. This includes strategic hiring decisions, where I collaborate with our CMO to assess market trends and craft a mid-term strategy for market share expansion. Throughout the day, I make decisions, often relying on data-driven insights over gut instincts. My experience in building businesses from scratch has sharpened my ability to make quick, data-backed choices under pressure. I also employ the Harvard classic 2x2 matrix approach for important decisions, always considering the empathy factor as a priority.
Tell us about the difficulties you've faced in creating and sustaining a positive business culture. Why is it crucial to the success of the whole enterprise?
Difficulties are part of any CEO's everyday life! Business cycles are sometimes erratic. The visibility of the critical business levers is essential, and I have a deep understanding of all those issues. We are in a B2B environment and sustaining a positive culture of business is essential. We go through spikes based on the external factors. Our belief in our value system and deep penetration in our markets gives us that confidence to remain positive.
We constantly work on changing the mindset of our team from running a 100 mtr. Sprint to a marathon! I always try and train my team in looking at the business side of each of the departmental heads. All of them are encouraged to look at their department as profit centers and not cost centers driving efficiency and productivity in their respective areas.
According to you, what are some of the main initiatives
that could help the steel industry flourish and lead India to a $ 5 trillion economy?
The five trillion dollar economy is a very realistic target for India. If you see any developed country, you can derive a direct relation between the steel they consume on a per capita basis. Indian steel usage is still 1/3rd of world average ad 1/6th of China. So, there is a lot of head room. Infra push, be it new airports, expansion of old airports, Metros, railways, and smart cities all are centered on usage of steel in construction. I also tend to think that GOI should certainly consider giving the construction industry the status of Infrastructure projects.
Secondly GOI must allow the full credit of ITC for GST for setting up buildings for factories and warehouses. This change in GST would also ensure that the informal transactions by unorganized sectors are eliminated causing loss of revenue to GOI. The construction norms in our building codes also need to be upgraded, to make use of steel, favorable. These norms would certainly stimulate the steel demand. The benefits of using steel are immense and if all are supported by government initiatives to promote steel, it should propel India into becoming a five trillion economy sooner then we intend to.
Our belief in our value system and deep penetration in our markets gives us that confidence to remain positive.
What steps are taken by the government to expand infrastructure facilities for the steel industry?
I think the Government is doing their own bit and is ensuring availability of auctions for coal and Iron ore. The road network is crucial and NHAI is doing a great job around it. GOI at times have also taken proactive steps to boost steel demand and provide support to Indian steel sector.
What do you believe the steel industry will face as its main challenges over the next five years?
Single biggest challenge I see is 'OVER CAPACITY'. I think with all expansions taken up; the Indian steel capacity would double in next five years. The steel usage in construction must be expanded by stake holder education initiatives. Another thing that I see as an additional challenge is availability of good quality Iron ore and coal and their prices are going to be core challenges. The capacity is building up and demand expansion if not supported by government initiatives could also pose a new challenge.
To exhibit their leadership potential and get ready for a future leadership job, what experiences or opportunities should someone look for in their current position or organization?
There's a fine line between managing and leading, both crucial. Distinguish when to manage and when to lead. Adopt an entrepreneurial mindset as a department head, contributing to company progress. Expand your job profile and seek opportunities for growth. Staying stagnant gains five years of experience and diversify tasks for greater learning. Embrace challenges beyond your expertise; step out of your comfort zone.
Invest in knowledge and networking for leadership growth. Seize even small leadership chances, from team exercises to group trips. Stretch your limits, try new roles, gain skills, and build confidence. Ultimately, lead by example through continuous self-improvement.