Ashok Cherian, CIO, Jockey India, 0
Set-up under Page Industries Ltd in 1994, Jockey India manufactures, distributes and markets products for the whole family – Men, Women and Kids.
As time is evolving, e-Tail is giving more sleepless nights to Retail. The convenience of 24/7 shopping and with the cost advantages it comes with, e-Tail is really growing in capability to take Retail head-on. Another new kid in the block is Voice Assistants like Alexa making strides to augment nonstore selling, but store based voice assistants are trying to bring the same experience in the store. The only stream which is connecting both is Omni-Channel, which is taking the best of both the worlds. Things have probably never been so challenging or hot in Retail. The internal and external forces are making it evolve into a different animal, a more agile and spirited one.
An Era of Hyper Personalization
Today, we live in an era of hyper personalization, and the customers just love it. It is only a matter of time that this becomes the default standard. Imagine you walking into a store and the facial detection recognizing you & you are welcomed, while the sales agent greets you and discusses only the products that suit your taste & profile. This is no more fiction and it is happening, and very soon ,we will get to see it in scale. With data goldmines at hand, Retail businesses are more and more building meaningful relationships with consumers, making data management and analysis their cornerstone strategy. Digital capabilities are being used to fine tune what needs to be stocked and where, and also what need to get displayed. Actually, it is becoming increasingly important to embrace Digital capabilities to manage the scale the Retail companies are targeting. Technologies like Augmented Realty are making the customer experience much richer, and some of these capabilities will evolve to be the key differentiators in the sales pitch. It is not going to be around if you have this feature or not, but will be around how good is the capability of the solution you have.
It's not just about hyper personalization; it is now more and more about hyper localization. Gone are those days when everyone around larger geographies got similar products and services. Imagine the sign board of your store which changes daily. Difficult, right? With hyper localized cloud based systems, it can happen and can get governed centrally with perfection. Now, with the power of hyper localization, much deeper and focused territories are mapped and serviced differently, thanks to the digital advent. It is not that early days no one knew the need of this, but the sheer effort was killing it, and now, with seamless digital tools talking to each other
seamlessly, it is a reality. Technologies like AI and ML are adding fuel to the 'Digital Fire' and making the Retail industry move closer to the customer's heart. It is helping organizations to become more customer centric, agile and relevant. Fintech revolution and Digital Payment push is also helping the shopping experience much more seamless.
One of the biggest sore points of the retail experience is the time for payment and check-out
Bringing back the Days of Retail
It is just not around the front-end, but even in the back-end the digital impact in Retail is mind boggling. The smarter supply chains rely on digital making to assure that you have the right product at the right place at the right time. The costs of the supply chain, including inventory, get a major leg up opportunity with digital interventions. Even beyond the supply chain, the sourcing strategies today are getting increasingly driven by digital tools. Retail industry understands the importance of being nimble, agile and cost effective and they are looking big time at digital for achieving all these. Digital interventions around connecting the entire workforce in various stores and getting personalized nuggets to sell, upsell and cross sell are increasing the productivity levels, and the store executives are becoming real trusted advisors, thanks to the power of the digital tools that they have. One of the biggest sore points of the Retail experience is the time for payment and checkout. Here again, digital is making its entry through auto checkout capabili ties like in Amazon Go. The good part is that such technologies are now available in the cloud on a SaaS based model,which makes it a potential opportunity for many smaller stores and enterprises.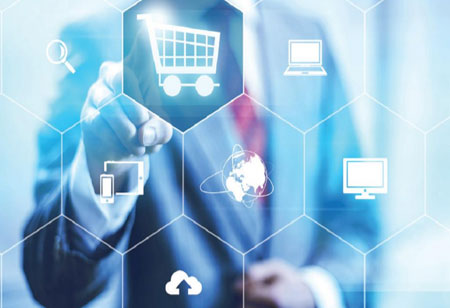 With digital, sky is the limit for Retail or the endless aisles make it even boundary-less! China and the US are leading most of these digital capabilities, and I am pretty confident that India will also get the most of it and will be of mass scale very soon. Some of our startups in India are also doing a lot of advanced developments in this area and hope they will make it more affordable for the Indian Retail industry. To conclude, it would not be incorrect if we say 'Future Retail Powered by Digital'. I am hopeful that all these digital interventions will bring back glory to Retail in its fight with e-Tail. Let there be more change and competition, the customer is all set to benefit, and the digital experience is going to be a rewarding one for them.