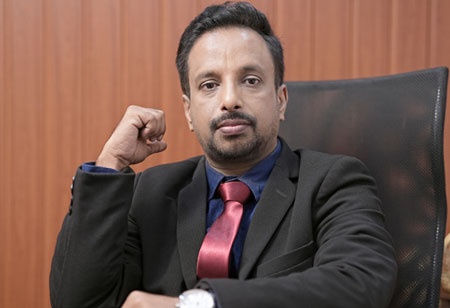 Midhun PV, Legal Advocate, PV Madhavan's Legal Consultancy, 0
In difficult or complex situations, people may find themselves desperately seeking the guidance of a well-skilled and reliable legal professional who has the potential to have a positive impact on the life of their clients. CEO Insights' exclusive team connects with one such extraordinarily skilled, client-centric Legal Advocate, Midhun PV, who is going above and beyond possibilities to help people during some of the most challenging times in their life. He is an expert in handling legal family matters, bail, civil cases, criminal cases, cheque bounce cases, LSGT cases, RERA court, customs & enforcement cases, High Court, and tribunals.
He is successfully spearheading his fathers foundation - PV Madhavan's Legal Consultancy, as its CEO and driving an experienced & expert team of Advocates to deliver high-quality legal services to Indian as well as international clients. Midhun is a dynamic professional who is leveraging his exceptional knowledge and expertise to help clients resolve their concerns.
Let's hear it from him.
How would you define PV Madhavans Legal Consultancy as an organization and its current position in the market?
Founded by Late P.V. Madhavan, Senior Advocate, PV Madhavan's Legal Consultancy is a reputed law firm in Kannur with experienced advocates that provides a spectrum of legal services to its domestic as well as international clients. It is a 50 years old law firm and we aim to keep up with the decade sold reputation by providing legal consultancy with the utmost professionalism, ethics, and uprightness of our values.
Tell us about your leadership approach.
Being the CEO of a law firm comes with multiple challenges it requires managing not only the business aspects of running a law firm but also the duties of practicing law. To be effective in both my roles, I follow an affiliative style of leadership. For me, people come first. I tend to focus on both the professional and personal needs of my team. And I strongly believe that goal accomplishment follows only if the team is comprised of motivated lawyers. As a leader, I make sure to be imperative to managing the firm, retaining employees, and meeting the expectations of the growing generation of new lawyers.
In your opinion, what is the next big industry trend that will help to steer your organization toward a more successful future?
ChatGPT is the next big innovation that lawyers and law firms cannot afford to ignore. It will provide new possibilities for modernizing law firms. PV Madhavan's
Legal Consultancy, as a forward-thinking law firm sees it as an opportunity to transform its work. We are focusing on being updated with every significant change and embracing the latest cutting edge technology that will enable us to be a more productive, profitable, and client-centric law firm.
Tell us about some of the challenging cases you have encountered as a Legal Advocate. How did you overcome them to emerge as a successful professional?
I have been a Legal Advocate for the past 13 years and every case that I take up is equally challenging and requires personalized focus. Currently, we are handling a helicopter crash case that took place in Mumbai and we are fighting for the families of the deceased people to be able to receive a gratuity of 150 crores though it will never replace their loss. This has been an extremely challenging case. Other than that, we have many other matrimonial fraud cases and criminal cases that are complex and complicated. But with honesty, integrity, knowledge, confidence, and persuasiveness ingrained in our team's core values, we have been successful in providing high quality legal services and a high success rate in all our cases.
As a leader, i make sure to be focused towards achieving the goals & responsibilities of our firm along with my team, provide the best legal solutions to the clients exceeding their expectations & set a path to the growing generation of new lawyers
What is the future destination you are heading towards?
At present, we are into providing legal services to different states of India and the UAE. But in the coming years, we will be looking for opportunities to build legal consultancy in the U.K. the U.S., Canada, and Australia as well. We also aspire to be an advocate in the ICJ (International Court of Justice) and have the privilege of representing our country by arguing cases before the ICJ.
What would be your advice for budding lawyers who are aspiring to make a benchmark in the legal domain?
Growth and rising to the top are the dreams of every legal consultant. To be a successful lawyer, however, one must meet the challenges successfully. For which the most important thing is knowing the field of expertise and having the confidence to persevere. Since lawyers play a crucial role in protecting their client's rights and interests in the legal system, they must build strong relationships with their clients, listen to their concerns, answer their questions, be available to provide guidance and support, and act in their client's best interests at all times.
Midhun PV, Legal Advocate, PV Madhavan's Legal Consultancy
A highly reputed Legal Advocate, Midhun is spear heading a well-known legal firm with rich experience in providing legal advice and services. He is an independent lawyer practicing in various fields of law including Consumer Cases, Matrimonial Cases, and Civil and Criminal Cases.