Prianshu Khandwala: Seasoned Cybersecurity Leader Spearheading Next-Generation Cyber Defence Initiatives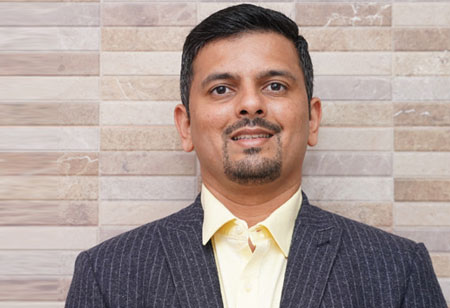 Prianshu Khandwala, Global Lead Information & Cyber Security, UPL Limited, 0
In the realm of cybersecurity, leaders should embrace the potency of teamwork and situational leadership due to their crucial role in effectively tackling the intricate challenges of the digital realm. Collaborative efforts are indispensable in cybersecurity as no individual possesses the entirety of the requisite skills and knowledge. By fostering teamwork, leaders can harness the diverse expertise of their team members to formulate comprehensive security strategies. Moreover, situational leadership enables leaders to adapt their approach according to specific circumstances, enabling informed decision making and guiding the team toward optimal solutions. Through the combined power of teamwork and situational leadership, cybersecurity leaders like Prianshu Khandwala can fortify defenses, confidently navigate the ever-changing threat landscape, and drive success in this dynamic field.
Prianshu Khandwala is a visionary security leader and the Global Lead Information and Cyber Security at UPL Limited. With a remarkable track record, Prianshu has adeptly built security practices from the ground up, nurturing and maturing them over time. By strongly supporting business drivers and enabling organizations to pursue their 'Go to Market Strategy', Prianshu provides solutions that align with the business while effectively mitigating risk.
As a seasoned security expert, Prianshu's leadership and vision have been instrumental in developing worldwide programs. With an unwavering commitment to excellence, Prianshu consistently delivers strategic guidance, establishes effective security strategies, and provides strong leadership to enable organizations to navigate the complex realm of cybersecurity.
Below is an excerpt of Prianshu Khandwala's exclusive interaction with CEO Insights magazine.
How has your professional journey been so far? What is the motivation that fuels your daily routines?
With a career spanning over 15+ years, I have gained extensive experience in the realms of Digital Transformation & Cyber Security, specializing in areas such as Application, Infrastructure, End User, Privacy and OT along with handling crisis. I have had the privilege of working at Aditya Birla Group, a renowned conglomerate, where I over saw cybersecurity for diverse businesses, including the Idea Cellular contact center. Following this, I embarked on a journey with Tata Motors, a prominent global automobile company, leading the charge in the connected car initiative. Subsequently, I joined UPL, the fifth-largest agrochemical company worldwide, where I built a comprehensive cyber security program from the ground up, leveraging advanced AI-driven tools.
How would you define UPL Limited as an organization and its current position in the market?
UPL Ltd.(NSE:UPL & BSE:512070)proudly stands as
a global leader, providing innovative and sustainable agriculture products and solutions. Our diverse portfolio comprises a wide range of biological and traditional crop protection solutions, boasting over 13,600 registrations. Operating in more than 130 countries and with a dedicated workforce of over 10,000professionals, we have a profound impact on over 90 percent of the world's food production. Our vision is to become an iconic symbol of technological growth and innovation. Guided by our mission, we aim to revolutionize the agricultural landscape, making every food product more sustainable.
I Emphasize To My Teams That Cyber Security Readiness Is Paramount For Business Growth And Expansion
Tell us about your leadership approach. What are the guidelines or methodologies you follow as a leader?
As a cybersecurity professional, it is vital to maintain authenticity and integrity. In the ever-evolving threat landscape, external adversaries continually attempt to breach our networks. As individuals, we must always be right first time in our decisions, controls, and actions. While adversaries only need to succeed once, we must always remain vigilant. Effective cybersecurity leadership necessitates collaboration with stake holders and an understanding of the business's challenges. Security cannot operate in isolation. I emphasize to my teams that cybersecurity readiness is paramount for business growth and expansion. The ecosystem scrutinizes organizations during cybersecurity incidents, demanding accountability. Leading from the front and practicing what we preach is crucial. Transparency and clear communication with senior management, even when conveying technical issues, is essential for success. By embodying these qualities leadership, transparency, and effective communication security leaders can thrive and avoid burnout.
What is the future destination you are heading towards?
When I chose this profession, I recognized the nobility that comes with it. Just as doctors are considered noble professionals, I firmly believe that being a cybersecurity expert is equally noble. Our reliance on IT systems is absolute, and my mission is to create a cyber-safe world. I envision a world where productivity thrives, where people are served without fear, and where cybersecurity is viewed as an opportunity rather than a problem. By raising awareness about rights and obligations in the cyber realm, I aim to empower individuals with the knowledge to navigate this digital landscape. My ultimate objective is to foster a cyber-safe world, free from the shackles of cyber threats.
Prianshu Khandwala, Global Lead Information & Cyber Security, UPL Limited
Prianshu is a seasoned cybersecurity professional with a diverse background in leading organizations toward robust digital security. Holding a PG in IT and E-Business Management from Welingkar Institute of Management, he has successfully contributed to renowned companies including i-flex Solutions, PwC, Aditya Birla Group, and Tata Motors. With expertise in driving cybersecurity initiatives and a passion for innovation, Prianshu is dedicated to safe guarding businesses against evolving cyber threats and enabling secure digital transformations.