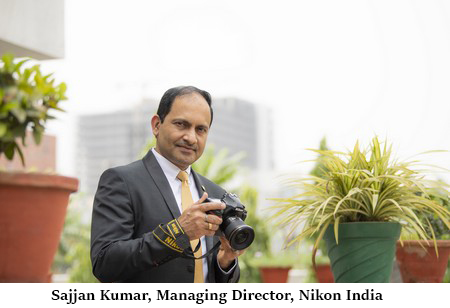 We all want to capture every moment of our life – whether on our smartphone or the DSLR. We want to be the photographer of our life! But the past few months of lockdown has clipped the wings of imagination as we were locked within the four walls of our home. But when the whole world was trying to find a ray of hope to engage, entertain and earn at the same time, there was a new community of professionals that captured the market of content creation – Vlogger. This indeed is one of the most innovative ways of content creation and engaging with the audience. Hence there is a growing demand for professional cameras.
On the other hand, the vloggers are looking for tech-savvy products that can enable them to quickly share their content with their audience. So how is the imaging industry going to address this need of the hour and what other developments await. I spoke to
Sajjan Kumar, Managing Director, Nikon India
to understand this. He brings over 26 years of vast experience and has been with Nikon India for over a decade. His insights focuses on how the future of imaging will evolve. Let's read.
How has been the past few months for Nikon?
Not just the past, but the current financial year too are difficult times for the imaging industry. But with things easing out, we hope for the best. Though our sale in April was almost nil, it has started picking up now; however we are still far away from our target.
Just like every other industry, imaging industry too have its season that bears more fruit. April, May and June are three such months when it's vacation & wedding time and in both the occasions, people love to capture themselves and their families during the happy times. But as these times are gone this year, we are keeping our fingers crossed and waiting for the festive and wedding season to show some sunshine. Now we see the market opening up and the demand increasing gradually.
However, the fear of corona still persists and we need to see that how as a society and as an individual, we can overcome this situation. Hence the time isn't right for expecting the business to scale high but survival is the strategy and wait for the good time as far as the business is concerned, but in the current times, we wish that our employees, customers and others remain in good health.
What imaging products are witnessing rise in demand?
We have two sets of customers – professional photographers, but as their business opportunities lay low, our business is at standstill, and the second one is hobbyist or the content creators who got an opportunity to explore themselves through a different medium. It is due to them that the demand for the entry to the mind-range products saw a rise in the market. But during these corona times, whether it's us or the customers, all are slightly reluctant to investment. And hence the buyer and seller engagement is too low.
The other thing that has impacted us is rupee depreciation, which has moved almost 10 percent further. These are the smaller fights that have been our concern.
Did the imaging industry use this time to reinvent itself in terms of strategy or new invention?
No doubt this is a time to look at things completely from a new perspective, and reinvent ourselves. This year hasn't been normal and hence we have also worked on our strategy to keep afloat – whether it is cost optimization, to make our products and distribution rules more effective, and even fixing the supply chain which has always been a major concern (both import and in-country distribution).
On the other hand, for the first time in the history for several companies, their employees worked from home for such a long duration. Reinventing ourselves to this change of wheel was another experience we all underwent.
Even the way of expressing ourselves and promotion has changed drastically over these months. These have gone online majorly as we now live in the digital era.
Did you witness something interesting in the industry during these times?
Yes! How you adjust yourself, start expressing yourself and interacting with consumers have changed 360 degree. For an instance, most of us now focus on social media, digital or online activities.
For an instance, we conduct a lot of online activities on our pages and even our partner's social media pages. Unlike earlier where we used to conduct many workshops for our customers to showcase our products & features and give them an opportunity to try out while providing a platform to our mentors and experts to interact directly with our customers, now everything has moved online. We now have more interactions happening on Instagram, Youtube, Skype and others, to engage with our customers even through our influencers who are from various fields including landscape, wildlife photography, fashion and others. Not just the customers but the communication with the distributors too have changed.
Just like other industries, imaging industry is also witnessing a huge technology revolution with integration of technologies like AI, ML, automation and more. So is there any new innovation awaiting to be uncovered soon?
Despite the destitute times, the industry has come up with great products. We are adding more user-friendly features with AI to our products and we have a firmware embedded to it, which is frequently updated.
There is no doubt that the imaging industry is changing for the betterment. Content creation is on a boom and video plays a major role in this. Live streaming has captured the market during the lockdown. And now the industry is looking towards more of connected products using which one can easily transfer their stills and videos and immediately you can show it or check the output. Our product Z Mount, which is the biggest mount when it comes to mirrorless, fills the gap in this space.
There is a shift when it comes to users, from big and heavy cameras to the smartphone photographers. Do you think that will largely impact the imaging industry and if so, how is the industry preparing for it?
Smartphone vs. camera comparison is not fair. We graduate from smartphones to cameras. With smartphones we learn taking good stills and videos and beyond that, if you want to have a better capture, you would need a proper device. But for ease of shoot and anywhere, anytime shoot, smartphone has captured a bigger market base. And this base makes the plinth for the imaging industry as they are already exposed to the camera, whether it's in stills or in videos.
But when consumer need a planned and controlled shoot, he goes for DSLRs or Mirrorless cameras. Some basic difference that I can touch upon is that when we talk of a good picture, it is not just about the pixels and the mega pixels, though it is important, but a good image is beyond that. For an instance, we have a sensor size, which is different for smart devices to high-end cameras like DSLR or Mirrorless. The last but not the least, most important thing is optics. We have been in the market for over a century and are known for our optics. But we cannot compare our lenses or for that matter, any imaging companies lenses with the smart devices.
The kind of dynamic range you get, the lighting scenarios you can capture, the more you go deep into the shooting, you need proper device. Brands like us have always tried to create a culture in and around photography or videography.
You have been in the industry for decades and your experiences & learning matter. I would like you to share few learnings that you would like to carry forward.
COVID is a unique situation we have witnessed. Otherwise I would mention that 'change is permanent' and it is bound to happen. Hence we need to continue understanding our customers better each day as to what they are looking for and the solutions they are expecting from us, whether in still images or videos. At the same time it is important to understand what they expect from us in terms of passing on the information and reaching out to them. We follow all of these at Nikon and beyond this what differentiates us further is the 'quality' that we have been providing since a century.
It's only in the difficult times that you can invest in the future. Such difficult times also teaches us how to succeed or enjoy the good times that will come in due course. At Nikon, we are preparing ourselves for the time to come, so that when it actually arrives, we are ready to face any challenge, may be expanding the business, or better engagement with customers.
How online platforms are used for customer engagement in a better way?
On all of our social media pages, whether it's Instagram, Youtube, Facebook or Twitter, the kind of activities we do and engage with our customers has changed in a big way. For instance when it comes to workshop kind of activities, we use Instagram. For a more detailed oriented workshops, say for a specialization or general, we use platforms like Microsoft Teams, Google Meet or Youtube. The courses are free during these times where they can interact with professionals or our technical team too.
We even provide courses on technical aspects of our products or how to use them in better ways. We are also engaging our customers in a broader way and giving content creators opportunities to express themselves.
The Future of Imaging Industry?
The future is bright and promising. I don't see any challenge to it. A country as vibrant as India has many occasions to celebrate and capture in our lenses. May be next year onwards, certainly the industry is going to expand in a big way. From the technology point of view, the customer may be looking at the product or the device which are easy to capture good videos. Of course, we have to build and integrate a lot of technology on AI and other fronts and we are working on it apart from adding lot of muscle power to our devices.
People also love clicking pictures even in low lights and hence we at Nikon are studying how we can have a separate pre-defined setting where it will be easy to click.
Few Life Lessons – Personally or Professionally?
Any kind of difficult or hard time should be taken as a learning or an opportunity because it never remains same. I have witnessed several ups and downs and if you learn to move in the right direction, you can stay positive and come out of any difficult time. So it is important that we utilize the difficult times in our favour.
Never leave your dreams but follow them. I am sure you can succeed and achieve them.
How would you define Sajjan as a person?
More of a family person and as an individual, I have many friends and family members and love to spend time with them. No doubt in professional life we have a very rare chance to get a real friend but I still get a lot of time to spend with my college friends.
Whenever I get time, I do photography – a love of my life since my college time. Even when there was no thought of joining a company like Nikon, I was the proud owner of a Nikon camera during my college days.
Whenever I get time, I used to visit my village. I love exploring India when I have time. I am also engaged in some social activities as an individual.
What's your favorite hobby?
Photography & travelling. Even my profession gives me an opportunity to travel across. And India is such a country where in every 10 km, the food, the language, the culture changes, which makes it more interesting.
Favorite travel destination?
Anywhere in India. I have been to 60 cities in the country and I love visiting historical monuments, sea and water bodies.
Favorite cuisine?
A family person, I love anything cooked by my mother especially Kheer and Halwa.
Advice for the budding entrepreneurs and photographers in the field of imaging?
If you don't involve in anything, it is difficult to get the results. Hence I believe involvement of individual is must and if you do so, you will not fail. And it becomes only a matter of time to succeed.