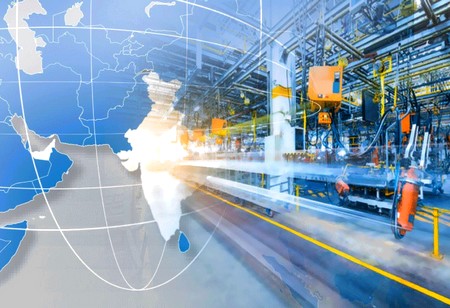 When Prime Minister Narendra Modi first reflected the India of Aatmanirbhar Bharat, it gave a sense of pride to every Indian living on any land. The country which was earlier known for its IT services outsourcing expertise is now transforming to become the global manufacturing hub, which if achieved will see the biggies of the business & investment worlds setting their foot in the country soon. NITI Aayog's CEO Amitabh Kant during a virtual address at a FICCI event recently said that the government has been working on multiple fronts to position India as a truly global manufacturing hub with a strong focus on exports.
To boost the domestic manufacturing sector, the government is planning to expand its production-linked incentive scheme to more sectors. In his words, "The government of India has been working on multiple fronts to position India as a truly global manufacturing hub with a strong focus on exports. Aatmanirbhar Bharat does not mean self-solation but a very deep integration into the global value chains and using the manufacturing strength of India to become a leading exporter globally".
Well, is this really working out or is just the government's gimmick? As per Amitabh, around 22 domestic and international manufacturing firms have given proposals for mobile phone production worth Rs.11 lakh crore over the next five years. Taking this template as a sample, the government has launched similar schemes in pharmaceuticals, and medical devices. It is now finalizing schemes for automobile, networking products, food processing, advanced chemistry and solar PV manufacturing.
So what makes India the potential next big hub of manufacturing? It is its emerging vast domestic market, relatively low-cost workers with advanced technical skills and the innovative minds along with the government's perseverance & commitment will make India the manufacturing powerhouse within the next five to 10 years.
However, the question is if we are centered around just a few sectors? If we go by what the Union Minister of State for the Environment, Bahul Supriyo, we are already walking towards becoming the global manufacturing hub of chemicals. During his keynote address at the virtual CII Gujarat Chemical Conclave, he said, "Gujarat has been a role model for the country. The state has five percent of India's population, yet contributes eight percent to India's GDP and 20 percent of India's exports. Gujarat is a hub of chemicals in India and slowly India is becoming a global base for chemicals". Though easier said than done, the government is taking all measures to address any concerns of chemical companies relating to compliance and timely approvals and has asked such companies to meet with a white paper to clearly address the obsolete processes and delays.
How would Aatmanirbhar Bharat Contribute towards this?
Just as Minister of State of Finance Anurag Singh Thakur said that the Aatmanirbhar Bharat Abhiyan package is aimed at making India a global hub for manufacturing and services, the government is taking all measures to achieve this. In May this year, the government announced the Rs.20.97 lakh crore package focused largely on supply side and long-term reforms in agriculture, labour, mining and defence sector. This will attract private sector investors. He said, "Aatmanirbhar Bharat means India can be connected to the global supply chain in the same way it was but will focus on making India a global hub of manufacturing and services, and our major focus will be on advancing our economy, and making it an export hub".
It is indeed what we need to do, being 'vocal for local' and 'vocal for global'. As Anurag said, "We need to produce locally and support the country's demand and we need to export globally, which will help us to get into the virtuous cycle". As the next step towards achieving this and boost consumption during the festive season, the government had announced measures of close to Rs.73,000 crore to stimulate consumer spending. Before this, the government had announced the Aatmaribhar Bharat package of Rs.20.97 lakh crore in May.
The wonderful thing is that India's exports posted a 5.27 percent yearly growth last month to $27.4 billion. Sectors like readymade garments, petroleum products, engineering products, carpets and pharmaceuticals witnessed an upward growth. Giving yet another boost to our morale, Finance Minister Nirmala Sitharaman hinted that the country's economy is been recovering by following a V-shaped pattern in various high-frequency indicators, with manufacturing PMI witnessing the highest level in the last eight years in the month of September 2020. Addressing the International Monetary and Financial Committee (IMFG), she mentioned that this upward growth is the result of several government measures to revive economic growth that were badly hit by the pandemic.
With the economy getting healthier by the day and the stimulus by the government together will attract more foreign investors and companies to start their manufacturing units in India. However, just keeping our fingers crossed won't do the magic. Let's work towards making it possible.
Read More: