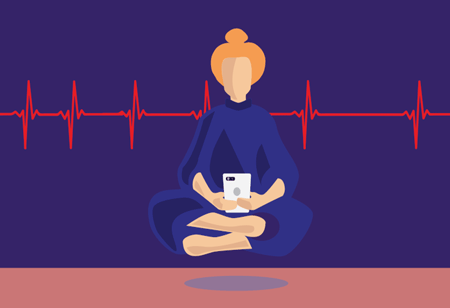 Anamika Sahu, Managing Editor, 0
When 'I' is replaced with 'we', even illness becomes wellness. But in the past five months, I has been the mantra of survival and will remain so in the coming few months till we have the vaccine ready for coronavirus. However, despite being the survival mantra against COVID-19, this formula of I (social distancing) is showing negative impact on mental wellbeing of people across age groups. A recent survey by GOQii highlights that 43 percent of Indians are currently plagued with depression and are learning to cope with it. With 26 percent Indians facing mild depression, 17 percent facing a more strenuous kind while six percent Indians are severely depressed.
This is quite an alarming situation for a country which already is declared as the most depressed country in the world (WHO). Between 1990 to 2017, one is seven Indians suffered from mental illness ranging from depression, anxiety to severe mental conditions (Lancet Psychiatry). The pandemic has created a sense of fear giving rise to feelings of anxiety, loneliness and depression. The case becomes more critical for some sections of society, especially geriatric, children, expecting mothers and people with underlying health conditions including mental health. On the other hand, struggling with job security/loss and uncertainty & sense of loss of control are another chapters in this book. But as much has already been said about the increasing cases of depression and anxiety, let us talk about how technology can play an important role in bringing a positive change in today's time. Though technology is here to stay, the success of it in such crucial times in saving lives will make it the king and the industry will witness huge investments.
As NIMHANS mentions in one of its report, online digital communication platforms have become a boon for follow-up contact with patients as well as to disseminate training to professionals working even in remote settings. It also suggests that the management and community care of at-home patients with severe mental disorders should be ensured through liaison existing community outreach programs. On the other hand, as patients are discouraged to come to hospitals to ensure
greater focus and care for the COVID-19 patients, this means that many psychiatric patients who require help many have reduced access to care. This increases the chances of relapse. But with digital communication (telepsychiatry), there are positive outcomes and a safer alternative to provide infection-proof consultation.

Apart from teleconsultation, there certain apps developed by startups that make life a little easier. One such app is Wysa, which is created to provide isolation support. Wysa's AI-based mental and emotional wellness app has a chatbot that makes users feel heard. It helps user cope with stress, sleep issues, depression and anxiety. How does it work? It connects users with a personal therapist for eight live sessions, which is currently offered at free of cost to everyone in need. Founded by Jo Aggarwal and Ramakant Vempati, this Bengaluru based startup has already caught investors' eyes and has raised around $3.9 million in funding. Other apps like Flowly (creates interactive experiences for better pain and anxiety relief), Unwind (allows organization to help their employees across the entire spectrum of mental health), Welltory (app to manage stress and productivity using LED technology and a smartphone camera to measure heart rate variability), iSmart, Sleepio, and many more.

There are even apps for self-management, improving thinking skills, skill-training apps, illness management & supported care by allowing users to interact with other people, passive symptom tracking through apps that can collect data using the sensors built into smartphones, and much more. Even the Mental Health Commission of Canada notes that e-mental health services are a complementary solution to traditional care. However, it is important to attend the disparities in technology access and digital literacy. On the other hand, apps and digital platforms in India also need to provide their services in vernacular languages to ensure better reach and best outcomes. Whatever be the solution, technology cannot replace the one-on-one consultation and the warmth of care that it provides. However, in the coming days, technology will play more important and engaging role in the healthcare sector and may become one of the frontline soldiers in the war of better health!

But what is required to make this shift happen? A positive and welcomed partnership between clinicians and app developers! Together they can do wonders –developing apps that can do everything, right from managing medications to teaching coping skills, and even predicting when someone may need more emotional help. This could be the new partnership which the healthcare industry needs, not only in the case of mental health, but others too. But yes, the security and safety of the app and the data collected while ensuring that technology acts as logically as the physical doctors are equally important.