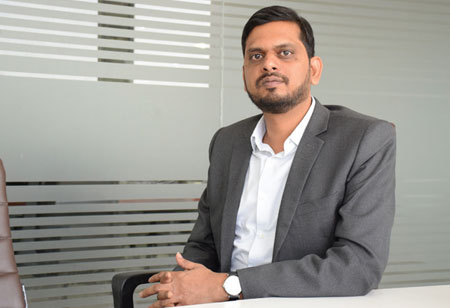 Krishna Kumar, Founder & CEO, CropIn, 0
With more than 15 years of professional experience, Krishna is on a mission to bring a data driven approach to agriculture
Technological advances have significantly transformed the agriculture industry over the years. The sector will continue to rely on innovative technologies to ensure long term visibility and profitability. Farmers and agribusinesses are accelerating the technology adoption that will drive progress in the sector. The United Nations estimates that to feed the growing population, we need to increase food production by 50 percent by the middle of the century. This further puts pressure on the agriculture and food systems.
As we accelerate digitization, capturing thousands of data points at the farm level, we will be able to deploy AI/ML to solve some of the real challenges faced by the agriculture sector. These solutions can help farmers get useful, real time insights right from selecting the appropriate time to sow seeds, choosing the best crops to grow, and ensuring better yields. Advances made in applied AI can enhance the overall yield quality and accuracy through precision agriculture. It also helps predict pest and disease infestation besides soil stress levels at a farm. Enabling access to these technologies helps in efficiency optimization, improve quality & yield, and support faster crop delivery. In addition, AI also assists farmers in developing seasonal forecast models to increase precision in farming operations and empower them to make better decisions.
Remote sensing technologies, such as hyper spectral imaging, can further help farmers better manage their crop development life cycle with the help of biophysical indicator maps.
Cost Optimization Using AI
AI and machine learning solutions also assist in determining the right quantity of inputs fertilizers pesticides, seeds water and in various other aspects of farming operations, resulting in reduced costs and improved productivity. AI generated data also helps
predict the total yield of any crop, which can help farmers determine the pricing strategies and improve their livelihood.
AI-Powered Diseases & Pest Early Warning Solutions to Boost Crop Yield
Farmers can now track and predict crop health and pest outbreaks using solutions that combine data from infrared cameras on drones and in ground sensors on the farm.
Satellite data enables the prediction of agricultural yields and conducts real time field monitoring to detect various risks. Several spectral indices such as the Normalized Difference Vegetation Index(NDVI) can be applied to the satellite imagery and measure vegetation state and overall plant health. Whereas, Modified Soil Adjusted Vegetation Index(MSAVI) quantifies the impact of soil back ground on plants at the earliest developmental stages.
Remote sensing technologies, such as hyperspectral imaging, can further help farmers better manage their crop development life cycle with the help of biophysical indicator maps
Overcoming labor shortage
Farming operations have been affected by the mass migration of agriculture workforce to cities. With the rise of drones, unmanned aerial vehicles (UAVs), and robots, the future farm is predicted to heavily rely on autonomous farming, reducing dependency on human labor and therefore addressing the issue of dwindling labor. These automated technologies will not only increase product quality, minimize manufacturing costs, and reduce human labor efforts, but also improve field operations safety by allowing machines to work in regions that are otherwise dangerous for manned vehicles.
Innovation in Farming Towards a Better Future
Agriculture is in the middle of a technological cross road. While we are transitioning from traditional to technology enabled farming solutions and working towards a hybrid model consisting of both the success metrics of conventional and modern farming, it is essential to understand that AI would act as a strongenabler within existing technologies. Future agriculture operations will run differently and use advanced technologies such as sensors, robots, aerial images, GPS systems and so on. Future farms will be more profitable, efficient, safe, and environment friendly.