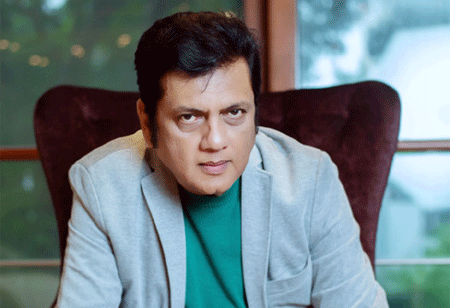 Markand Adhikari, Chairman & MD, Sri Adhikari Brothers, 0
With more than 30 years of experience in the M&E industry, he has produced various films like "Bhookamp" and "Chehraa" and played key role in the growth of the firm.
The Indian Media & Entertainment (M&E) industry is witnessing unprecedented times induced with remarkable growth. This sector is estimated to cross the $40 billion mark by late 2021, increasing at a compounded annual growth rate (CAGR) of 10 percent. Hence, the entertainment industry has begun witnessing serious transformation with a growing significance being attached to digital media.
Traditional media, such as print and television, are most likely to continue their upward growth trajectory. Cinema too has a good future with the global recognition being accorded to it and the rise of VFX and animation making waves and emerging as an integral part. Lastly, the future of OTT (Over-the-top) platforms also seems very promising with original content and regional content driving the OTT growth.
Challenges Facing M&E Industry
The Covid-19 pandemic has disrupted nearly every industry and the same has been true for the media and entertainment sector. However, for M&E, the ongoing crisis has created challenges as well as novel opportunities. While on one hand, observing social distancing social distancing has led to a spike in at-home media consumption, and growing numbers are turning to news providers for timely and trusted information on the crisis. While at the same time, some of the most invaluable broadcast content ­ such as live sports etc. ­ was cancelled or postponed, which resulted in spending reallocations by the advertisers and a subsequent decrease in the income for media companies.
With these developments, the M&E industry is tackling certain formidable challenges:
· Despite the rise of traditional media, changes in consumer preferences, owing to urbanization, will be a factor hampering the growth in the long run. These will include consuming `television on the go'.
· Devising a strategy for significant revenue growth will be a challenge as it requires altering current constructs and strengthening creativity. Even the shifts taking place in consumer behaviour, with more preference being
registered for subscription-based models and one-off content purchases, are threatening to reduce the revenue from advertising.
· OTT platforms are facing challenges of fragmentation. Majority Indian audiences are still using the free or ad-supported model currently. Moreover, OTT relies heavily on broadband connectivity which is still stuck at its development stage in the country.
· Online piracy of film and TV content is rampant in India and investments in preventive technology need to be made robust if this is to be checked.
Opportunities Hidden in the Crisis
Devoid of any constraints, digital is anticipated to be a dominant force in the foreseeable future, and by 2023, it is much likely to emerge as the second largest segment subsequent to TV, attracting the highest marketing expenditure amongst all media formats.
As a major chunk of population is working from home, digital consumption has seen a marked upswing across platforms
As a major chunk of population is working from home, digital consumption has seen a marked upswing across platforms. This incessant demand for OTT videos will be the potential silver lining for a positive growth and will go on to expand to newer demographics and different locations. Post-Covid, this trend will magnify and even once the crisis abates, consumers will take some time to acclimatize themselves to external consumptions models yet again. Here, latest technological developments will play a pivotal role in providing consumers with outdoor entertainment, brought directly to their homes.
Further, the reliance that M&E companies have come to place on technology will rise up further to leverage its cost-efficiency, thus creating revenue boosting opportunities. With monetisation and total revenue in terms of ad-spend continues to grapple, profit protection and effective cash management with an increased technology integration will hold strategic importance for media and entertainment firms. Moving forward, the industry will remain primarily focused on flexibility which in turn enables a variable cost model with reduced fixed costs. These developments will materialize in the M&E industry as the reality post pandemic becomes clearer.
Summing Up
No doubt the future is digital. There won't just be new users added but even the retainership of current digital consumers will be expanded. Demand for digital content will only rise with more technological advances. As these models are subscription-driven and not really dependent on advertisers, the media and entertainment segment will see a positive growth that will further help the industry gain more traction.