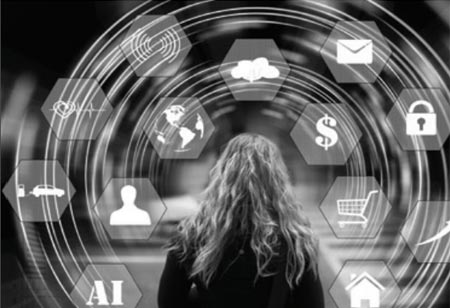 Vishal Agrawal, Managing Director, Avaya India & SAARC, 0
Vishal Agrawal has 10+ years' experience in working at Avaya. He streamlined the path in the company's development in India, multiplying the India Services Operations, developing the operations leadership team, and generating revenue.
The pandemic has acted as an accelerator in speedy adoption of cutting-edge collaboration technologies and has helped stimulate digital transformation across industries. And business continuity has emerged as a significant driver of this digital transformation.
But business continuity has also posed a big challenge for industry leaders in terms of technology adoption. Technology now matters more than ever, and your success depends on how quickly you turn your business into being always-on, sensitive to customer needs, and efficient.
Evolving trends such as cloudbased technologies, artificial intelligence, data centers, remote working routines, digital interactions, contactless society and cyber-security will bolster the adoption of technology even as organizations cut back on other types of spending. Businesses will look for a coexisting communications strategy powered by smart integrated communications platforms for employees, customers, partners and stakeholders.
The adoption of digital channels across every part of our lives will become ever more obvious. We're already seeing this through digital buying and selling, interacting with customers through chatbots and automated voice assistants, and remote meetings. The emergence of a contactless society will add to this, with technology changing the ways that humans interact so that there are minimal interpersonal exposures. Telemedicine will become prevalent in the healthcare sector, and will adapt a lot more technology than it used to in the past. The BFSI industry will see a massive digital transformation with items dealing from digital payments (UPI/Digital/Virtual money) to digital interactions with customers (like eKYC). Furthermore, the virus has built more acceptance towards working-from-home regimes and as a result, home offices will become more sophisticated.
The Impact and Scope of Growth for Ucaas and Ccaas in India
The transition to remote working and adapting to the 'New Normal' has added to the development of workplace virtualization. The massive surge in the adoption of remote working solutions has companies choosing cloud-based technologies over on-premises solutions. This fundamental shift from on-premises based solutions to cloud-based solutions such as UCaaS and CCaaS was evident, but it has been pushed to almost total adoption due to the pandemic. COVID-19 has forced businesses to revisit and rethink their existing communication strategies for increased efficiency and productivity.
We also envision automation and AI-enabled customer engagement taking the front seat as India becomes more of a mature UCaaS and CCaaS market. The notion
is to continuously improve the customer experience and anticipate customer needs in an ever-changing environment. And the architectures of UCaaS and CCaaS solutions enable powerful AI-based tools that can achieve just that.

SectoralView on Digitisation and Business Transformation
Digital technology is rapidly shifting and has been the cause of large-scale and sweeping business transformations across industries. It has been an enabler of fundamental innovation and disruption in the face of the pandemic. While it was clear that digitisation will affect the way businesses operate, the current health crisis has further accelerated the importance of digital channels. To keep up with the increasing demand and flow of operations, technology has revolutionized the art of conducting business operations.

Most sectors have gone through a transformation to retain the productivity and efficiency of businesses despite the challenges posed by COVID-19. From a customer service industry standpoint, there is an absolute need for providing seamless customer interactions via any new and disruptive technologies that the public opts to use. Whether it is Service Providers, Banking & Financial Institutes, Citizen Services, Emergency Services, or Healthcare, every sector has seen the challenges brought up by the outbreak and they're innovating to ensure their customers remain connected – via any channel.

For instance, the government's decision to implement a strict lockdown meant employees had to conduct their daily business from home. Remote working emerged as the New Normal, which was accepted and transitioned to at a much faster rate than anyone could have imagined before. Likewise, the banking sector saw quickly transformed by initiating virtual meetings with the customers, enabling things like eKYC through video collaboration with the new users. The healthcare sector adopted digital channels in more than one way , booking remote consultations, automating deliveries, and leveraging IoT technology to help provide better community services while also maintaining social distancing guidelines.

And of course, one of the biggest shifts that was seen was in the education sector, which considered the safety of students while ensuring continuity of classes. Avaya, with its global responsibilities and with the strengths that it has, enabled many of the transformations that were required during this time.

Communications as a Service VS as an Infrastructure
Cloud has become the most important pillar for business continuity. While cloud technologies have been available for years, the discussion around it has been accelerated by the pandemic. The technology now, has moved well into the business lexicon, with organizations avoiding spending big, upfront sums on infrastructure, and instead simply consuming what they need, when they need it.

That said, a robust infrastructure is critical for the delivery of digital transformation as organizations cannot reap the advantages without the building blocks that make it possible. Maintaining infrastructure and technologies developed to exploit high-speed and high capacity networks are essential for the transmission of data over large distances and remotely. The network transformation with physical elements such as data centers, routers, bandwidth, highspeed (4G/5G), etc are very instrumental to the cause of seamless communications as a service. The requirement of low-latency virtualization, robust security system, high-speed connections and networking are very essential in fostering the digital transformation of organizations. Hence, infrastructure is the cornerstone to streamline communications.