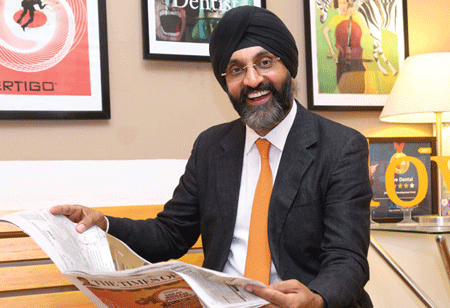 Amarinder Singh, Founder & CEO, Clove Dental, 0
Holding an MBA from Harvard Business School, a master's degree in System Design(Gold Medalist) from
Waterloo, Canada and a formal degree in mechanical engineering, Amarinder is a serial entrepreneur
and seasoned executive with over twenty years of senior management and entrepreneurial experience in
healthcare & software, and has incubated successful companies across geographies
In the 1970s in the US, so much was the focus on oral care that dental practitioners would often visit schools to lecture on significance of best hygienic practices and good tooth brushing techniques. Back then, the program got more elaborate under which students were given a one hour session of instruction and demonstration. Later, dental health education programs were also televised and parents were encouraged to watch these. Many decades later, such a focus on awareness or what's called public health dentistry is still lacking in India. Yet, thanks to proliferation in media and expansion of private dental care services providers, there is better awareness among people as well as inclination to attend the oral care. To ensure that people continue to value the significance of dental care quality and affordability shall be vital.
One often wonders, why has quality been a casualty in dentistry in India? One needs to simply look at the way dentistry has evolved in India to comprehend this. Unlike other specialities like cardiology urology and gynecology, which rapidly embraced new technologies and protocols with advent of the private sector, development in dentistry was skewed. Other than public healthcare institutions where dental care facilities were available even if sparsely the sector sustained itself largely due to private practitioners who set up small clinics in neighborhoods across the length and breadth of the country. Devoid of any strict regulations and adherence to protocols, quality became the first casualty.
An associated issue has been affordability. Lack of regulation also meant that practitioners were free to devise their own pricing and often patients complained of inflated costs of treatment. Over the years, dentistry got into an avoidable disrepute of offering treatment at inflated costs. Amid all this the situation on oral diseases kept getting worse and the number of people with oral ailments kept galloping. One certain indicator of this was the manifold rise in cases of oral and lip cancer, as per a report by Indian Council of Medical Research (ICMR) 2018. According to the India fact sheet of GLOBOCAN 2018, cancer of the lip and oral cavity showed a huge increase of 114.2 percent with 56,000 cases in 2012 that increased to 119,992 in 2018.
The World Health Organization also says that oral health is a key indicator of overall health, well-being, and quality of life. The WHO defines oral health as 'a state of being free from chronic mouth and facial pain oral & throat cancer oral infection & sores, periodontal(gum) disease, tooth decay, tooth loss, and other diseases & disorders that limit an individual's capacity in biting, chewing, smiling, speaking and psychosocial well being'.
The need for quality and affordable care couldn't have been more pronounced. There are five key pre-scriptions of achieving the same:
First and foremost is to ensure adequate and quality infrastructure across the length & breadth of the country. Today, the services are skewed, and so are the infrastructure with the rural & semiurban areas, remaining unserved or underserved. The government should incentivize private sector to invest in such areas and expand dental care services delivery, since people in these areas are equally vulnerable to tobacco consumption, which is among the leading causes of oral ailments. The Ayushman Bharat program should include dental care services also, that shall make it highly affordable. The Make in India program can be leveraged to encourage local manufacturers to create robust machinery and equipment to support the infrastructure boost.
The government should incentivize private sector to invest in such areas and expand dental care services delivery, since people in these areas are equally vulnerable to tobacco consumption, which is among the leading causes of oral ailments
Secondly,preventive dentistry must get the requisite community and policy puss that it deserves. As part of the National Oral Health Policy (2014-15) Centre for Dental Education & Research at All India Institute of Medical Sciences (AIIMS) had conceptualized and developed a training manual on oral health promotion for school teachers. This was issued by the Dental Council of India. There may be merit in translating it into regional languages. We may also consider using audio-visual tools and social media platforms to widely disseminate the message on the significance of safeguarding our oral health. The Ministry of Human Resource Development may also consider including a small chapter on oral health in primary classes including inculcating habits like visiting a dentist every six months.
Thirdly, quality has been a big area of concern, and more so in rural areas. Since, oral care requires best of sterilization and hygiene protocols, it is essential that a national framework be developed with consultation of different stake holders, most notably the dentists and dental students. At Clove we follow a world class four step sterilization protocol to curtail repercussion of unhygienic equipment and environment which can lead to diseases like Hepatitis B and HIV.
Fourth, it is imperative to create a system where dental doctors are encouraged to necessarily serve in rural areas. Despite being home to a surplus of over 1.2 lakh dentists, our rural deployment of dentists are very poor. Against a WHO recommended dentist to population ratio of 1:7500, our ratio is 1:10271. With less than 25 percent of our primary health centres having a dentist, I am of the view that the proposition of placing a dentist per 30,000 population is highly desirable. While as per the 10th five year plan, we have managed to increase the number of dental colleges in India, the spread of dental specialists in rural areas has always been a matter of concern.
Fifth to ensure comprehensive quality care we must also work on creating adequate pool of dental auxiliaries, including oral hygienists and dental lab technicians to ensure an all round service. We must also move swiftly to integrate the latest technologies into our services protocol to ensure that Indian patients get the world class care that they deserve.