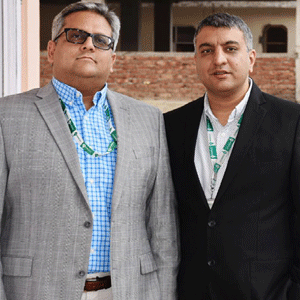 India in the recent years has captured the superior slot in BPO industry. The indecipherable success rate is due to the fact that there is a huge availability of resources required in this field. Also, gone are those days when these organizations were operating only in tier-I cities of the countries. Today, many companies leverage skilled local resources for their business, which in-turn creates job opportunities, provide employment to the localities, as well as bring stability, better infrastructure and security for the organizations. 31 Parallel is one of the BPO organizations that has put Shimla on the Indian outsourcing landscape and provided employment to hundreds of youth in the hill state where aspirants are still facing scarcity of jobs.
31 Parallel is a Shimla-based startup that started its operations on April 2014 with four associates in an attic by two brothers, Karan Pal Singh Chauhan (a corporate lawyer) and Vivek Parmar(a BPO industry veteran). Since then, the firm has grown immensely, with hundreds of employees working in multiple shifts servicing several Indian market leaders.
Under the aegis of the Co-Founders (Karan & Vivek), the company has cemented its hold in the BPO industry as one of the leading BPOs that operate as a highly professional alternate channel partner for various Banking, Finance & Accounting, e-Commerce, Travel & Tourism, Health, Internet Marketing and Education organizations. CEO Insights interviews Karan and Vivek to know more about the prospects of 31 Parallel.
How has been the journey of 31 Parallel in this challenging market so far?
The two pillars for any IT/ITeS company are the human resources it deploys, and the IT/Telecom infrastructure which assists with the delivery of its services. Initially, we faced challenges with the former category. We started our journey in 2014 when there was no real corporate presence in Shimla. Some of the large companies did exist;
however, that was not significant enough to change the town's corporate culture. The absence of such a culture was reflecting from the discipline, dress code, business hours and corporate etiquette followed by the personnel. But with our relentless concentrated training sessions and now tenure & exposure, we were able to initiate the foundations of a strong corporate culture.
Utilizing the unbeatable combination of a motivated local workforce and a leadership team with global corporate experience, we provide outputs that rival any tier I/II city BPO
We were supported by IT/Telecom companies which helped us to become one of the most reliable & extensive IT/Telecom infrastructure in the state today. While some of the minor challenges still remain, the overall positive impact is reflected in our own office setup, various employee initiatives, communications, client satisfaction and every other aspect of our operations.
What are the factors that differentiate 31 Parallel from others? Also, tell us about the services that you offer.
31 Parallel provides end-to-end BPO & BPM services with expertise across various domains. However, we have developed a niche in the travel space. 70 percent of our clients are from travel industries, including both B2C & B2B, and domestic & foreign organizations. We have worked for some big names in the Indian travel industry and also from e-Commerce, education, finance, and accounting verticals. Our mission is to provide sustainable employment (primarily in the travel services industry) to the untapped workforce in the Himalayan belt while maintaining the quality that our partners expect. Also, our focus remains on low cost processing and high quality outputs, which differentiate us from our competitors.
We offer Multi Channel Support, where we provide Chat, Voice(Inbound & Outbound) and Back office services to our clients. Apart from that, we support every vertical, including Sales, Customer Care & Post Sales and Data Management & Sanitization.
31 Parallel's motto is 'Local Talent, Global Processes'. Tell us some thing about it. Also, throw
some light on your team of experts.
Justifying the tagline, we can say that 90 percent of our workforce is from our home state (Himachal Pradesh), where the team is a healthy mix of experienced professionals and freshers. We utilize our highly skilled training teams to upskill the resources and tap into their strong work ethic. Utilizing the unbeatable combination of a motivated local workforce and a leadership team with global corporate experience, we provide outputs that rival any tier-I/II city BPO.

We have experienced supervisors and support staff for better process efficiency and control, which leads to the high quality of outputs. A huge Himachali Diaspora working in the best organizations in the metros yearn for returning to the hills, and we have been able to capitalize on this fact in building our leadership team. As an instance, our managerial staff consist of individuals with at least 8-9 years of experience working with multinational organizations like Dell, AMEX, IBM Concentrix, and more in Delhi, Gurgaon, Bangalore, Chandigarh and Mumbai areas. This seasoned leadership team's capabilities have allowed us to move ahead. With their help and guidance, we have been able to build another line of leadership from our internal ranks. The workforce at 31 Parallel has found a career that allows them to learn and grow.

What is the future roadmap set for your company?
We anticipate becoming a larger organization in terms of numbers and revenue in the next two years, dealing with more complex and high-end work with a niche in online Travel, e-Commerce, education, and financial services space. We are increasing investment in the development of technology products for the benefits of our clients. We are constantly updating infrastructure and tools for better employee engagement and providing enhanced services.

Key Management:
Karan Pal Singh Chauhan, Co-Founder & Director
Karan is responsible for the company's Recruitment and Finance divisions. He is front & centre with all client interactions and leads the company's marketing, sales and business development initiatives.

Vivek Parmar, Co-Founder & Director
Vivek leads the company's Operations, Training and Quality division. He provides thought leadership and drives knowledge management.

Office:Shimla
Offerings:Inbound & Outbound services, Voice (Outbound and Inbound), Email & Chat Support, Data Management, and more