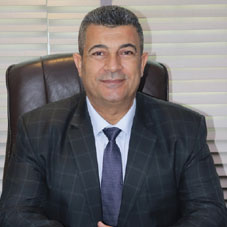 Horti Group, a landscaping business founded in 2004, offers a full variety of services to clients in the Middle East and Gulf region that are both commercial and domestic. The Horti Group is committed to converting land into art and is the Leading Company in Bahrain's Kingdom. By working on a variety of various-sized projects, the creative team of professionals has opened the firm's gate to success.
Abdallah Bani Hani is the Chief Executive Officer, qualified with 26 years of experience in the Middle East and gulf region, managing overall Landscape projects from development to delivery encompassing planning, monitoring, controlling phases of the project life cycle, overall inter discipline coordination, administration, and resource planning.
What are the most memorable milestones in your professional journey so far?
The major developmental milestone in my professional career was the recent completion of Diaar AI-Muhraq Park, a large public park on a large island named Diaar AI-Muhraq in the Kingdom of Bahrain's northern region, for which we did the design and consulting work. The next major project we executed in Bahrain was a one-of-a-kind shipping container house. We also have a capable team that designs the truck along the island's shore borders. Furthermore, we created the hardscape and softscape walk in the sections leading to the NBR building, which was completed by us. Another project we worked on was the Dar AI Salam project, which involved building structures on the seashore. The most recent note
worthy project was the construction of over 100 beach houses in Bahrain. The design team may create a client's dream beach house by catering to their interests and needs. So far, these are the best milestone projects that I have completed along with the company.
Good leaders can motivate others, navigate changes successfully & remain positive all the time
What are your leadership approaches as well as the values and guidelines that you follow as a leader?
Being a Chief Executive Officer of the company, I adhere to several principles and beliefs in my role and I believe it has the biggest impact on how I want to achieve my objectives and where I want to be in the future. I feel that influence is the most important thing and what matters most to me is that by being a good leader; I can inspire, motivate, and direct my team to do certain actions to meet their objectives. The second element is the vision. Achieving success requires having a clear strategy, communicating with our team, and being aware of our goals and objectives. Further honesty, transparency, passion,integrity, dedication, resilience, and authenticity are the values and guidelines which I follow every day and I hope that we also implement these practices to take the company to another level. Our team's strong principles, mutual respect, and trust, which I believe are positively affecting my team and encouraging me to achieve excellence. Making decisions, which will ultimately aid in our personal and professional growth, is also one of the core guidelines I follow as a leader.
What was the inspiration that led you to build a landscaping business?
I learned about farming and gardening at a young age because I used to help on our family farms in northern Jordan, where I used to dwell. And as a family, we used to cultivate a variety of fruit trees, including grapes and peaches, as well as other crops. When I graduated from Jordan, I also worked on several well-known projects. I created the long river, which is more than 80 meters long and flows downstream through enormous gardens at the mountaintop palace. Following that, I traveled to Saudi Arabia, where I obtained great experience working in various royal palaces. Since I have a lengthy history of working and creating landscapes, I consider these projects to be some of the
works that have enhanced my expertise and inspired me more to build a landscaping business.

How is the Horti group influencing the market and how does it cater to the dynamically changing marketing behavior and the demand for top-notch customer experiences. what do you grow?
We provide landscape design that is built with cutting-edge technology and adheres to the most advanced standards in compliance with the client's and regulatory bodies' technical and safety specifications. So, by implementing those strategies, we are impacting the market and the dynamic movement. Also, the flexibility comes from understanding the most recent technology, and we always kept the most advanced system in mind. This is the explanation for the market's strong recurrence. This is the reason why we got a strong reputation in the market.

What is the future vision or future roadmap of the Horti Group?
The Horti Group's longterm goals include expanding its network of offices and forming new alliances with major developers around the world. We have already begun considering opening new branches in Saudi Arabia's eastern province, and we are also in discussions with developers about opening new locations in Kuwait. To expand the company globally we are on the verge of conveying and sharing our big and long experience with the neighboring countries and moving strongly in the global market.

Based on your professional experiences so far, what would be your advice to budding leaders in the landscaping industry?
I want to advise those who are in positions of leadership in the landscaping industry to concentrate on motivation since it represents something special about each of us and enables us to achieve desired results like better performance, improved wellness, personal growth, or a sense of purpose. Good leaders motivate others by navigating changes successfully and remaining positive all the time. This positive thinking is one of the most important tools for success. Each day presents a different set of obstacles for leaders, and those who are aware of these challenges and have a strong conviction that they can be overcome, will see positive outcomes and make progress along the way.

Abdallah Bani Hani, Chief Executive Officer, Horti Group
Abdallah has an existing experience overseeing complete landscape projects from conception to completion, including planning, monitoring, and regulating phases in Jordan, Saudi Arabia, and Bahrain.