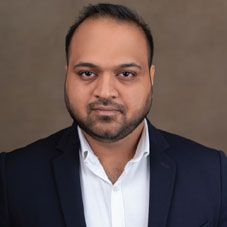 The marketing world is dynamic and ever changing trends, technology, and tactics are never stagnant. Marketers embraced digital transformation more than ever in the past year as they adapted to constantly changing virtual and hybrid business landscapes during the pandemic. The last thing a business needs is to fall behind while its competitors stay ahead of the curve. The chances of achieving objectives and goals are greater when a company has an effective marketing strategy in place. Though there is always room for traditional strategies, the modern consumer is progressively using other methods to access information. Abhishek Jha, Chief Marketing, Growth & Digital Officer at Limestar Marketing, provides essential marketing solutions to businesses, helping them stay ahead of the competition. Limestar Marketing is a digital marketing agency with the objective of creating a solid market presence for smart businesses. It has been established as one of the best marketing and branding agencies based in MENA and India, driven by a team of highly experienced marketers.
With a record in building global teams, growing profits and implementing high growth marketing, Abhishek Jha has delivered e-commerce, digital and product strategies for billion dollar public listed companies and enterprising startups.
Abhishek Jha engages in a one-on-one interaction with the CEO Insights Magazine.
Tell us about your professional background and experiences. What inspired you to take up the leadership role at Limestar Marketing?
Talking about my professional journey, I initiated my career as a tech advisor at Iyogi Technologies in 2010. Since then, I've worked for various companies, contributing my knowledge and skills through marketing and business development roles. I joined Limestar
Marketing as Chief Marketing, Growth & Digital Officer in March 2022. After facing many hurdles and rejections, I reached this position through a long process of new learnings and practical implementations, which gave me the confidence to take on challenges head-on and run operations smoothly.
What inspired me to take up the leadership role at Limestar Marketing was my desire to help people and improve their businesses, allowing them to achieve their desired goals, and I believe that there is nothing more satisfying than getting positive feedback from clients.
Truly wanting to help is always the best business strategy
How would you define Limestar Marketing as an organization and its position in the market?
Limestar marketing is widely known for its impeccable branding and marketing strategies, which drive many businesses to centralize their position in this rapidly growing business environment. We are a 360° marketing agency located in India, the Middle East, and North Africa. Currently, we manage I Gaming, entertainment, e-commerce, and coupon based firms and provide services like influencer marketing, offline marketing, branding, and digital marketing, which are the four main pillars of marketing executions. Apart from this, we have a team of professionals skilled in turning clients' visions into reality.
What are your primary responsibilities as the CMO of Limestar Marketing? Share some successful marketing plans you've created that contributed to the company's growth.
As a CMO of Limestar I oversee multiple responsibilities such as hands-on development and execution of business growth, marketing and brand strategies for digital products and services. I have played an instrumental role in launching profitable global digital products and services in gaming, entertainment, fintech, e-commerce, and mobile apps. I have successfully delivered unique and sophisticated rebranding projects (including building mobile apps, web portals, and loyalty programs) and introduced digital products to new territories. I have built and managed product and marketing teams of 100+ capable of scale up activities
in 30+ languages. The environment of the marketing industry is very dynamic, changing ever so rapidly; therefore, to keep up with the new trends, my team and I constantly keep updating our selves to cope with the ever-changing industry.

How do you maintain the perfect balance between your personal and professional life? What is your success mantra?
As chief marketing officer, I go through enormous pressure every single day, but I would never impose or express my work pressure into my personal life. Time management plays a crucial role in work and life balance, and I would like to advise others to create and live a scheduled life because it helps you maintain a prosperous personal and professional life.

Going forward, what are the changes in market behavior that you anticipate, and what are the opportunities you foresee? What are your future goals as a CMO?
The client base is the most significant aspect of our business, and client behavior and beliefs change frequently, so to survive successfully in the industry, we must think from the client's perspective. Marketing and technology are the fastest growing and evolving industries in this world, and keeping up with the latest trends and updating ourselves according to them is essential for the business. Artificial intelligence has already taken over the technology industry and is quickly becoming a part of the day-to-day life of people, shifting focus from traditional marketing to digital marketing. So we cannot precisely predict the industry's future, but I believe that we should adapt to the changes and be practical in our executions. As the chief marketing officer, I'll focus on creating an enabling ecosystem to create an impeccable marketing program, scaling up the business and obtaining the objectives I've set for the organization.

Abhishek Jha, CMO, Limestar Marketing
Abhishek Jha, CMO, Limestar Marketing A data-driven Chief Marketing Officer and startup advisor, Abhishek Jha has completed BBA-Marketing from Sikkim Manipal University, Gangtok. He has worked in senior positions in the digital marketing industry in various roles, working for companies like Data MySite Marketing, Lenskart.com, BookMyShow, FabAlley, Dstor Technologies, Serco, and Future Group. Abhishek has professional fluency in English, Hindi and Arabic.