Akilesh Kumaran: Taking Innovative Marketing Approaches To Empower The Digital Transformation Industry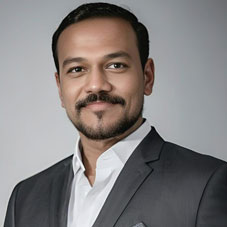 Digital transformation is a rapidly growing industry that empowers businesses to leverage technology to enhance their operations and meet evolving customer needs. Akilesh Kumaran, the Head of Marketing at Kaar Tech, has played a crucial role in making businesses more digital-friendly through Kaar Tech's end-to-end digital transformation consulting services powered by SAP and complementary technologies. A proven business leader certified as a Great People Manager by the Great Manager Institute, he has delivered success through effective lateral thinking, logical reasoning, data-driven decision-making, and by building & scaling sales development, marketing, account management, and partnership teams based on business requirements. Let's learn more from him in the interview snippets below.
Can you provide a summary of your professional background and experiences, as well as what motivates you on a daily basis?
I began my career as a marketing executive and have since gained valuable knowledge and experience through various executive, senior executive, consulting, and leadership roles in marketing B2B services and B2B SaaS. I have also learned valuable lessons in leadership, team development, go-to-market strategies, product launches, pricing, packaging, business models, and general business practices. Learning has always been my driving force, enabling me to build and scale teams, manage budgets, and experiment with various marketing tactics such as social media, email marketing, SEO, webinars, events, performance marketing, partnerships, and marketing operations. I am now particularly excited about the potential learning opportunities and new paths that are emerging with the advancements in AI, data, privacy, and digital experiences.
Kaar Tech has a substantial customer base & market share in the Middle East & is now expanding into the North American & European markets
Can you describe Kaar Tech as a company and its current standing in the market?
Kaar Tech is an organization that has been certified as a 'Great Place to Work'. It specializes in end-toend digital transformation consulting, services, and support using SAP and other complementary technologies for various industries. Currently, Kaar Tech has a substantial customer base and market share in the Middle East and is now expanding into the North American and European markets by prioritizing innovation, customer satisfaction, and excellence. However, we understand that the market is continually evolving, and to stay competitive, we are now continuously investing in research and development of new products and expanding our solutions portfolio to adapt to the changing needs of the clients.
Can you describe your main offerings and the additional value that your customers can expect?
Kaar Tech's primary digital transformation services include advisory, implementation, enhancement, rollout, and support services. These services are designed to help businesses identify optimization areas, develop a roadmap and project plan, and implement the plan. Our company covers a broad range of areas, such as process optimization, technology evaluation, and change management across various functions like Finance, HR, Procurement, Supply Chain, and Customer Experience. In every project, customers benefit from the strict governance of Kaar Tech's project management office, the extensive industry and solution knowledge of our consultants, the proprietary knowledge base built over nearly two decades, and our unique blend of intellectual property, accelerators, and templates. These factors assist our customers in achieving their digital transformation goals at the appropriate time, cost, and effort without taking any risks.
In your role as Head of Marketing, what are the latest strategies you have implemented to expand or optimize operations and attract new audiences to the market?
To achieve the growth we envision over the next few years, we are considering several strategies, such as developing industry-specific solutions, adding new services to our portfolio, expanding into new geographic regions, strengthening our focus on mid-market and large enterprise segments, creating strategic partnerships, emphasizing thought leadership, improving customer experience, and enhancing our digital presence.

Describe your leadership style. What principles or methodologies do you follow to lead your team?
My leadership approach is based on promoting open communication, fostering a results-driven mindset, empowering the team with ownership and learning opportunities, ensuring transparency in our goals, encouraging long-term thinking, and promoting continuous improvement. These principles have formed the foundation of my leadership style and has earned me certification as a Great People Manager by the Great Manager Institute.

What are your future plans or goals?
I aspire to explore new paths and experiences in my career every year and potentially become a solopreneur at some point. Ultimately, I plan to retire with a wellplanned approach as early as possible, so that I can focus fulltime on life, family, and discovering the world.

Akilesh Kumaran, Head of Marketing, Kaar Tech
Akilesh Kumaran is an experienced marketing leader in B2B Services and B2B SaaS who can achieve marketing goals within allocated budgets through methodical planning & execution of positioning, packaging, messaging, branding, demand generation, partnerships, and revenue driven integrated marketing encompassing strategies for social media, email marketing, SEO, webinars, events, performance marketing, partnerships, and marketing operations.

•Hobbies: Traveling
•Favorite Cuisine: Indian, Italian
•Favorite Book: Obviously Awesome by April Dunford
•Favorite Travel Destination:Goa