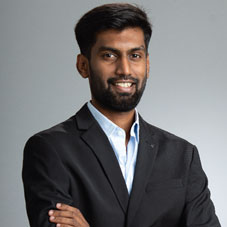 The edible oil industry has undergone a paradigm shift with the advent of advanced processing methods and the increasing demand for healthy eating habits. Consumers have become increasingly conscious of what they put into their system and are turning to scrutinizing food labels for transparency. The quality of oil used in food preparation has become a focal point for the health-conscious, with purity being a key concern.
KTV Health Food is on top of the leaderboards when it comes to providing edible oil brands that have been trusted around industries such as Sunland Sunflower oil, Roobini Palm oil, Roobini Vanaspati, and more.
Arvind Naidu P, Head of Marketing, KTV Health Food, is playing a crucial role in making KTV Health Food products a household regular in South India.
We recently engaged with Arvind where he shared the riveting story of KTV Health Foods from its humble beginnings to over come formidable obstacles, and ultimately emerging as a triumph in the industry. Let's hear from him.
Can you provide a concise summary of your professional history and accomplishments, as well as the driving force behind your daily activities?
My professional journey began during my college days, was a part of the initial team member of the Chai Kings a Chennai-based QSR startup, handling their outlet's expansion in terms of identification and initial setup of the outlet. Post my graduation was selected as a tax analyst of EY GDS through my campus placement, I simultaneously started getting interested in Digital Marketing and started learning and getting myself certified in various aspects of Digital Marketing, this exposure had me
getting more interested in Marketing, not just the Digital aspect but entire Marketing role.
It was during this time that I was fortunate enough to join KTV Health Foods, a joint venture with Adani Wilmar, where I currently serve as the Head of Marketing. The motivation that fuels me daily is my passion for innovation and the desire to make a meaningful impact in the industry.
Marketing terminology often includes B2B & B2C, but ultimately it's about human-to-human sales regardless of whether the medium is digital or traditional
Can you describe the position of KTV Health Food in the market and how you would characterize the organization?
KTV Health Foods stands tall as one of the largest importers of Palmolein Oil and Sunflower Oil in South India. KTV Health Foods is known for its adaptability to industry advancements and trends. Their ultimate goal is to make their edible oil & nonedible oil products a staple in every household across South India, a vision they tirelessly strive to fulfill.
What are some of the recent strategic initiatives you have implemented as the Marketing Head to upgrade activities and connect with fresh target groups in the market?
Since I took over the position of Marketing Head, my focus has been to explore novel avenues to enter the consumer pack division, including modern trade, e-commerce, and big retail. We must showcase our work to end customers, and we are leaving no stone unturned to achieve that.As a result, our team is relentlessly working towards reaching out to end consumers with renewed zeal and vigor.
Could you share with us your approach to leadership and the methods or guide lines you employ to effectively lead your team?
As I climbed the corporate ladder, starting from the very bottom, I made it a point to comprehend the struggles and responsibilities of every employee in the organization.
Now in a leadership position, my approach involves aiding my team in recognizing the issue at hand and guiding them toward a solution that will alleviate the problem. Additionally, I prioritize balancing the workload of each employee to maintain their mental well-being and motivation. We all have a finite amount of time to work for the organization, and it's essential to optimize that time by fostering a positive and enthusiastic work environment.

Can you share some of the most difficult obstacles you have faced in your journey thus far? How did you overcome them, and what lessons did you learn from them?
The edible oil industry is a constantly shifting landscape, with the market's volatility and fluctuations making it a difficult sector to navigate. Every quarter brings new challenges to the field, as the industry adapts to post-Ukraine incident changes. However, we have managed to weather the storm and adapt to these challenges by constantly monitoring market trends and adjusting our strategies accordingly. As prices slowly return to pre-crisis levels, we remain committed to providing our customers with highquality, affordable cooking oil that meets their every need.

What are your future goals or aspirations?
Looking ahead, our vision is to expand our product line beyond just edible oils, and include traditional oils such as gingelly and mustard, along with other fast-moving consumer goods (FMCG). In the next five years, we aim to transform into a full-fledged FMCG company, providing a diverse range of highquality products that meet the ever-evolving needs of our customers. Marketing terminology often includes B2B & B2C, but ultimately it's about human-to-human sales regardless of whether the medium is digital or traditional.

Arvind Naidu P, Head of Marketing, KTV Health Food
Arvind Naidu is a Dedicated Leader, and manager and currently pursuing his executive education at IIM Ahmedabad. The vision is to learn and evolve on the go and never stop learning.

•Hobbies: Travel & Music
•Favourite Cuisine: Chinese
•Favourite Book: Rich Dad Poor Dad
•Favorite Travel Destination: Goa