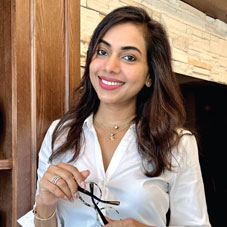 Good leaders have the power to shape organizations, communities, and nations. But what makes them stand out is their ability to lead by example and foster a culture of trust, respect, and accountability. Deepti Dilip, Head of Marketing & Strategy, SE Asia & India, Ashnik is a versatile leader with over 15 years of diversified experience in advertising, branding, and marketing across various industries. Handling extensive campaigns and strategies to upturn & advance brand awareness, customer acquisition, business growth, and revenue generation. In her previous role as a Creative Director, Deepti has been successful in leading cross industry accounts, launching and promoting lifestyle brands, financial services, tabloids, television shows, reality, and more.
With an eye for innovation and out-of-the-box initiatives, at Ashnik, she spearheads marketing strategies and campaigns, digital platforms, lead generation, events, and PR to escalate the company's business objectives and enable the brand to make a benchmark across Southeast Asia and India. In today's data-driven climate, Deepti is winning hearts by focusing on her human qualities like leadership, resilience, vision, and compassion. Let's hear it from her.
Tell us about your leadership approach.
For me, leadership is a two-way approach how I coach teams and how I work with my ideas in the real world. I enjoy working with cross-skilled professionals; thus I hire people from diverse industries to upkeep the influx of a creative pool and nurture fresh thinking. I never believed in micro management, because freedom and space yield better work. Being humble and remaining open to the ideas of others no matter their level is a great way to aid growth and get the
most out of a team's talent. While recruiting, the one skill I always look for is attitude. I believe when people with the right attitude get added to the team, they promote a culture of learning and collaboration which is vital for a company's productivity and success. Because skills are teachable, attitude is not.
As a marketer, one cannot stretch enough on the importance of story telling, irrespective of the industry. Messaging will convey but a story will connect
Define Ashnik as an organization.
Ashnik is a pioneer in bringing open-source technologies and services to enterprises in Asia, helping them in their digital transformation journey. We drive value and innovation to our customers while driving an open-source culture.
How do you keep yourself and your team updated about the market to ensure the company stays afloat in the industry?
Strategies, technologies, and customers are always evolving, and marketing leaders need to keep up with this rapidly transforming world. Continually identifying new trends, and learning (and re-learning) is what keeps leaders ahead of the curve. I believe a good leader is a teacher first. Someone who can coach when needed, take a step back, and allow the team to grow into their own. Setting unified goals helps extensively as that ensures we are all working in one direction as a brand. I encourage my team to adopt atypical strategies and ideas, simplify brand messaging and think tangentially also, we as a team practice sharing inspirational work with each other to keep the creative barrels rolling.
As a tech marketer, it is crucial for me to stay clued up about shifting technological landscapes so I constantly focus on acquiring knowledge of new technologies and initiatives to effectively represent my brand in the market. I'm inspired by Indira Nooyi who besides being an iconic woman leader is also recognized for her strategic thinking and bold decision-making.
Tell us about the biggest milestone of your professional journey so far.
Along the way, what were the challenges that made the road difficult? How did you overcome them?
I moved my industry and location at the peak of my career. Going from being a Creative Director in Advertising to heading Marketing in the IT industry. The journey was stimulating with so many firsts thrown at me together new geographies, diverse cultures, a completely different field, and not being the usual MBA. I studied to be a graphic designer, moved into art direction, and leaped into marketing. But, I have always believed that skills and attitude trump qualification. I took those challenges as steep learning curves to reshape my path ahead and conquer it fine. That according to me is one of my biggest milestones.

Where do you see yourself headed in the upcoming years?
I look forward to working with exciting businesses and building their growth stories because this is the one thing that genuinely motivates me. And along the way, I want to work with some great people inspire and be inspired by them.

On the individual front, some of my current passion projects are working with an AI startup to build its GTM Strategies targeting Europe and India; and designing a children's illustrated storybook which is soon to be released.

What would be your message for the young leaders of the industry?
To be a good leader, one must build future leaders by empowering them to do great things.

Secondly, as a marketer, one cannot stretch enough on the importance of storytelling, irrespective of the industry. Messaging will convey but a story will connect.

Deepti Dilip, Head - Marketing & Strategy, SE Asia & India Ashnik
Deepti has pursued Advertising and Graphic Design from Wigan & Leigh, and brings over 15 years of marketing and advertising experience across different industries. Apart from heading Marketing & Brand Strategy in Singapore's tech industry, she also leads the role of a GTM Strategist for an AI and Data Science start-up. She is an artist at heart who loves to paint and is currently working on her first children's storybook.