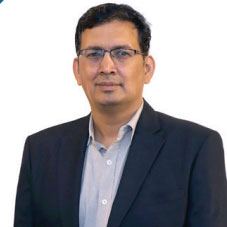 Imagine being responsible for the success of some of the most iconic brands, being part of their growth journey, turning them around, and bringing them to the limelight. Meet Jiteen Aggarwal, who has been behind many such success stories of companies like FCB Ulka, Hindustan Unilever, Total Energies, Idea Cellular, Mahindra & Mahindra, and currently Hettich.
With over 20 years of experience in diverse industries such as FMCG, telecom, semi-durables, building materials, and advertising, Jiteen has a proven track record in launching and restaging brands, developing integrated brand communication, and driving P&L results. He has excelled in both B2C and B2B marketing. Jiteen's exposure to all facets of brand innovation and activation, including new product development, market research, communication, media planning, CRM, and digital marketing, has enabled him to empower brands with an indelible reputation. He has always had a great passion for learning and believes in looking at the bigger picture with an inquisitive and analytical mindset.
Join CEO Insights as we uncover the secrets of Jiteen's success and learn how he has navigated the ever changing marketing landscape to achieve outstanding results for his organizations.
How have your strategies helped Hettich achieve growth?
I have gained a holistic approach to marketing through my experiences both in P&L and brand marketing. This has helped me to develop tailored strategies for different consumer segments and their unique customer journeys. Our goal is to enhance company operations and attract new audiences, which we have achieved through national advertising and also foraying into regional television advertising and sports marketing leading to increased brand reach and recall.
We also prioritize a strong digital presence to provide customers with an omnichannel experience and ease of interaction with our brand. Overall, our marketing interventions target different stages of the customer lifecycle and appeal to various segments, including end consumers, architects, and carpenters. Our efforts have been recognized through accolades such as the Economic Times Best Brands 2022 and Most Trusted Brands of India 2023 by Marksmen Daily.
Marketing is about striking the right balance between strategy & creativity to deliver enhanced value to your customers every day
We have a deep understanding of each consumer segment's unique needs, allowing us to craft highly tailored strategies for each one. Whether it is a B2C or a B2B customer, we recognize that their customer journey is different and requires different marketing interventions at different stages of their lifecycle. As a lifestyle brand, it's crucial for us to maintain a strong digital presence, which is why we're undergoing a transformation towards greater digitalization and implementing various digital initiatives. Our goal is to provide customers with an experience that is seamless and user-friendly, creating a sense of convenience when interacting with our brand.
How would you define your leadership approach?
As the head of marketing, I value leading by example and being a role model for my team. I believe in delegating work as per one's strength, empowering my team, and providing them with the resources they need to succeed. While I don't micromanage, I do like to be involved and inspire my team to achieve their goals. I also believe in maintaining a high performance culture within my team and trying to motivate them to think beyond the obvious. When needed, I intervene to ensure we are on the right track. Marketing is a central function, and as a leader, I define and maintain high performance standards to drive brand image and business leadership in the market.
Going forward, how do you picture yourself evolving?
Currently, I work as a marketing head, but I see myself progressing to the role of CMO in the immediate future. Ultimately, I aspire to become a business leader and take on the responsibility of managing an entire strategic business unit. While marketing is undoubtedly a critical aspect of any organization, I believe that gaining a broader perspective on the business as a whole is equally important. As a business leader, I would be able to contribute to the success of the organization in a more holistic way, driving the business forward. I am eager to learn and grow, and I believe that pursuing this path will offer me immense opportunities for personal and professional development.

What advice would you give to future leaders or upcoming professionals in the marketing domain?
Marketing is a rapidly evolving and exciting field with many new-age mediums and technologies emerging, such as artificial intelligence, metaverse, social marketing, extended reality, voice marketing, and so on. Also, Marketing is becoming extremely data and ROI driven. To succeed in this field, I believe budding talent should be open to embracing new technologies, be comfortable analyzing tons of data and have a great understanding of the business. They should be willing to experiment and create different business scenarios resulting from each decision. They should keep their eyes and ears open, learn from the best practices of other companies, and strive to be close to consumers to understand their rapidly changing behavior influenced by global megatrends and regional nuances. In short, future leaders should have a great passion for learning and continuously move up the learning curve, maintain a sense of positive restlessness to explore new things, and stay out of their comfort zones.

Jiteen Aggarwal, Head of Marketing, Hettich
A man with a passion for continuous learning, Jiteen always seeks to refine his skills and knowledge. He is fascinated by great marketing work and enjoys looking at things holistically to ensure success. He is also open to adopting new technologies to enhance his work. Outside of work, Jiteen enjoys watching cricket and movies, as well as practicing spirituality. Also, he has been exploring various religious destinations.