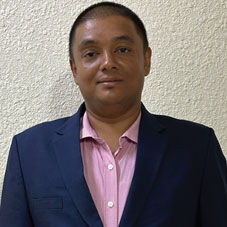 Marketing is ever-evolving with new marketing alley ways being identified consistently. Owing to its increasing importance, over the years, the demand for top-notch marketing professionals has been on the rise. Uttam Kumar is one pioneering marketer who currently holds the office of Head of Marketing and Channel Sales at Mahaveer Group RSPL. Since its inception in 1997, Mahaveer Group RSPL has been able to develop into one of the leading real estate developers in Bangalore. The company is known for its high-quality residential and commercial properties, with a focus on delivering innovative designs and modern amenities to its customers. The company has completed a range of projects, including apartments, villas, and commercial buildings, and has earned a reputation for delivering projects on time and to the satisfaction of its clients. With Uttam Kumar as its marketing head, Mahaveer Group RSPL has been able to expand its horizons and reach for greater heights in the market.
In an exclusive interview with CEO INSIGHTS, Uttam Kumar talks more about his professional journey and his unique leadership approach.
Give us a brief account about your professional journey.
I finished my engineering and started my professional journey with Hebron Properties as a Marketing Executive looking out for three projects Hebron Towers, Hebron enclave Villas in KR Puram and Lelexuz stone view Plots in the international airport road. After that, I joined Featherlite Developers and then, with Reliaable Developers, I worked on launching 120 Acres BDA layout called dollars colony. I have also worked with the Svamitva
group and the Shilpa group. With Mahaveer Group, I got better exposure to the highly dynamic Bangalore real estate market.
Tell us about your leadership approach and what has been your success mantra so far in your journey.
I believe that successful leaders are often excellent communicators, able to articulate their vision and goals clearly and inspire others to work towards them. They are also typically adaptable, able to pivot and adjust their plans as needed to respond to changing circumstances. In terms of a success mantra, there are many different approaches and philosophies that can help people achieve their goals. Some people may focus on developing a strong work ethic and consistently putting in the effort required to succeed, while others may prioritize building strong relationships and networks that can support them throughout their careers. Ultimately, the key to success may involve a combination of different factors, including hard work resilience, adaptability, and a willingness to learn and grow over time.
Expanding operations into new geographic areas can help real estate companies tap into new markets & reach new customers
What are the strategic plans real estate companies can leverage to expand/optimize operations and engage customers in the market?
With the increasing use of technology in every aspect of life, real estate companies can use various tools and platforms to optimize their operations and reach potential customers. Providing a positive customer experience is crucial for building trust and loyalty is also crucial. Real estate companies can diversify their offerings to appeal to a broader range of customers. For example, offering different types of properties, such as apartments, villas, or commercial spaces, or providing a range of amenities or services, such as security, maintenance, or landscaping. Expanding operations into new
geographic areas can help real estate companies tap into new markets and reach new customers. However, it's crucial to do thorough market research and understand the local regulations, cultural norms, and other factors that may impact the success of the expansion. Also, building partnerships with other businesses in related industries, such as mortgage lenders or interior designers, can help real estate companies provide a more comprehensive service to their customers and expand their reach in the market.

How can real estate leaders guide their teams to draw valuable insights from the market to stay informed of the latest trends?
Real estate leaders can encourage their teams to conduct regular market research to stay informed of the latest trends, including consumer behavior, market conditions, and competitor activity. Encourage your team to follow industry influencers and popular real estate accounts to stay up-to-date. Attending industry events and conferences can provide your team with an opportunity to network with other real estate professionals, learn about the latest developments in the market, and gain insights from expert speakers.

Encourage your team to analyze data related to your company's performance, such as website traffic, lead generation, and sales figures to identify trends and opportunities for improvement. Also, encourage your team to experiment with new strategies and approaches to stay ahead of the competition. Provide opportunities for your team to share ideas and collaborate on new projects to drive innovation. By fostering a culture of innovation and encouraging your team to stay informed of the latest trends in the market, you can help ensure that your real estate business stays competitive and continues to grow and thrive.

Uttam Kumar, Head of Marketing & Channel Sales, Mahaveer Group
Uttam Kumar is a results-driven business leader who aspires to take Mahaveer Group RSPL to greater heights in the market. He is also the recipient of the Taken Common Floor and Economic Times awards for the best marketing campaign.