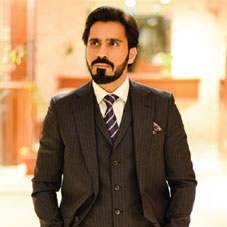 Amit, who began his professional journey as a strategy consultant with one of the premier consulting company in the world, today is a seasoned C-Suite professional with experience of setting up and operating five successful businesses in Saudi Arabia and the broader GCC region. He has accumulated a robust experience of more than 10 international transactions including building green field businesses, joint ventures, operational roll outs, partner buyouts & consolidation with billion dollar companies across the Middle East.
Most people build their careers around one marquee transaction in their career, whereas Amit has been involved in setting up of five different businesses in Saudi Arabia with a Stellar 100 percent success rate. He has also been courageous enough to make the atypical shift from investing & setting up businesses to operationally running a large business in Saudi Arabia as a CEO. With this move, Amit has taken some major strides in his professional career over the last 15 years in the Middle East and has been able to create quite a remarkable legacy for other Indian professionals working in the GCC markets.
He is indeed an inspiration for many young leaders in the industry. Below is an excerpt of the CEO Insights'exclusive interview with Amit, who holds an MBA in International Finance from Delhi School of Economics and is also a CFA Charter holder from CFA Institute, US.
Take us through your professional journey from being a Strategic Consultant to an entrepreneur.
I kick started my career as a strategic consultant, working on the
growth strategy of major international corporations. After spending some quality time in this domain I moved on to investment banking, where I worked with Cushman & Wakefield(erstwhile Debenham Thouard Zadelhoff)in their Invest ment Advisory division. Both these exposures gave me the right mix of experience in two very important branches of business ­Strategic advisory as well as financial transactions experience.
The problem is not the problem; the problem is your attitude towards the problem
After this, came the 'game changing move' to Saudi Arabia, at a time when the country had embarked on an aggressive growth path. I joined a private equity organization with the mandate to identify and create green field businesses in partnership with major international corporations. I was fortunate enough to encounter such a unique opportunity at a very early stage of my career. This gave me a perfect breeding ground to learn the entire value chain of a business including identification, evaluation, mobilization and execution of a business opportunity.
In this journey of almost 15 years now, I can proudly say that I have been instrumental in creating five multi million-dollar businesses across different sectors. In 2020, I took up an entirely different role to run a large business as their CEO. With this move, I believe my professional career has turned full circle. This puts me in a truly distinctive place as far as my professional experience is concerned.
Define Fraikin Dayim and your role into its business operations.
Fraikin Dayim is the only specialist Full Service Truck Rental company in Saudi Arabia and the broader GCC markets. It is the only company in the market which has turned a rather conventional leasing business into a new age business with the use of data analytics & technology.
I am in charge of running the Saudi and the GCC business for the company. The mandate involves full P&L responsibility of the entire business in the region, introduction of new value added service to an already internationally proven business model of Fraikin and establish a unique regional market positioning vis a vis competition. I have also been leading the commercial activities in the wider GCC region and spearheading the
fund raising activities for the expansion of the business.

What is your business mantra that constantly helps you to arrive at positive outcomes? In what aspects did these mantras help you to develop unique propositions for Fraikin Dayim GCC?
I have wired my mind to see myself as a troubleshooter, who sets his eyes on the problem and looks for solutions to solve it. I strongly believe that "The problem isn't the problem the problem is your attitude towards the problem.

My professional career has moved at a fast pace over the last decade wherein I had to encounter several challenges as well as opportunities, that have led me to redefine my repertoire of skills and more importantly my attitude towards seemingly tough situations. I persistently think of only one thing in my professional and personal life that is `building a clearly distinctive competitive advantage'.

At Fraikin Dayim, we have constantly tried to redefine the conventional business model of leasing into more of a new age business using dataanalytics & technology. Creating a unique level of customer service, building competitive advantage, use of latest technology and constantly transforming the business model have helped us to stayahead of the competition.

What is the roadmap that you have planned for the company?
The plans are to expand the business through a combination of robust organic growth, vertical integration, geographic expansion and wider use of technology & AI in the business model. We are also working to expand the product portfolio to include a few more syner gistic rental solutions. A combination of all the above should put us on a rather aggressive path to an unrivalled position in the market.

Amit N Marwah, CEO, Fraikin Dayim GCC
An MBA in International Business from Delhi School of Economics. Amit is a CFA Charter holder from CFA Institute, US. He holds various certifications in contemporary subjects from IVY league Universities Inc. Columbia, Yale, Wharton, Stanford, London Business School, IE Business School Indian School of Business, among others. Currently, the CEO of a large rental business in Saudi, before which he was instrumental in building five successful businesses in the Middle East.

•Hobbies: Sports & Astrology
•Favorite Cuisine: Italian
•Favorite Travel Destination:nItaly
•Favorite Book:The Autobiography of Yogi