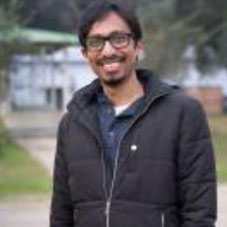 Amitavo completed his B.Sc. in Engineering in Naval Architecture & Marine Engineering from Bangladesh University of Engineering & Technology[BUET], which is the most prestigious educational institute in Bangladesh and also widely known in the world for its quality. He completed his MBA from North South University Bangladesh and undergoing Master of Science in Applied Economics [MSAE] in Brac University. Amitavo started working in ShipDyn back in 2009 right after his graduation. Afterwards he worked in other companies and took over Shipdynas the MD. He has always been keen about staying up-to-date with the latest industry trends to achieve the best out of everyone and yield prolific outcomes himself.
A tech giant known for his plausible technical expertise across various fields of new and improved technologies as well as their applications, Amitavo Chowdhury has been a cognitive brand name across the dimensions of ship design and engineering. Remaining abreast with the latest trends in science, business, marketing, and finance, Amitavo is building his career across his area of interest to involve himself pragmatically across the future expeditions of the industry as well as his organization. Constantly challenging himself to evolve as a better person than yesterday, Amitavo's zeal towards learning modern engineering methods and designing contemporary technologies has furbished his path to develop his knowledge and skills on shipbuilding.
Engaging in an exclusive interaction with CEO Insights, Amitavo Chowdhury highlights the tinges of his highly efficacious professional voyage.
Tell us your journey so far with ShipDyn, what different roles have you been undertaking at the company?
When I started working with ShipDyn back in 2009, it was a concern of Ornate Group of Companies in collaboration with a Danish Ship design company. During the European recession the Danish Company stopped financing
ShipDyn and the ShipDyn had to stop its operation. After working in another ship design company for about & years and in a shipyard for 2.5 years, I gained substantial experience and contacted Ornate group of companies. After requesting them to handover ShipDyn to me as they aren't operating at all, I finally acquired ShipDyn and restarted the company. Along with my company, I am also working in SQL.
My theory is, even if you see a slight scope of business from a dried-out sector, you take the chance to make it emerging
Giving my best to make the company a success, I have to play almost all the roles that can be possible to play by an employee. Starting from zero of a project to final deliverywhich includes marketing, employee retention and hires, basic and detailed design of the ship, project management, delivery and financial issues of the company.
As the Managing Director of ShipDyn, what are the key strategies that You have been implementing to ensure that the operations of the company are conducted approproately to meet its short or long-term needs?
Our main strategy is to keep your employees happy. Whenever I find a potential employee who is capable and willing to give everything for my company, I give my best to keep him happy. If my budget for salary is not up to his expectation, I go beyond my capability to ensure that his expectation is met. Apart from bestowing my employees with performance bonuses, I try to motivate them. Rather than acting like a Boss, I try to be the leader and guide who they need to become successful not only for my company but also in their career.
In your professional journey so far, which are the milestones that bestowed you with utmost satisfaction both as an individual and as a Managing Director?
Implementing all my years of experience, I have always tried to do some thing different and finally succeeded in inventing a new type of Ship Hull which I termed as 'Y-Hull'. I have patented this from IPOS and this is the best thing that has happened to me. Being worried about the risk of the river way transport systems of countries like Bangladesh and riverbank erosion affecting a lot of in people of the country, I was always up on my toes to search for a solution to this
problem. After long research, I finally figured that I might be able to do something, which led to the invention of this special type of ship hull. Y-Hull not only reduces wave generated by the ship's hull but also reduces bank erosion.

I have designed more than 150 ships and constructed more than 70 ships under my supervision. I have a patent of a new type of ship design which is first patent in ship design industry of the world in 20 years. I have presented by invention in a seminar organized by The Royal Institution of Naval Architects [RINA], UK and the Chair of the seminar Dr. Stephen Payne (Designer of The Queen Marry II) appreciated a lot. That is the best achievement of my life.

Are there any mentors you look up to for inspiration? What are the major factors behind the success of your professional career? What is your success mantra?
I always think, you, yourself is the best mentor of your life. People might influence you positively and negatively, but if you are concerned about yourself and be the mentor and talk to yourself, you will find a solution to every problem. So, I always counsel myself, I always talk to myself and that's the main factor that keeps me going. In order to be successful, I believe, the captivity of negativity destroys us. Therefore, be the guide you wanted to have in your life, you'll be successful.

What emerging marketing trends have you identified that could affect the ship design & engineering industry? Are there any new ideologies visioned up for the future growth of your company?
As I find all trends as emerging trends, there isn't any specific emerging market trend to be honest. You can find opportunities even from a dried-out sector. So, my theory is, even if you see as light scope of business from a dried-out sector, you take the chance to make it emerging. For future expeditions, I have visioned up to expand to other countries. I am looking forward to taking my patent to commercialization on a wide scale.

What is the most challenging project that you have executed so far? How did you overcome those challenges and what did you learn from them?
My most challenging projects was to construct the Y-Hull. As most of the ship design software are aware of Mono Hull and Catamaran, it was not easy to develop the design of Y-Hull. Therefore, we started construction first then step by step took the challenge. It was the toughest project of my life that paid off. From this project, I have learned that I can achieve everything, and I can complete any project however tough that might sound.