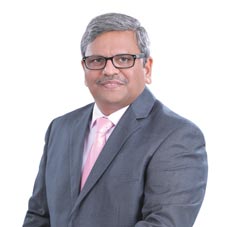 Anil has climbed the ladder of success by seamlessly integrating his managerial skills with exceptional leadership qualities. Whether it is his views about delegating work judiciously, his know-how of managing sales for organizations, his belief about 'making things happen' or his perspective about understanding the needs of the clients, a lot is to be learned from observing his leadership skills and approach to management. Anil has articulated his professional journey, his stint at Vogelsang as well as his experience in an exclusive interaction with CEO Insights magazine.
Tell us more about your professional journey. What was the force behind your success?
When I was working as a trainee on the shop floor at Bhopal, I used to aspire of working with MNCs. It was my ambition to contribute to the growth of the organizations, not just in India but all around the globe. I wanted to learn from different parts of the world. This desire of mine helped me to manage working in five different countries. I ventured in South East Asia from Thailand when I launched my International exposure, then upgrading to Singapore, which was a different competitive world. I came back to India and worked in Bangalore with Rockwell Automation. After that, my next journey was on the Middle East,
where I joined Alfa Laval at UAE. While working there, I got promoted as Country Manager Oman. Post working for around 6+ years for Alfa Laval, I joined Vogelsang in Dubai as General Manager. Right now I'm the Managing Director of this company.
A great business leader often possesses a combination of various leadership qualities like creativity, motivation, vision, and empathy. As a successful professional would you like to share some tips of how to achieve victory?
Working with various renowned organization from different parts of the world has helped me to gain vast knowledge of various industries. Apart from that, I believe that there must be certain values that an individual must adhere if they want to achieve success. In my case, those values are proactive approach, perseverance, commitment and determination. There are many different tactics for how to be successful in a professional journey, but the strategy that works best for you may depend on your view of success itself. I'll also share my formula to attain success in sales - Listen, Think, Analyze, Plan, Communicate, and then only Act to achieve.
I believe that leadership is all about trusting, being empathetic and organized
What are the various services that your organization - Vogelsang offers, and what do you consider as your strength?
I have built four workplaces from scratch in different places, and few of them were even new companies. That exposure helped me to build the operations for Vogelsang in the Middle East. According to my opinion, building operations in a new organization is a different ball game than running an existing company which has inertia & history to reckon with. You need vision, pro-activeness and hard work to set up new operations. One of the most important parts is to lay the foundation with suitable employees who can bring a difference in the organization. Second is the commitment to customers so that they can believe in company products. Vogelsang is a nine decades-old organization and we opened Vogelsang Middle East as its 26th office. Though this branch is new, today with an excellent reputation in the market, we can say
that we have made progress very fast in this developing market.

Talking about the organization, Vogelsang Middle East FZCO is 100 percent subsidiary of Hugo Vogelsang Maschinenbau GmbH, Germany and responsible for supplying technically high-quality machines in the field of Wastewater, Food processing & industrial applications in MENA region. Our pumps are equally liked by EPC companies as by End-users for the benefits they bring to both types of companies. EPC companies find our pumps competitive as their footprint is very small in comparison to other manufacturers. The End-users is always in love with our machines as their run before breakdown is much longer and if they do breakdown, they can be repaired on-site, in a short period of time to have another long run in their plant.

How would you describe your leadership style and what values are most important to you as a leader?
I believe that leadership is all about trusting, being empathetic and organized. I observed that I achieved success every time when my superiors endowed trust on me. This made them great leaders as well. Hence, I started focusing on this trait, included it in my skillsets and enacted to my subordinates, which always brought success in return.

I learnt very early in my career that every human being is half-filled and the only factor that can complete them is empathy. Employees need empathy and nothing can be more motivating than empathizing with them in the workplace. Empathy generates interest and appreciation for others, paving the way to more productive working relationships.

Being organized is very important for a corporate. An organized employee isn't likely to miss crucial deadlines or forget about a work assignment. Being organized doesn't make you extraordinary but if you are losing your way during your work, then it'll be easy for you to find & rectify the error, which is not easily viewable when the task is accomplished following haphazard methods.

Anil Choudhari, CEO, Vogelsang
A dedicated senior professional who loves to discover the world, Anil is renowned for his leadership qualities and savvy approach to customers for understanding their demands.