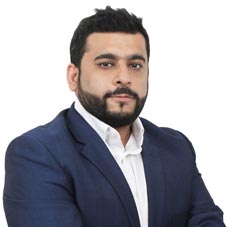 Jocko Willink, an American author once quoted "A commendable leader is someone who takes ownership and operates with the understanding that they are part of something greater than themselves & their personal interests". Chirag Shah, Co-Founder & CEO of Globus Holding is one such dedicated & laudable leader whose innate entrepreneurial virtuosity propels him to foster a dedicated organization. One which is not just nonpareil in terms of offering services, it is also a great workplace with commendable work ethics. Established in 2017, Globus Holding is a UAE-based consultancy firm which aims to deliver the best service across many verticals: e-Commerce, general trading, manufacturing, fintech and investment management. Today, under Chirag's leadership, in just three years of existence the company has gained immense reputation in the industry. What segregates the company from other basic players in the market is the fact that the company runs on the simple motto of having people at the centre of everything and every deal.
The company's fundamentals are based on partnership. People are the major assets of the company. Globus Holding inclines toward building a network that is strong and transparent, and the company strives hard to work with the latest trends, leading to a new vertical in the business often. These are the four pillars of Globus Holding on which the company is standing tall and flourishing as an organization. Chirag, in an exclusive conversation with CEO Insights, divulges about his venture and his professional journey. Here are the excerpts:
Tell us more about your professional journey and throw some light on the unique traits that
helped you reach rarefied heights.
I am an ACA qualified Chartered Accountant. Having lived in London for the majority of my life, I have studied and practiced Accounting in the UK for two decades. After completing CA, I started working for midsize practices, which enabled me to audit and advice SME clients on how to better function their companies.
My father was an entrepreneur and watching him work on his business day in and out; making it achieve great heights - panning countries and oceans, always encouraged me to do the same. Thanks to all his early guidance I stepped into his shoes, which eventually led me to become an entrepreneur. His entrepreneurial spirit helps me take calculated risks, venture into startups as well as take over distress businesses and turn it around.
His entrepreneurial spirit helps me take calculated risks, venture into startups as well as take over distress businesses and turn it around
The fact of having worked in the UK and Cayman Islands during the years while I was a practicing CA, and now having been working in the MENA region for the past 5 years I have first-hand knowledge of different markets that helps me navigate Globus through all the hurdles we face on a day-to-day basis. My experience of working across the globe facilitates Globus into market penetration and customer retention.
What are the services you are offering to your clients?
We have innovation labs in our fintech division, we are coming up with some exciting new offerings in the same. These would be encompassing financial inclusion and peer to peer lending. Our aim is to redefine the way trading, transactions, payment, and remittances are done across all platforms.
Ensuring quality is a mandatory factor for Globus. In each of our divisions, we have different quality processes that are followed
rigorously. As quality is of the utmost importance to us and our customers; it goes through multiple iterations, checks, and balances. When it comes to e-Commerce in Menakart.com & 21st-avenue.com we have a 5-step process to ensure quality is met every time. For fintech clients, the guidelines which we follow on the financial side are the ones that are directed by banks and SDLC. Similarly, in our trading business the processes are driven by demand and sometimes it even changes at the 11th hour.

In your professional journey so far, which are the milestones that bestowed your utmost satisfaction?
I feel that my journey has just started, and I've got a long way to go. I still have quite a lot to achieve. It'll be my endeavors to keep doing my best with an aim of achieving great success that would become a milestone. Though I do have small accomplishments that mark the progress I am making with each step in the right direction and for now, this makes me happy and keeps me motivated.

The biggest milestone to date for me is to be able to give back to society. I believe in helping others as it makes a huge difference in the lives of the less fortunate. I hope that one day through my work I will be able to make a significant difference in society for the same.

What is your future roadmap?
Talking about the future roadmap, our 5-year plan includes various ideas. I believe the best way to grow consistently and maintain the highest level of succession is having right partnerships. First is to take all the verticals under the Globus umbrella to the IPO level and create a multi-channel platform that is driven by technology. Second is to expand our team and reach into different markets. Apart from that, we will be penetrating deeper into e-Commerce and fintech markets with ventures into online payments, loyalty programs, travel, fashion, groceries, and more.

Chirag H. Shah, Co-Founder & CEO, Globus Holding
15+ years of Professional experience. A 2nd generation serial entrepreneur, an ardent go getter, investor and mentor; Chirag has businesses spanning across Africa, Asia & Middle East. Being a CA he has helped many companies to scale up from seed fund level.