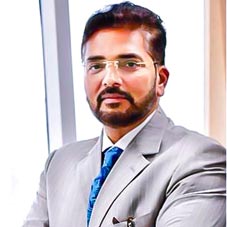 Dev Maitra is one exemplary professional that has been included in the top 10 brokers in the UAE within a short span of 3 years owing to his business expertise and industry knowledge. Guiding Savington International Insurance Brokers to breaking new business frontiers on a consistent basis has helped him to develop into a pioneering figure in the Insurance Brokers market segment.
His passion for the profession and his eye for perfection has been a cornerstone behind the growth of Savington and in an exclusive interview with CEO INSIGHTS, Dev talks in detail about his professional journey and how he has been able to create a successful business organization.
Tell us the major facets & achievements about your professional journey?
At a very early age of 28 I was entrusted with the role of a Country Manager – Finance, British Airways, Bahrain and then was appointed as the Group Financial Director at the Al Zayani group which was a highly diversified business with industrial, automobile and real estate operations. Hence, giving me the exposure into diverse fields.
I arrived in Dubai in the year of 2000 heading finance for the RHS group having further diversified into shipping trading and insurance. I then moved on to head as the CEO at Al Barari the premier real estate developer in the region. I started Savington insurance in the year 2012 and throughout my career the diversified business experience has helped me in taking Savington to great heights.
In 2008 I became an award winner of the International 'Whose Who Awards' of professionals which lead Savington to win the coveted MEA awards consecutively for two years 2019 and 2020 as the best insurance brokers.
Give us a brief detail about your educational and professional background prior to joining Savington International?
I had a very modest upbringing and education from a humble school in India and then from the Delhi University, I completed my bachelors and Masters in Business Administration and Accountancy. In terms of my professional background, I have worked in numerous fields and trades from airlines in British Airways to Shipping and Real Estate in Al Barari to finally now insurance broking in my own company.
"To get something you never have, you need to do something you never did". My leadership approach is leading by example encouraging calculated risk taking along with coaching and guiding my team, while setting an example on how to get through periods of difficulty with ease
A Great business leader often possesses a combination of various leadership qualities like creativity, motivation, vision, and empathy. What different roles have you been undertaking at Savington International?
There are numerous steps involved in the success of an organisation, and leadership without doubt is one of the most significant factors behind this success. Leadership styles have a fundamental direct cause-and-effect relationship on financial success and business improvement. Leaders' roles are revolved in forming values, visions, and employee's motivation.
We've all had bosses who seem to style themselves on military leaders, however treating the workplace as a battleground is something which very few would respond well to. While it is true that leaders are required to take tough decisions and act quickly, but that need not necessarily instil an environment of fear. It may sound like a paradox, but a great leader isn't someone who leads. It's someone other people want to follow.
"We sometimes think great Leadership requires great charisma, and although that certainly helps to sell a story, it is not enough, or even essential. At a very basic level, a great Leader clearly articulates what is required, and then does what they say they will do.

How would you describe your leadership style and what values are most important to you as a leader?
My leadership approach is leading by example encouraging every individual to find the "hero" in them. I motivate their participation along with coaching and guiding my team, while setting an example to stay positive even during most adverse circumstances.

I constantly endeavour to support the various departments in my team, guiding, encouraging and counselling them when they lack confidence. I make sure they believe that they are aware that as their leader, as their captain I am always there to solve their problems and look through their point of view too.

Besides that, I have attempted to establish a very democratic leadership style and thereby discarding the 'my way or high way' practice. The ability of the staff to speak and voice their opinions is of utmost importance as I believe my employees don't need to work and grow within a certain box, instead I focus on making sure they are given the space to grow personally and professionally.

To further encourage a 'work hard-play hard' system within the organisation, I make sure that we celebrate our wins, birthdays, festivals and learn from our setbacks as a team disregarding the division of religion, caste or creed. Most importantly, I believe in promoting compassion in my employees and cushioning there blows while guiding them when they fail and pushing them constantly to try until they succeed in their personal and professional endeavours.

Dev Maitra, Managing Director, Savington International Insurance Brokers
He has got immense experience and expertise in Negotiation, Business Planning, Operations Management, financial Management, and Contract Management. This diverse skillset has allowed him to create a niche in the industry.