Manoj Koshy John: A Passionate Business Leader Leveraging The Aviation Industry Through His Brainchild Aeroconnections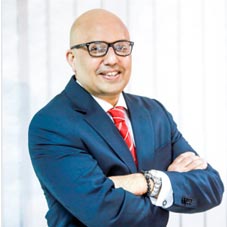 Progressing towards the sumptuousness stage of success, by leveraging the rich expertise gained through the past two decades of his professional journey in the aviation industry, Manoj John's impeccable persona makes him one of the recognized and celebrated business leaders from India in the UAE. Gathering experiences from his tenure with every organization he has ever been associated with, Manoj established AeroConnections with a vision to provide worldwide aviation supply and support services, especially in the Middle East, Europe, Africa and Asia.
A philanthropist playing a crucial role towards the enhancement and upliftment of society, Manoj is a 'passionate Rotarian'indulged in many CSR initiatives through AeroConnections to support the needy and the less privileged. With a passion for keynote addresses, he has delivered across more than 10 countries, speaking to the varied age group of audience on areas of leadership, skills enhancement, employability skills, customer experience, and so on.
Engaging in an exclusive conversation with CEO Insights, Manoj Koshy John shares a glimpse into his life and journey as one of the Top 10 Best Indian Business Leaders in the UAE.
What different roles have you been undertaking at AeroConnections? How has your journey been at this organization so far?
I represent the helm of an organization as CEO and that itself encompasses end-to-end manage- ment of the entire spectrum of the business, ranging from operations, sales, planning, strategy, budgets, alliances & collaborations, people management, human capital resource management, financial planning and many more. AeroConnections has been a dream brainchild that involved years, months, weeks & days of meticulous planning, how the team put in their efforts to spearhead the
organization to phenomenal growth is simply remarkable.

What were the initial challenges that taught you the basic lessons of managing diversified functions of the organizations? Also, how did you manage to achieve the success that you had in the later phase?
Being an aviation start-up, the initial challenges faced were getting the concept across, which although was quite simple, could not be apprehended by the market, not just within the Middle East, but across other business boundaries as well. With so many competitors out there in the market, we needed a different approach to brand ourselves, as far as competition was concerned. The key lesson that required to be imbibed and implemented here was how to identify the market Pain points when it comes to matters about aviation peripherals and how do we resolve them. I take pride in saying that I and my team have been learning this every single day, and that's what has propelled AeroConnections to what it is today in a short period.

As a business leader what are the strategies you put forward to align your organization with your vision and mission and how do you generate great value to your organization?
Being at the helm of AeroConnections, I certainly do not want to become a 'MALL' maintaining an inventory of Aviation peripherals, and aircraft spareparts. The focus strategy here is to build a strong network of credible customers, who would believe in the brand as a one-stop solution for their needs. Simultaneously, my efforts would be on networking with the top brands of the aviation industry as my vendor base, through whom I could leverage their credibility, thereby offering an exclusive brand to our clientele. AeroConnections is not just another business entity but is the brand that radiates trust, commitment and customer satisfaction.

How do you manage to balance between your personal & professional life?
Being at the leadership level is no doubt challenging, although I have always believed in the theory of team empowerment. When you are supported by a dynamic team working behind the scenes, rest assured the working system is in place and the organization functions remotely. Having said that, as a CEO, balancing work life and home front does become challenging, especially when on long business travel. However, as they say, marriages are made in heaven, and I
am blessed with an understanding soul in my life, who very well understands the exigencies I get involved in. So as simple as that, it keeps the ball rolling.

In your professional journey so far, which are the milestones that bestowed your utmost satisfaction?
Talking about milestones, I could only think about the brand credibility AeroConnections has garnered during this very quick phase since its inception. It makes me feel immensely honored that a minor flicker that I had thought of triggered that amazing passion towards fulfilling the dream I had for a very long time. Having started a career in Frontline sales, along with several senior veterans from the industry, I had to face some of the toughest and roughest moments of my career life, which gave me valuable exposure on acing the business dynamics and spearheading forward.

After relentless years of pursuit in search of the right break, I have finally landed on AeroConnections, which I say with a great sense of pride as a personal milestone. The UAE has given me immense exposure as a platform to prove my mettle. The fine network of well-connected industry professionals with whom I have had strategic business relations has helped me steer through my professional career spanning about two decades. I was instrumental in resolving many crises with ease due to the networking and potential relationship I had built over the years within and outside the aviation community.

Manoj Koshy John, Founder & CEO, AeroConnections
Graduated from India, Manoj has been associated with the aviation industry for the past 20 years. Owing to his pragmatic engagement with leading carriers in the Middle East, Far East and Eastern European region, Manoj had the privilege of handling the commercial facets of the airline in these regions. Being from the aviation fraternity, his prime focus is on having some of the fine skills required towards man-management, commercial planning & strategy, alliances, business mindset, budgets, stakeholder management, corporate planning & industrial relations. He believes in adding value to the organization or business entity as one of his finest strengths.

Favourite Cuisines: Steak from Chicago Gibsons, 'Dong-an' chicken of Hunan, 'Kitfo' of Ethiopia, 'Kachapouri' of Georgia
Travel Destination: Mount Everest