Arunabha Dastidar: One Of The Top-Notch Indian Business Leaders Across The Canadian Real Estate Market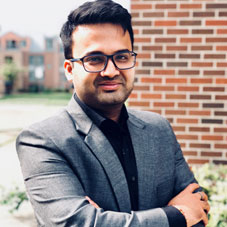 An adherent learner with excellent observatory skills, Arunabha Dastidar not only plunged into the industry pretty early but managed to achieve interminable success by the virtue of his empathetic mindset and problem-solving attitude. Working with five state government projects during his undergrad years at NSUT, Delhi, Arunabha learned project management at a pragmatic level. Succeeding phenomenally, he continued his journey in project management and handled over $5 billion of projects across India, having worked with Military Engineering Services, and NHAI along with multiple projects across Singapore, China, and the Middle East as well. He soon set-up his establishment, known as SoulRooms through which he is improving real estate/ Infrastructure project performances, formulating innovative Cons technology platforms, adding data science to regular decision making, and mentoring startups. Currently spearheading his way into the North American market, he takes pleasure in having the opportunity to work with some of the best teams and iconic projects across South-East Asia.
Engaging in an exclusive interaction with CEO Insights, Arunabha shares the nuances of his journey as one of the top-notch Indian business leaders who is leveraging his prolific professional proficiency across the Canadian real estate segment.
What Motivated you to plunge into such a competitive market? How are you implementing your experience and expertise to yield contemporary and competitive outcomes for this segment?
The real estate segment has emerged as one of the key pillars of human civilization. Dealing with rental prices and fighting for a suitable place of accommodation is fundamental to mankind and it fascinates me that, we're trying to solve this problem. We're trying to make cities in North America are more approachable for thousands of immigrants & professionals coming from all over world to these cities and making it easier for them to find their ground.
I have been into real estate investments and management, right after my MBA and worked with some of the private equity players in
Toronto leading over $250 million of real estate asset acquisitions. And that's when the idea of SoulRooms came into the picture, as I gradually started to understand the DNA of real estate in the major North American cities. Stating from a CEO's perspective I have always been making sure that the business is externally and internally aligned to grow. Along with my past experiences, I have now gained more than a decade of experience by working across the board with multiple stakeholders which help us drive the growth here.
I think every day is a new day in SoulRooms, we are on our path of becoming a growth stage company
What are the major challenges faced by you in your professional journey so far and how did overcome those to evolve as a business leader? Highlight your approach while going deeper into the competition and combating other co-players in the Canadian Market
Every day is a new day in SoulRooms, we are growing really fast, we were trying to find and hire the right kind of people to grow this company into the next stage and expand it across other cities in North America as well. Professionally, of course, it has been an interesting journey so far, because when you start a company, and then something unique like COVID happens, it changes your learning curve and makes you more strategically agile. You need to redesign all your projections and redevelop strategies you have developed before COVID while learning to navigate the pandemic well. For me, it was all about agility from the very beginning.
With the customer centric approach and the trust of our landlords, we intend to solve a very unique problem, which is growing at a pace of 16 percent every year in North American cities. With already 80 million people living in shared accommodations, we would just like to bring down their housing costs in these megacities. We are on our way to be one of the largest marketplaces for rooms where customers can get standalone houses or standalone rooms to rent instead of taking chances with people who may or may not be a right fit for them.
As the CEO of SoulRooms, what are the key drivers that you deploy to ensure that the company's services are used appropriately to meet its short/longterm needs?
By implementing perfect KPIs through well-defined analytic metrics and secondly, by the virtue of our empathy, we have clearly
defined goals. But alongside that, we also need to develop empathy to find solutions for new problems, which they didn't encounter earlier in their.past experiences. Having a clear picture of KPI, but simultaneously not losing empathy towards the people who are working for the organization is one of the key aspects of aligning the goals and the visions of the company.

How are you adapting new tools/ technologies to revolutionize your services to be at par with current industry standards? What are the new strategies deployed in your services and what are your plans to innovate your offerings further?
Being a technology firm, we are providing advanced technologies to institutional investors, who own real estate to enable them to rent their entire units as rooms to get more returns. Our technology empowers institutional partners to innovate their renting practice for modern renters. These units might be consisting of multiple rooms, multiple bedrooms, and individual rooms. Then we have created systems in the backend, through which we can match the personality of the person in Room-A with that of Room-B. Using Soul Rooms' cloud-based technology, Landlords are perfectly able to market lease-up and manage their entire units as rooms in a few clicks.

What is the future roadmap of your company?
We are on our way to bathe largest enabler for rooms across North America. Currently, we're having conversations with a lot of institutional investors who have a good number of traditional properties ready to be promoted as rooms. We intend to bring all these technologies at their fingertips and get them on the platform. Our goal is to reach over 25,000 units in five years from here, and now we are into recreating that pipeline of around 14,000 units. So, over the next six to seven months, we have multiple rollouts of great features which are technologydriven and help the landlords as well as consumer to experience SoulRooms better.

Arunabha Dastidar, Founder & CEO, Soulroom
A rising corporate conglomerate of the real estate market, Arunabha is a civil engineer who is always inclined to take on new challenges. With an MBA at Schulich, Arunabha has spent most of the time in his career as a business performance improver and PMP certified management consultant, he has worked with various teams over project feasibilities, planning, monitoring, value creation & databased decision making on projects up to CA$5B. When not working, Arunabha studies market research, machine learning & human psychology. He loves to explore the world and has traveled across nine countries and 50+ destinations across the world in three years.