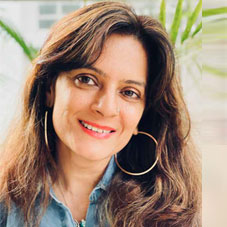 Being creative and understanding your target audience are important for a Creative Director yes, but Communication and partnership with teams is most essential to bring out the best from every department be it preproduction, shoots or postproduction. Ayesha Khan has been a movie buff since she was a child, so much so she would watch Television even during her school exams! Ayesha later leaned towards storytelling and after graduation decided to pursue a Masters in Mass Communication from Jamia Millia Islamia University. She started her career as a Post Production Assistant for an advertisement production house and is now the heading the Studio Division for 1GEN, a social innovation startup.
Ayesha Khan, Chief Creative Officer 1GEN spoke with CEO Insights in an exclusive interview about her journey in the television industry and her experience as a story teller.
Highlight your professional background and enlighten us about your unique skill sets and qualities that set you apart from your industry peers.
Following graduation, I was drawn to story telling and opted to pursue a master's degree in Mass Communication at Jamia Millia Islamia University. In 1999, I graduated but the industry was in a downturn, and there were hardly any employment openings. So I went to work as a Post-Production Assistant for an advertisement production house called 'Shot In the Dark,' which was owned by one of the most talented Directors of the time, Shamin Desai and needless to add, learnt a lot. From advertising, I moved to the Television production house Miditech in 2000, which was then based in Delhi and was planning on making a show for Star Plus for the first time.
My foray into television began there, and I've had the pleasure of working with some incredible creative minds over the last two decades, including Siddharth Kak, Sriram Raghavan, Shivam Nair, Anubhav Sinha, and others… I like to think I have never worked a day in my life because I have always loved telling stories and
considered it my calling.
I believe I have done it all, from post-production assistant to assistant director to Creative Director and Writer for channels like Sony and
Star Plus just to name a few. Television has served as my "Karmabhoomi," as it were. Though I enjoy working on thrillers the most, I have recently developed an interest in nonfiction and documentaries.
Please share with us about your journey as Chief Creative Officer. What are the challenges you encountered during your professional journey?
Every show has different challenges. For example ,as a Creative Head on Sony's 'Prayshchit-Gunaahon Ke Zakm' one of the shoots was most challenging as we chose to shoot in Chambal because the plot was based on a real life Dacoit, and we wanted to make the visuals as authentic as possible. Imagine a crew of 80 people in the ravines, including actors, with the local police warning me to pack up at 6 p.m. because some local dacoits had heard about our shoot and wanted to come to watch it! Needless to say, there are many more things that must be considered in addition to creative work, such as constant fire fighting and thinking on your feet. But, as most people who have worked in the television industry will tell you, this is exactly the thrill and adrenaline rush that everyone craves; it's just another day at work! In terms of 1GEN, I believe that every creative person dreams about working on a larger than-life canvas, and 1GEN has been one of those Canvases for me. When Paul Singh, the CEO of 1GEN Studios told me about the company's vision, I felt a rare sense of synchronicity, and here I am now Directing a Documentary for them.
Television has served as my Karmabhoomi, and I enjoy working on thrillers, but I have recently developed an interest in nonfiction and documentaries
Can you describe the roles undertaken by you at 1Gen?
Simply said, 1GEN is unlike any other company I have ever worked for because of its great work environment. Here, we are all working toward a similar goal while maintaining our creative independence. We intentionally operate in a self-organized manner and don't have anyfixed regulations about where we work, when we work, or boring performance appraisals. 1GEN is a way of life, a culture of collaboration that fosters invention. Even though the company began in the Digital Technology field as a provider of impact technology solutions and innovations, the Studio division now plays a crucial role in employing social media, web apps, and mobile tools to bring stories of hope to life and enable conversation on complicated issues such as Gender Equality, Social Equity in Education and Healthcare,
Climate Emergency etc. Every project at 1GEN is based on our belief that through positive storytelling we can connect and inspire the younger generation to take corrective action. At this moment, I am directing a documentary film project that highlights innovative solutions to promote education equity in rural schools of Karnataka. I believe, this work will catalyze meaningful conversations on the subject and possibly will inspire many in other parts of India to take similar actions. As a storyteller, I could not have asked for a better platform to influence positive change.

What method do you use to determine the audience requirements? How do you ensure that the demands of your Audience are satisfied with the utmost precision?
Todays Audience is extremely savvy and have multiple choices of viewing. With the arrival of the OTTs, we are all now spoilt for choice! I believe there is some thing for everyone, from regional to global, dubbed cinema to foreign series to good old Hindi shows. As a storyteller, I believe that if you tell a story honestly and engagingly, audiences will be hooked. You make something with all your heart, honesty and passion, your numbers will reflect that.

Which milestones in your career have given you the most satisfaction - both as an individual and as a Chief Creative Officer?
Every show grows near to your heart, you live and breathe for all of them equally. Sitting on a Production 'peti' and reading scripts on a set is a deeply satisfying feeling that can't be compared to anything else. Every show I have worked on has been my baby, and I can't say I have had a favorite among them; I adored them
all.As I previously stated, every creative person dreams of working on a larger than life canvas, and 1GEN is that canvas for me, simply because we are here to produce organic stories that compel the audience to pause, reflect, and take action. As a Creative person one evolves in style and approach to storytelling and right now I'll say Im pretty satisfied with the kind of work I am doing.

Ayesha completed her Masters in Film, Cinema and Video Studies from A.J.K Mass Communication Research Centre-New Delhi. Ayesha has worked as Creative Supervisor for popular shows like Atthva Vachan, Babul Ka Aangaan Chootey Na, CID, Jassi Jaissi Koi Nahin,Prayaschit Gunaahon Ke Zakhm, Durgesh Nandinii, Monsoon Masala and many more. Prior to working as Chief Creative Officer at 1GEN, Ayesha has been part of some prominent companies like Sony Entertainment, Saregama India Ltd and UTV.

Location:Mumbai