Dibbyyan Nath: Fathoming The Digital World Endeavouring To Provide The Best Research-Based Contents.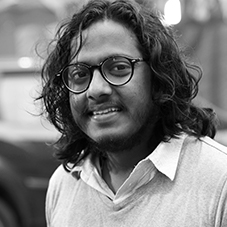 In an increasingly tech-fuelled world that is deluged with content, and where it has become difficult to acquire the swaying attention of people around, it's only creativity that consummates the opportunity to seal the deal and thereby increase an organization's brand value. With that being said, Chief Creative Officers (CCO), the C-suite pack leaders are playing a decisive role in directing a creative cut to demarcate a company's brand. A perfect example of a virtuoso in shining set of creative C-suite professionals is Dibbyyan Nath, Chief Creative Officer at Inteliqo Research and Services-a company fathoming the digital world and delivering the best creative, amazing, passionate, and optimistic research-based contents.
A MSc, MBA, M.A. (Eng) and internationally certified for different niches, Dibbyyan is an experienced professional with a demonstrated history of working in the information technology and service industry. He has also been a project analyst for multinational organization. Back in 2014, he started off his career in international tea export business, but having a penchant for writing with interest in technology, launched Inteliqo Research and Services which deals with unique content writing, digital marketing along with data science & cloud computing. Beholding all-inclusive leadership & management skill, understanding of the business analytics, velocity and veracity of the creative funnels, he is leading the company quite proficiently.
In an exclusive conversation with CEO Insights, Dibbyyan shares details on his personal life, professional journey, and creative ability to lead a creative content creation brand that gaining traction in the industry. Below are the excerpts:
Brief us on your journey as Chief Creative Office.
That question actually gives me pause. Like most people around me, I too have had humble beginnings and I never set out to be at the helm of a company. I pursued my education, sought degrees &
diplomas just like everyone else, however, conventional jobs never excited me. I always wished to be independent which is why I believe I started this creative writing venture. Fortunately, I have the vicinity of good & experienced people(my parents, & others) around me who apprised me with the industry's nitty-gritty, and ancillary opportunities in the field, and eventually I was able to create a company that aims to enable passion as part of the profession.
One should not be constrained in their thinking and rather let their mind go to any destination it pleases
The only challenge, I would say was doubt. Shifting from one role to another, investing in a venture and dedicating everything into it. Sticking by the company through tumultuous times are all risky endeavors that breed self-doubt. I would therefore credit all my success to the ability to overcome this self-doubt and this is what I would say to all others if I get the opportunity to inspire.
What is your approach to understanding the customers' requirement & meeting it with optimum precision?
Communication. Yes, I know, it sounds a bit too generic but communication has been the key. As known, market survey is important & empirical data collection helps in extrapolating inferences that are extremely valuable. But, in the creative field, I have found that a thorough in-depth two-way communication is absolutely necessary to understand the needs of the customer, both existing and prospective. We plan all our activities through that lens & delve into detailed insights from all relevant sources. It has worked bigly for us so far in understanding the target customer base needs and customizing it accordingly.
Describe about the roles undertaken by you at Inteliqo?
Well, that again harkens me back to my days as a writer. Initially, when I was working with only a team of writers, I had self-appointed role of a representative of the client a fore my employees (and help them gauge the vision of the client). I also was a mediator to my employees wherein I ensured that the creative juices kept flowing within the team. However, now it's a bit more involute.
Being a CCO, channeling my energy
into maintaining a high degree of coordination between the various departments, I ensure that each department supports the other through voluntary inputs such that all elements of our projects turn out good. A group session every day for an hour (in a casual environment) is one of my predictive initiatives in this pursuit. The goal is to confirm that productive feedback regarding specific issues that could have been overlooked also get noted through a fresh set of eyes. Hence, keeping an open mind and trying innovative approaches, I lead to develop a creative culture.

Any challenging projects till now? If yes, how did you go about executing it?
The most challenging situation was to link Indian writers in the Australian market. The strategy adopted was offshore human network building to promote the creative business in their local market. It was tough understanding the market scenario and entering in without being physically present and not having a concrete marketing team. However, since 2018 we have been successfully providing service to our Australian clients and relishing a decent turnover each FY.

What's in store for Inteliqo's future?
"Do not settle for good, deliver greatness consistently", has always been my mantra. Hence, constantly keeping abreast of the industry standards, Inteliqo aims to not just achieve them but in fact, surpass them for all our clients. Hence, our key focus area is to evolve into a full stack creative writing solutions company and serving the industry leaders, corporate and individuals.

Message to the Budding Creative Leaders:
I am a firm believer in what I call open thinking and purposeful dreaming. What I mean by that is one should not be constrained in their thinking and rather let their mind go to any destination it pleases. This practice has allowed me to envision and pursue drastically different fields & reap the benefits of success there. I would refer the same to the budding leaders in the industry, so that they visualizing every aspect of their dream they become able to accomplish them.

Dibbyyan Nath, Chief Creative Officer, Inteliqo Research and Services
A diversified portfolio, a cornucopia of successful entrepreneurial ventures and the heart of a writer, he is the CCO for Inteliqo Research and Services, owns a premium green tea brand, and helps prominent personalities like businessmen & politicians develop their personal brands.