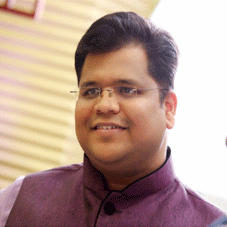 Tell us about your unique skill sets and strengths that differentiate you from your peers in the industry.
I have always put the customer first, and I don't believe in `selling' education. Despite being in a business, I believe in the old school philosophy that education is a `noble' profession that goes far beyond than profit. It is about setting the right foundation for someone's future.
At ILM, I have been involved at every stage of its growth, right from conceptualizing the company's vision and mission to diversifying its products. As the Co-founder/Director, I was involved at the grass-roots level, looking after the company's sales, marketing, team building, hiring, website/App development and product development, product management. However, I have been a firm believer in a system-driven organization than an individual-driven organization. Now, after setting up a competent team of expert academicians and mentors, I have moved to a more strategic role where I take care of adding new and diversified products to the setup and reaching out to new client base and new markets.
How do you motivate and keep inspiring the team to get productive results in the business?
I feel that for any organization, attaining success is not as hard as sustaining success. And being consistently successful in delivering results requires you to create a team and a system that can function efficiently without the need for micromanagement. My team has a good mix of experience and young turks. Some of my team members are juniors whom I had trained in previous organizations, who expressed their desire to join me even without any hike in their remunerations, simply because they valued my leadership for the knowledge and skills, I had imparted to them.
Some members were absolute freshers in this industry, and I reposed my confidence in them because I could see in them a spark to perform and prove themselves. I believe that if your team is happy with the work they are doing, they would automatically do well. And keeping them happy means balancing work and life. So let's say during peak season, after a grueling month of deadlines and application cycles, I would take them for team dinners. Or occasionally, if the sales target is not met, I would not always give them a pep talk in the board room to boost sales but take them out for a movie to ease the pressure.
Under Binayak's stewardship, ILM is the first education company in Kuwait to tie up with the prestigious Ivy League Cornell University for their International Summer Camp and Fintech Program
Highlight major facets & achievements about your professional journey.
From being a fresher in this industry to becoming an MD - it has been a challenging yet fruitful journey. Being able to guide thousands of students and now supporting a team of 37+ members, that includes alumni from Stanford, Cornell, Columbia, Harvard, Wharton, MIT, INSEAD, IMD, Oxford, Cambridge, IITs, IIMs, NITs and many more elite and Ivy League global schools, has been immensely satisfying. Whether it was attaining a 430 percent growth in sales for an International Test Preparation and Consulting Company's Franchise in Kuwait or making a brand out of a startup like
EGE, I learned from my experiences of working with the front runners in this industry.

I try my best to eliminate the shortcomings I had observed in my previous organizations, thereby creating ease in operations and facilitating a smooth work environment, where my team members can work with happiness and satisfaction. Passing on the right guidance to the customers, keeping their needs on top helped me innovate and come up with new products, which in turn helped our growth. Now as we have gone online, I aspire to continue making innovative strategies to reach out to more students across the globe.

In your professional journey so far, which are the milestones that bestowed you with utmost satisfaction?
I relish being the co-founder of the youngest company in Kuwait with top customer satisfaction in comparison with many other companies who are operating their businesses for the last 35+ years. Becoming an official partner with the British Council for the IELTS Test registration was another great achievement because we were the youngest company in Kuwait to achieve this feat.

The MEA Business Award, 2020 also came as a welcome recognition of the efforts we have made to help students in Kuwait in achieving their higher studies dreams. Having a 100 percent placement record for all our students at ILM and being the nascent company in Kuwait to achieve the maximum number of top scorers on exams like the GMAT, GRE, and SAT is something we take pride in. We have such a wonderful and dedicated team that we are the only company in Kuwait to give a "Score Improvement Guarantee" to all our students.

At an individual level, having placed more than 100,000 students in the top universities in the world gives me immense satisfaction. The fact that I have maintained a 97 percent success rate in securing admissions offers for all the cases that I have handled in my career so far is no mean feat, given that my career has spanned over 14+ years.

Binayak Panigrahi, MD, Intellectual Leadership Minds
Binayak is an Engineer by education, not by choice. A Management graduate by degree, he is a consultant by profession, an educationist & mentor by passion, a gadget freak, a foodie, an innovator, an entrepreneur with a fiery heart, and an ever-thinking mind.