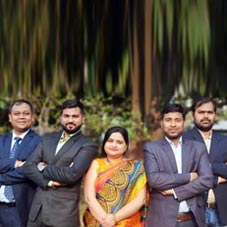 Comprehending that penetrating a market not only depends on the 4Ps, but also understanding the ecosystem and stakeholders needs, Cognitrex traces every move of the client's competition in terms of manpower, distribution network, and tactics that they deploy with multiple stakeholders to help clients hit the right button at the right place to counter competitive threats. To do so, it conducts in-depth interviews across different setups with stakeholders that help the company to acquire in-depth insights. This helps Cognitrex to offer precise, customized solutions that hit the bull's eye.
Explaining more strategies and talking in depth about the company with CEO Insights is Manas Ranjan Rout, Founder & CEO of Cognitrex.
What keeps Cognitrex a notch above the rest in your space?
Our detailed insights through our unique market intelligence process that we bring to our client's table is our elixir. Unsurprisingly, we are the first to launch many services in India through market intelligence process; for instance, the launch of Fertility Market Tracker (half yearly), medical equipment (quarterly report) in multiple segments such as CT, MRI, Cath-lab, C-ARM, Defibrillators, ECG, Ultrasound, Ventilators, Patient Monitoring system, Radiology and more. Soon, we will be launching few other trackers this year in medical devices category and will again be the first to launch imagery report in pharmaceuticals.
How do you bring such detailed insights into the fore for your clients?
More than 8,000 doctors & 1,000 distributors empaneled with us across multiple therapy areas and our connection with industry makes it highly efficient to gather right information from the market place. We also participate in multiple Pharmaceutical and healthcare conferences, which not only provide
latest information on industry trends, but also right insights about the therapy and companies like new launches expected in the new future.
Alongside, we do keep close eyes on the new approvals at regulatory level to understand the new molecules that are being approved at the company and therapy level. Our continuous interface and tracking at government bodies such as CDSCO, DCGI, NPPA and NitiAyog, including regulatory, also help us to keep a close watch on the changing market dynamics in the country.
Cognitrex traces every move of the client's competition in terms of manpower, distribution network, and tactics that they deploy with multiple stakeholders to help clients hit the right button at the right place
What opportunities do you foresee in the market research & consulting space, and how are you rolling your sleeves up?
You have to appreciate one thing ­ the entire life sciences vertical would continue to grow on account of high incident of many diseases like diabetes, hypertension, cancer, asthma, neurology and psychiatry. While this surely means multi-facet challenges, it also brings immense opportunities for our clients starting from market segmentation to competitive threat.
Market intelligence and competitive intelligence will play a vital role in this. Government businesses across the board are going to offer many opportunities for each client. Looking at these prospects, we are well positioned to carry-out such research studies to help our clients to overcome challenges. We are also constantly increasing the empanelment across various stakeholders including doctors, distributors, medical associations, and government bodies so that we can get right and accurate information on time.
Doing so must require innovative moves. How are you doing in this sphere?
From traditional ways of using analytics, we are moving towards the dashboard concepts for our sales trackers. We are also planning to launch some mobile apps on market intelligence, where we will use Artificial Intelligence and Machine Learning format as well. Our market intelligence and competitive intelligence report which is currently PPT based will go the web way, which will empower the client to directly download reports in PPT, PDF or word format.
Such strategies & services require strong managerial and strategic thinking skills. How do you go about it and use your past experience to provide exceptional services?
I bring to the table my past experience of 16+ years across various functions starting from sales, marketing and strategies. I have worked in companies like
Glenmark Pharmaceuticals, Novo Nordisk, Torrent Pharma and Strategic Analysis INC. Alongside, my experience working across multiple healthcare clients also provides me an edge to add more clients across spectrums of healthcare industry, and I leverage these proficiencies to nurture businesses in India.
Great! So what future have you scripted for Cognitrex?
The industry is going to be more competitive and demanding with Market Research and Consulting in the coming years. Hence, we are updating ourselves with technology & knowledge. We have already started sponsoring our team mates to pursue management programs from leading managing institutes such as IIM - Kozhikode, Symbiosis Management Institute and others.
We have also collaborated with leading institutions and signed MoUs to garner knowledge through workshops and seminars. Some of the institutions are Delhi Pharmaceutical Science and Research University, Amity Institute of Competitive Intelligence and Strategic Management, Entrepreneurship Management Process International Business School and more.
Our recent collaboration with AIOCD AWACS, which is one of the leading Sales Audit companies for pharmaceutical industry in India, as our marketing partner is another arsenal. The company has started marketing our market intelligence and competitive intelligence services to their esteemed pharmaceutical clients. Also, there are few other collaborations within digital space which are on the way.
We have also recently collaborated with DocMode Health Technologies, an online platform for the doctors where they get various certifications, as well as Pharm companies organizes many Webinars. The platform has more than 200,000 doctors across therapy areas. Our collaboration will enable us to carry-out online quantitive research effectively and quickly. We will be the first company to go online Research with a doctor platform in association with DocMode. Further, this year, we are planning to foray into international waters, starting South Asia and Africa.
Manas Ranjan Rout, Founder & CEO
An alumni from IIM (Strategic Management), Manas holds B.Com and Diploma in Pharmacy.
Quick Facts:
• Established:
2015
• Office:
Gurugram
• Clients:
Leading Pharmaceutical, Medical Device, and Medical Equipment and other allied healthcare industries across India
• Ila Rout, Co-Founder & Director
• Abinash Sahoo, Co-Founder & VP Project Operation
• Kaamil Makhija, Practice Head Lifesciences
• Nitish Kumar, Practice Head Market Intelligence