Damac Properties: Transforming The Definition Of Talent Acquisition By DevelOping A Highly Capable And Varied Global Search Team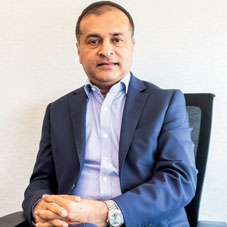 Lauded as one of the world's foremost luxury developers, with projects spanning the GCC, Levant, Middle East and the United Kingdom, DAMAC is redefining luxury living spaces. Apart from attracting investors from across the globe to invest in UAE property, DAMAC Properties has emerged as one of the most commendable places to work for by implementing smart talent acquisition strategies that integrate and align with its functionalities. DAMAC Properties is transforming the definition of Talent Acquisition by developing a highly capable and varied Global Search team. Emerging as a leading employer within the real estate industry, DAMAC's trajectory has been sharp over the years, owing to the management's vision and the tireless execution of its Leadership team.
Engaging in an exclusive interaction with CEO Insights, M.P. John, Chief Human Capital Officer, DAMAC Properties highlights how the Company has strengthened its verticals across People, Process and Technology.
As the Head of HR in DAMAC Properties, how do you help in increasing Employee Productivity?
At DAMAC, we strongly believe in a Value Co-creation approach. In order to build and shape careers, there is a multi-pronged approach towards increasing Employee Productivity, where we provide best to our employees. DAMAC thrives on data and every employee has direct visibility of the impact he or she is making on the business. Along with a healthy and competitive work environment leading to meritocratic career progressions, we provide a 'Continuous Learning & Improvement' Platform that not only helps both DAMAC and employees to identify skill-gaps, but bridges these gaps with developmental programmes to make them future-ready. Lastly, by leveraging technology, we help our employees work smarter and better deliver!
How do your company's offerings, the exposure (to both clientele and technology), and the growth opportunities within the company help in attracting & retaining talent?
Having a diversified and geographically well-distributed
group with interests in Luxury Real Estate, Hospitality, Fashion Retail, Manufacturing and other areas, makes us a powerhouse of talent, which can be both T-fitted as well as cross utilised across businesses. We strongly believe in diversity and including talent from all over the world based on the requirements. Given that DAMAC has proven itself to be a fast growing, futuristic group, gives our employees the confidence that they are in the right place and can see long-term growth and rewards with us! We also take pride in the fact that employees who have moved on from DAMAC are at the top of their game wherever they are in their careers.
At every level, our employees plan and prioritise their work based on their individual Key Performance Indicators, which are, in-turn, aligned with the organisation's objectives
DAMAC Properties has been at the forefront of the Middle East's luxury real estate market since 2002. How do you ensure that this matchless proposition accomplished is ideally accomplished by your workforce?
Credit for this would entirely go to the Leadership Team and Business Heads who live, exemplify and showcase DAMAC's DNA to the entire team down the line — the DNA of a DAMACIAN being bold, innovative, detail-oriented, commercially savvy and customer-centric. These attributes have helped DAMAC go full steam ahead with a differentiated approach that can identify itself to being at the forefront of the Middle East's Luxury Real Estate Market.
How do your company policies consolidate strategies with overall business objectives? How do the HR direct and drive a positive work environment?
The advantage of a semi malle able structure and policy framework is that it helps an organisation scale both vertically and horizontally with relative ease. In this context, our Business Heads and HODs (Heads of Departments) of let's say the Sales, Operations or Projects Departments, for example, work in collaboration with HR and Talent Development teams to align/re-align the Strategies and Business Objectives to the Policy Framework. This, at the granular level, then gets translated to Performance Management which is closely monitored and developed both by the Business and the Talent Development teams together. This model has worked well for us and
the key to this model is Communication & Collaboration towards the Group's overall business objectives.

HR fosters a positive work environment, not just through rewards and recognitions, but also through meaningful engagement activities, improved employee experience and promoting a culture of innovation and up-skilling. This strategy has helped us drive a happy, collaborative and positive work environment. Our HR Business Partners play an important role in this regard.

How do you ensure transparency in management and decision-making for your employees? How do you plan, organize and prioritize the work of your employees?
Our systems and processes are designed to promote and implement a transparent culture, and aid in robust decision-making across levels. With communication as the key to plan, organise and prioritise work, our managers endeavor to ensure our business objectives, goals and vision are properly communicated. Our HR Business Partners play a very critical role here. At every level, our employees plan and prioritise their work based on their Key Performance Indicators (KPIs), which are, in turn, aligned with the organisation's objectives.

How has the company nurtured itself in terms of revenue growth and what is the roadmap set ahead for DAMAC Properties?
Revenue growth in the DAMAC context has largely been through a combination of Sustaining Innovation and New Market Disruption, specific to different asset classes. Professor Clayton Christensen from the Harvard Business School has some interesting theories around these, which help us use a differentiated approach in our product portfolio, go-to-market strategy, partner collaborations, customer-centricity and in creating new markets for us.

The plan is to continue expanding our footprint across new geographies, new lines of businesses, pioneer Best & Next Practices in Construction Technology and leverage Digital as well as New-age Technology to help us continue aiming for the stars!

M.P. John, Chief Human Capital Officer, DAMAC Properties
M.P. John holds more than 25 years of experience. He has a proven record of success working in a diverse range of commercial market environments and within different geographies. Within M.P. John's 18 years with DAMAC, he has successfully led his team to grow the organisation to the size and quality it is today, resulting in the team winning multiple internal and external awards and recognition.